From the Mountains to the Sea in Ol' VirginIE' (2010)
6/21/2010

*name courtesy of Bloochdog
My initial plan for this weekend was to ride up near the PA, MD, WV border to explore battlefields and tourist traffic in 90 degree weather. That changes once the Virginia Tag-O-Rama sat down in Austinville, VA.
Here is my RIDE MAP LINK
FRIDAY
I loaded the bike up Thursday night and departed work Friday around 3. I made the ride down to Austinville uneventfully. Somewhere around Roanoke, I'd noticed I forgot to reset my odometer before the trip. Blast...will remember that in the future. Grabbed the Tag at the Stephen F. Austin Memorial right on the New River. Nice spot and boat landing.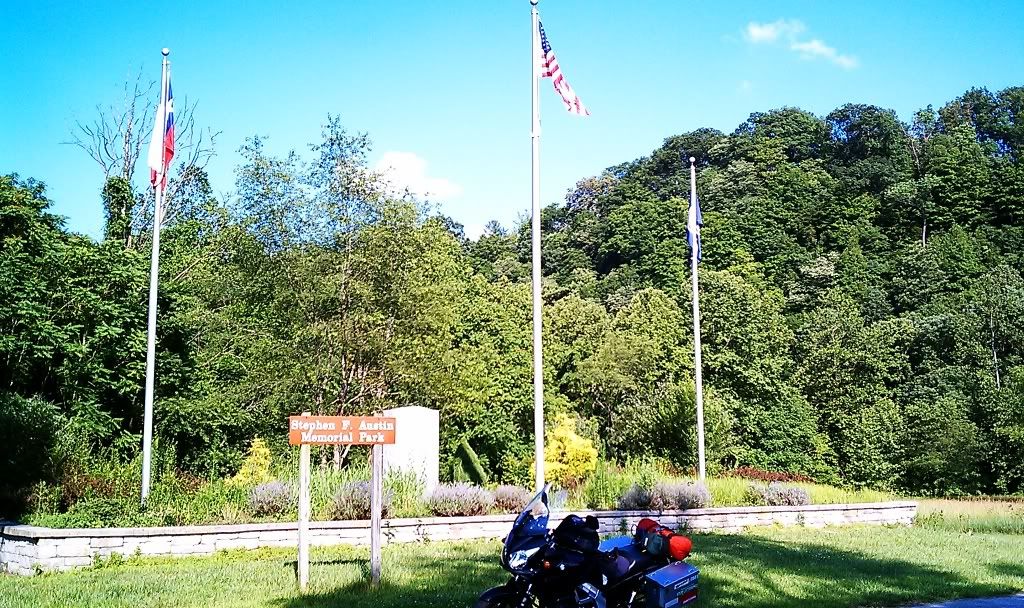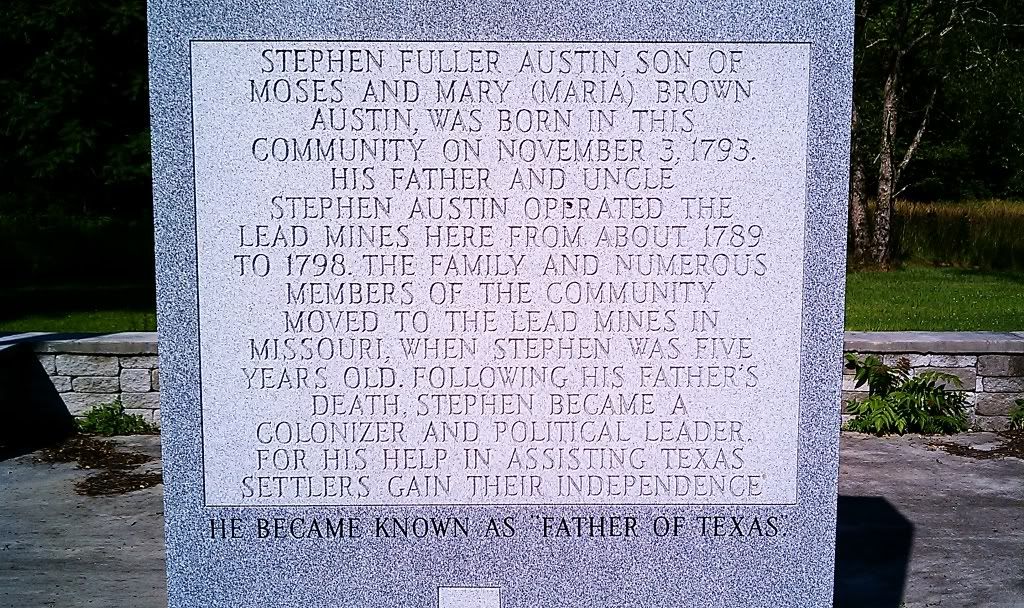 From here I shot back toward 77 to grab a beer at the gas station. I wanted a Yuengling but they only had lite beer and $9 six packs...so I opted for an Ice cold Bud Lite Lime...it might as well be juice and not sure I'd get another again. Think I'll stick to Orange Juice or something in the future.
I then set forth for Cripple Creek! (insert song lyrics) Very nice ride down there and it occured to me I had been here before two years ago when grabbing the VA Tag at the Byllesby Dam in Fries, VA.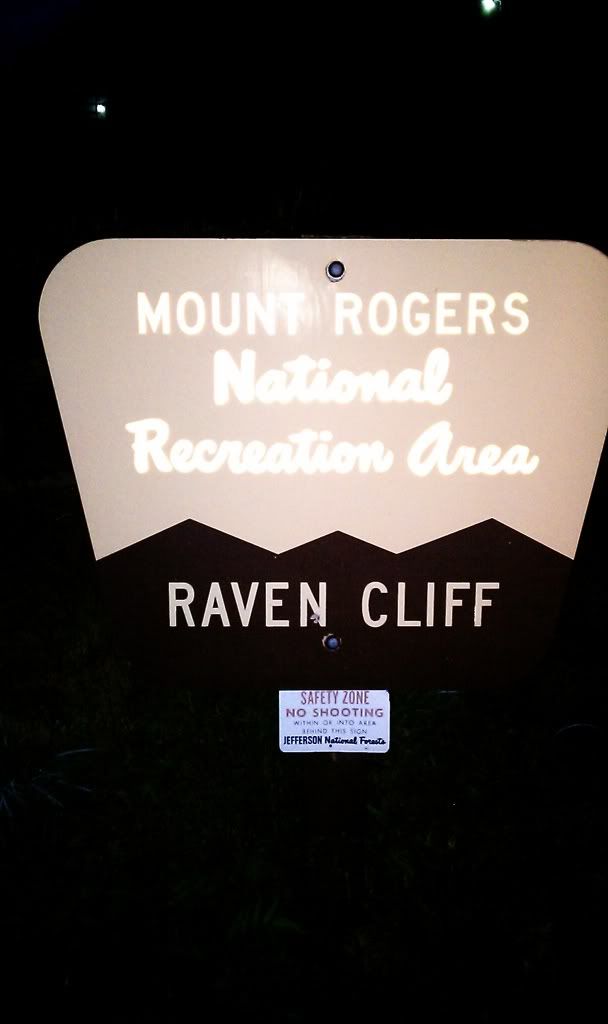 After turning into the Raven Cliff Campground, I quickly stopped to take a snap shot of the neat rock cut through which the roadway continues. It looks mighty similar to one of advridgerunner's pic (though I don't think it is the same spot)

I pulled into the camping area and was immediately struck by how quiet and peaceful it was. There were no RV's, the sites were tucked off the road a bit and it was clean and private. Only $5 in a box...just my kinda place. With nary a chance of rain, I opted to leave my rain fly off the tent and dispatched with setting up camp.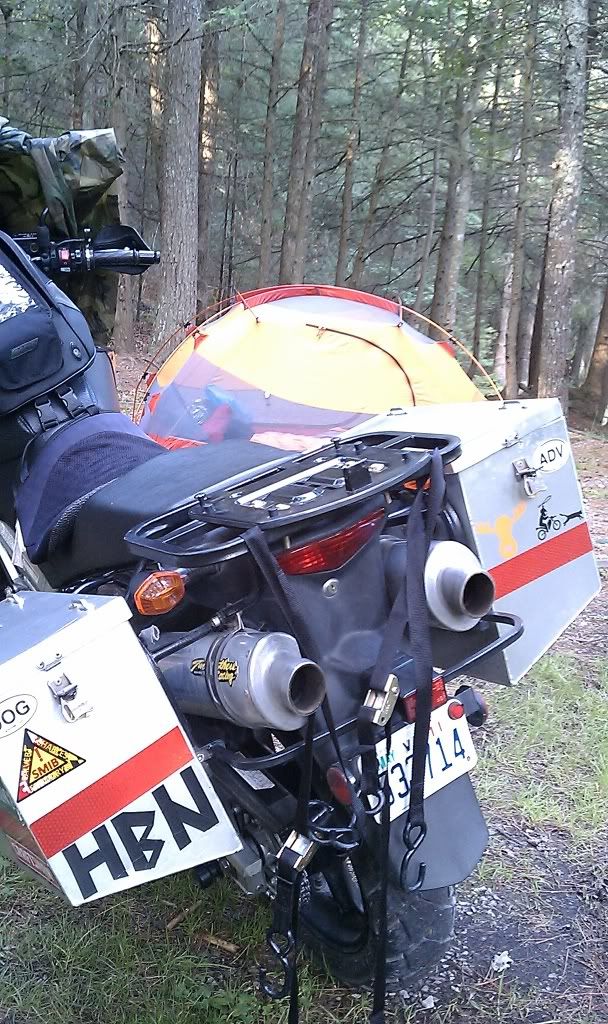 Before cooking dinner, I went for a short walk to take advantage of the fading daylight. I discovered the Raven Furnace Trail near the campsite and took that. What a serene area with horse trails and a walking loop. Nice and cool, I took in the sights and smells in the "golden hour"
Cripple Creek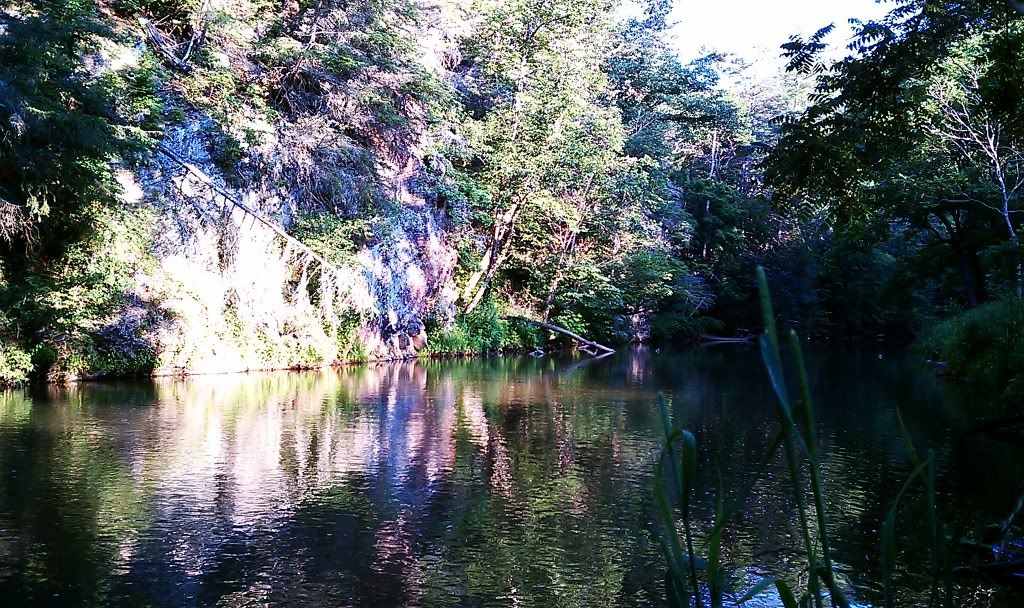 [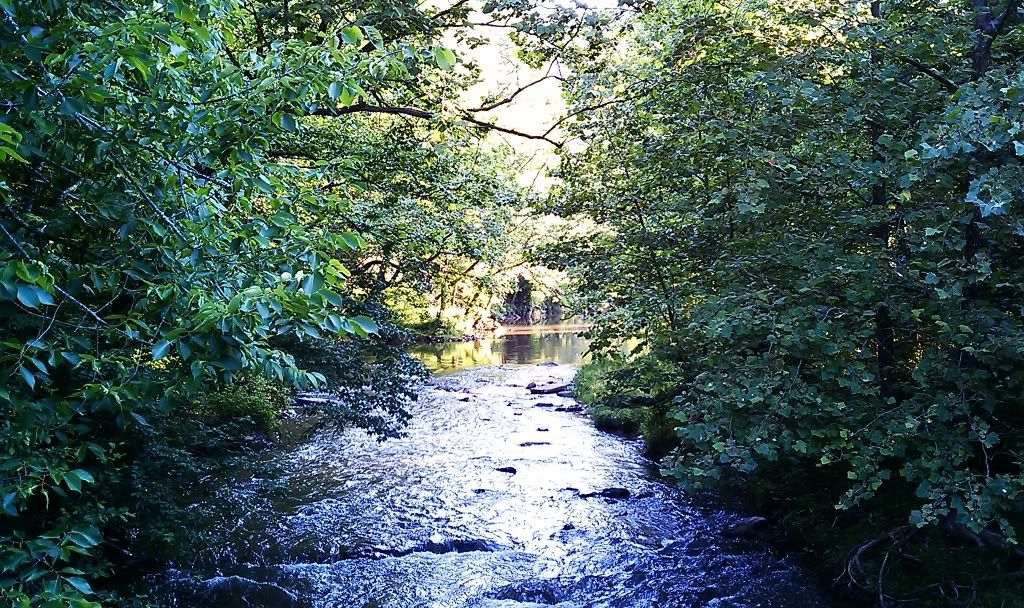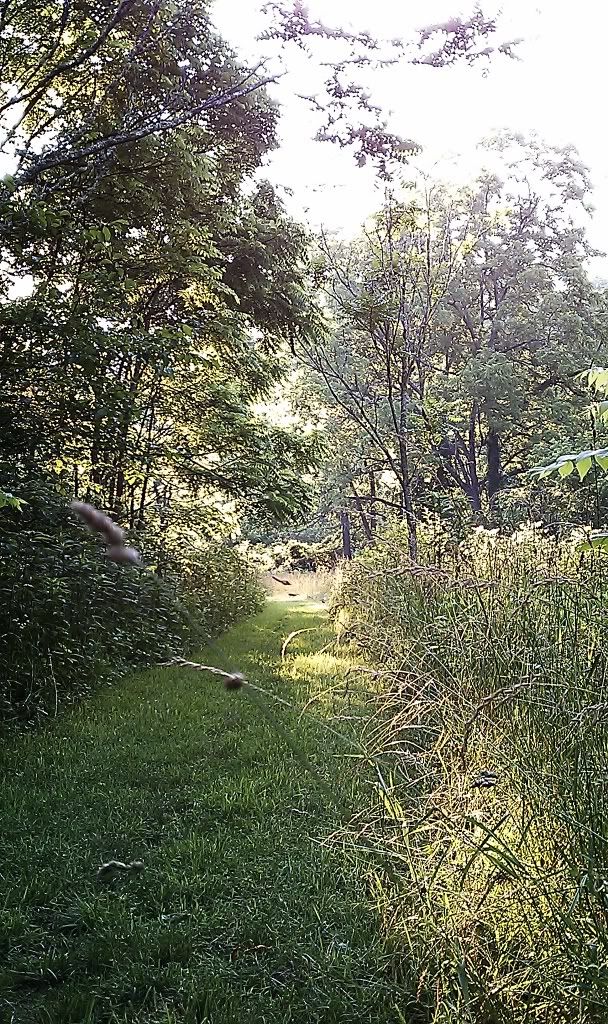 Spotted some deer in this field but was not quick enough with the lens


Picked up a few hitchikers along the way but got em all


Oh! whats this? MY FAVORITE!!! Snack time!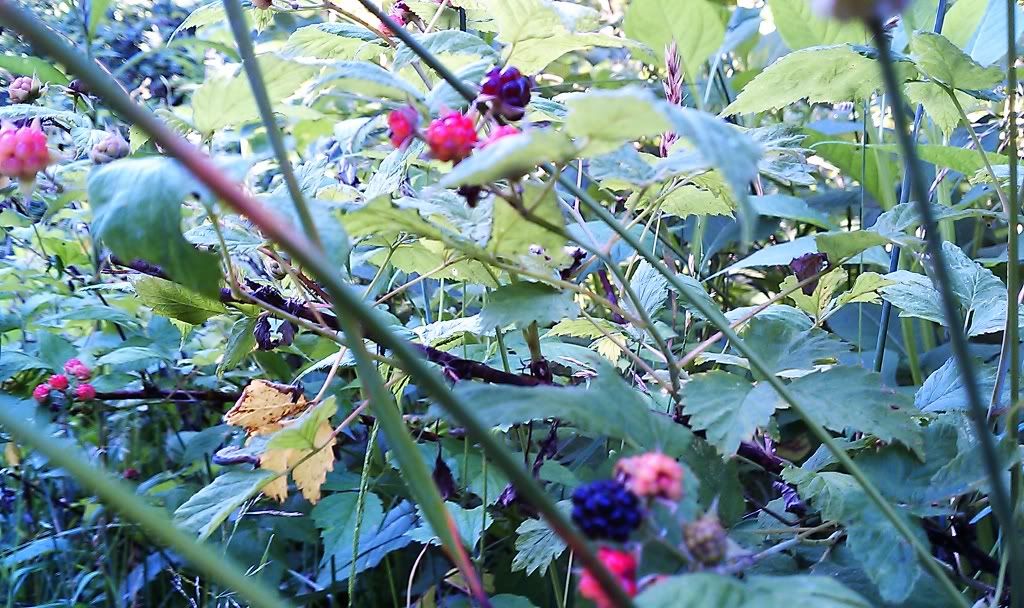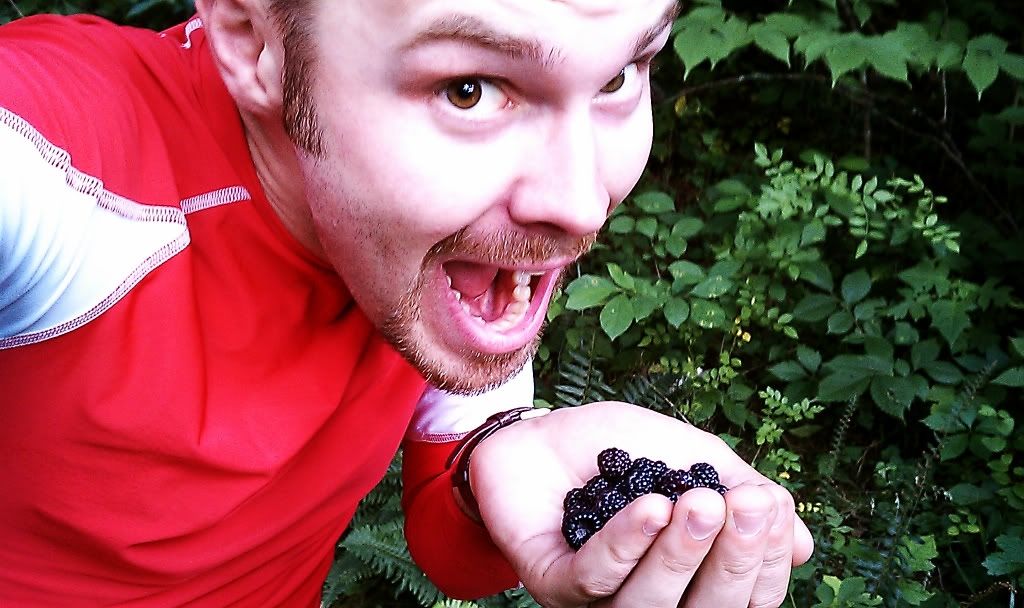 I assume this is the Raven Cliff; namesake of the campsite

And this would be the Iron Furnace

How is this for Cripple Creek views?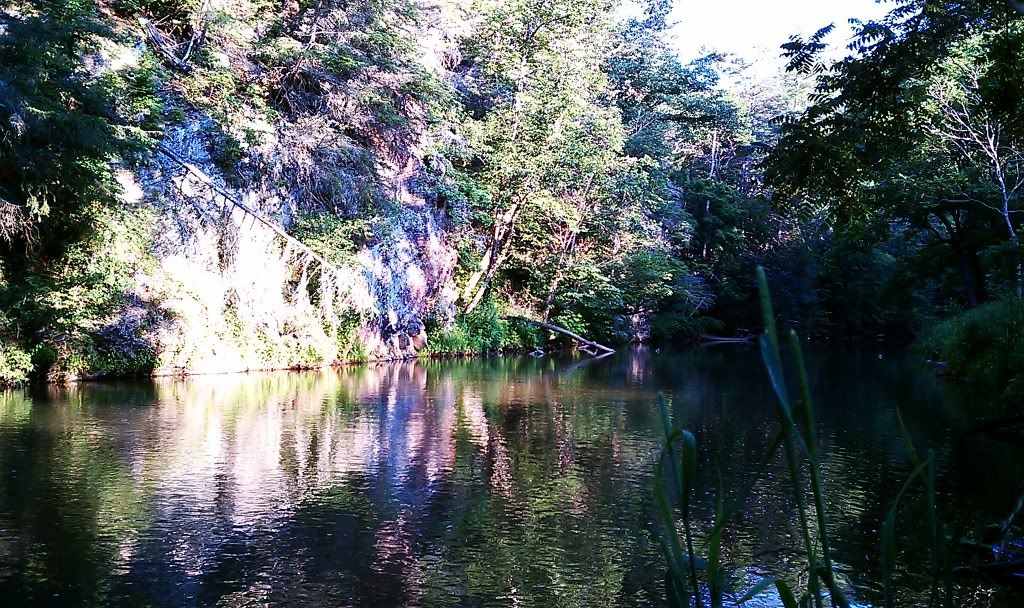 The sun was going down fast so I made the short walk back to camp, picking more raspberries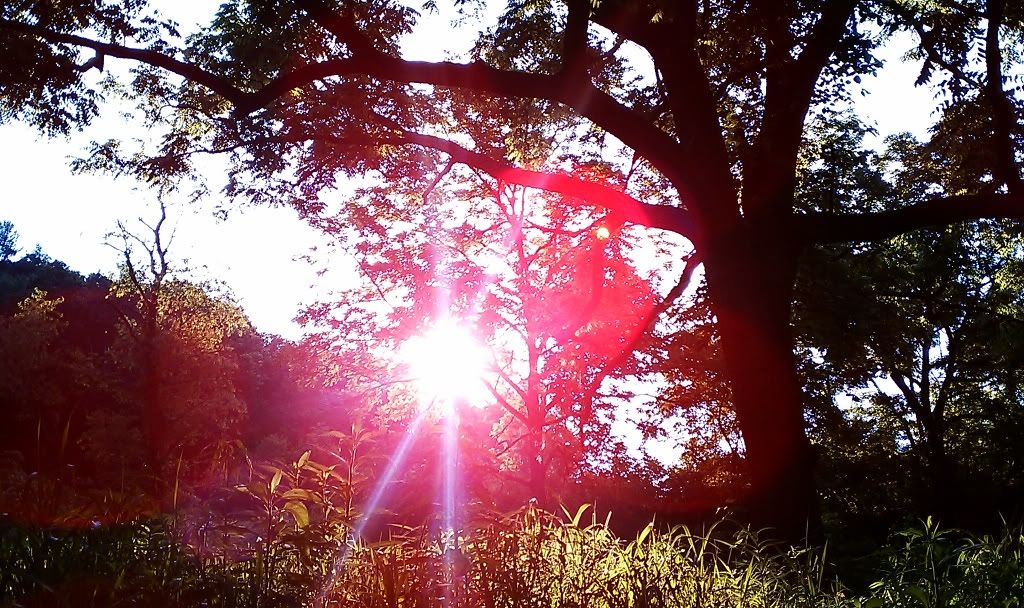 Once back to camp, I cooked up some beans and drank my beer while planning Saturday's ride with my DeLorme Gazetteer. My office:

After consuming my light meal, I went to bed around 9:15. It was still pretty bright out but I knew I would be awake early the next morning and needed the rest for the 600+ miles that lay ahead of me. I drifted to sleep with the sounds of squirrels rustling around in the leaves, snorting deer up the hillside, and some birds singing their goodnight song. Ahhhhh peaceful rest.
SATURDAY
I awoke at 4:50AM and immediately began packing up camp. I was extra careful to be quiet since a group of campers pulled in to the site next to me around 10PM while I was falling asleep. I had my gear packed and was on the road before 5:30AM. (note to self: Get one man tent to facilitate faster packing with less complication)
I shot back toward 77 with a brief photo op on the New River.

This is what the whole countryside looked like before 6:00. Just amazing with the dawn fog and colors.

I had always wanted to visit the Jackson Ferry Shot Tower after reading about it in a VA History Book my folks gave me for Christmas. It was just a mile or two up the road so I couldn't resist. Sure it was closed but I jumped the fence...who was going to be busting me before 6AM?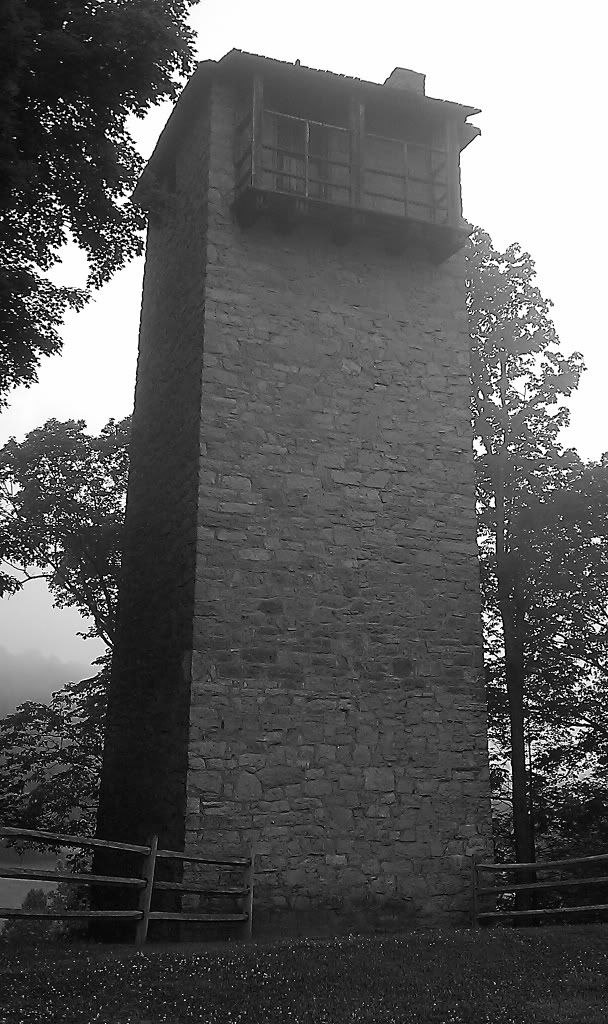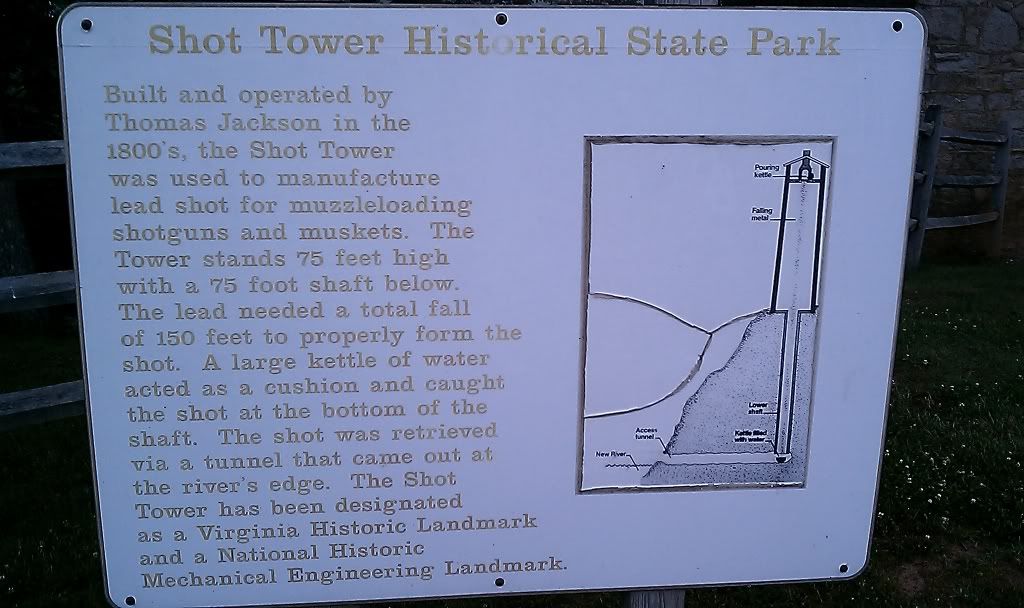 Saved me the $4 parking fee:augie
I picked up Hwy 58 and continued on this route east. I knew this would take me clear to Suffolk and it would be a long day on the road. I also resolved to stop and take photos whenever the opportunity presented itself. This added a great deal of time to my trip but I always am rewarded by the countless shots of history and memories along the way.
Here we are in Hillsville at the Courthouse. There is a great story about the shootout here: LINK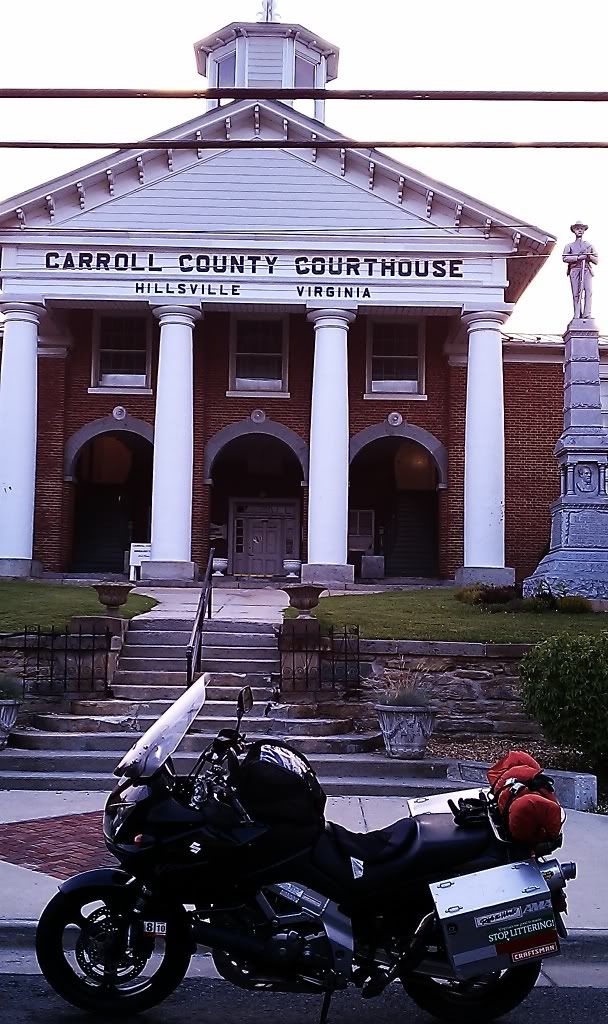 And the downtown main street scape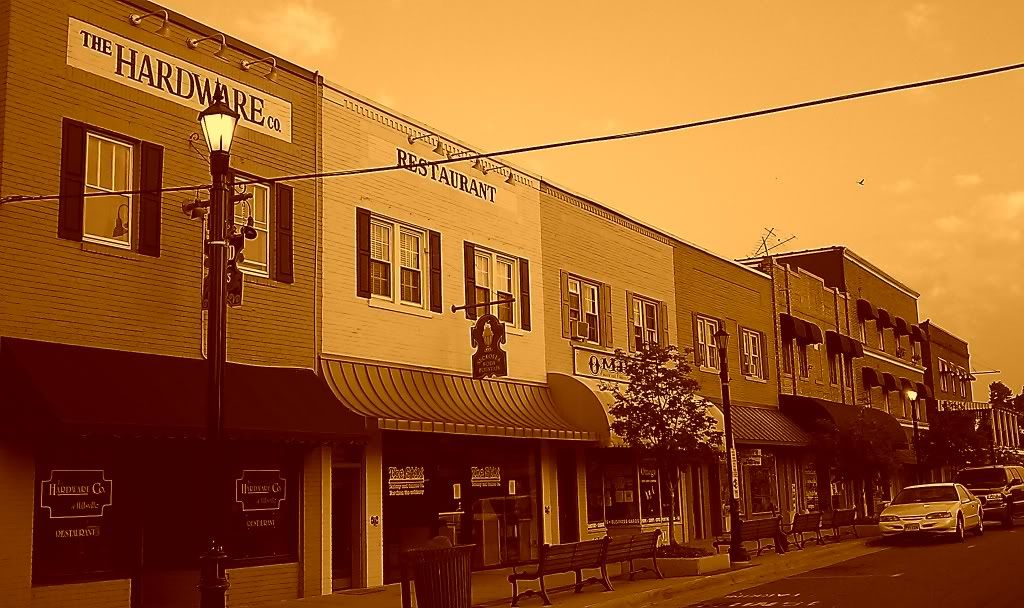 From here I blasted down 58 at extra legal speeds...only fit for early morning pre-LEO hours with no traffic. What a swell road. It got even more twisty and then I started seeing signs for the Lover's Leap Overlook...JUMP!:jump
I actually muttered a "wooooaaaahhhh" as I slowed to pull over for this shot. An amazing sunrise. I've always wanted one of those "above the clouds" sorta shots.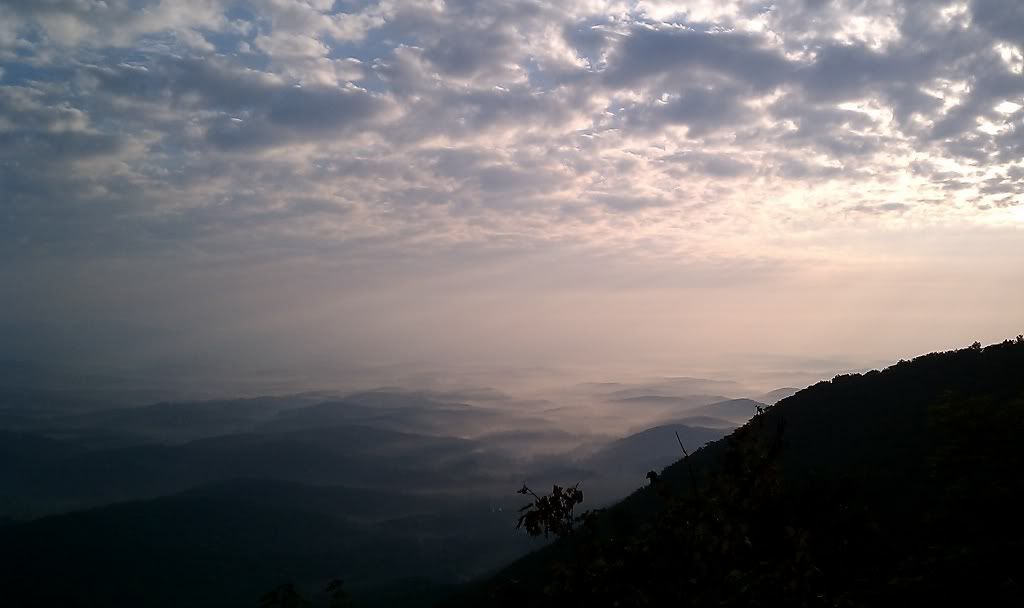 From Lover's Leap east, the road twists and turns out of the mountains until finally widening into a four lane divided highway. I zoomed into Martinsville and decided to check out the Martinsville Motor Speedway, just off 58 about a mile or less.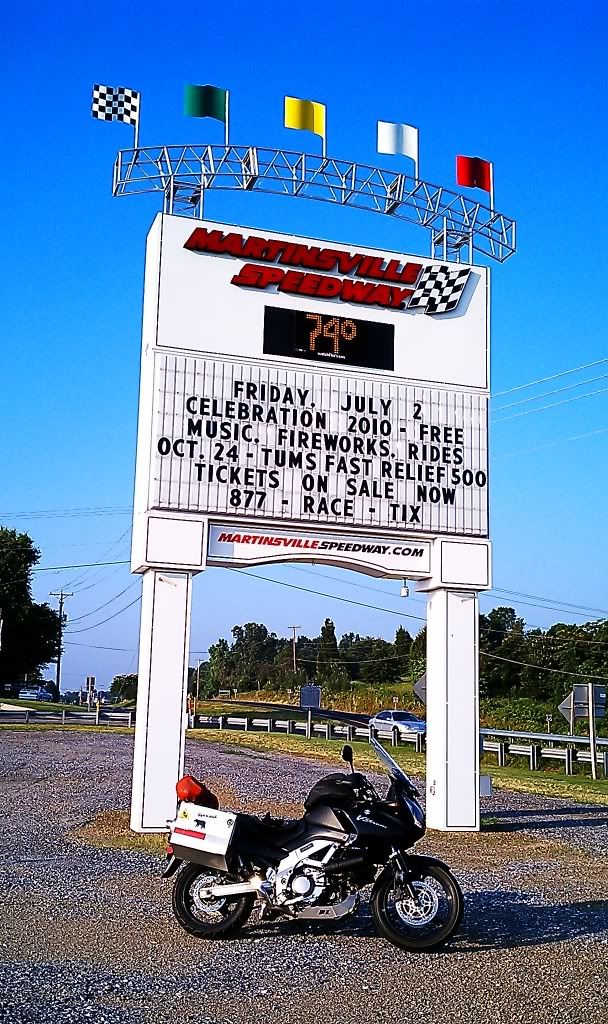 A VA Historical Marker I will have to add to their "find all 2200" game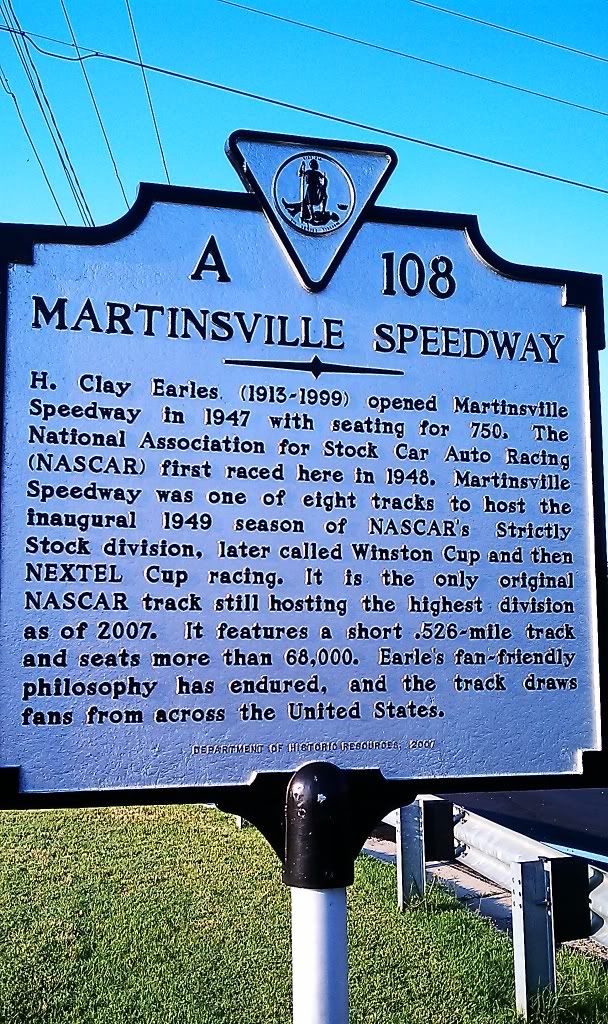 And here is the speedway and its short track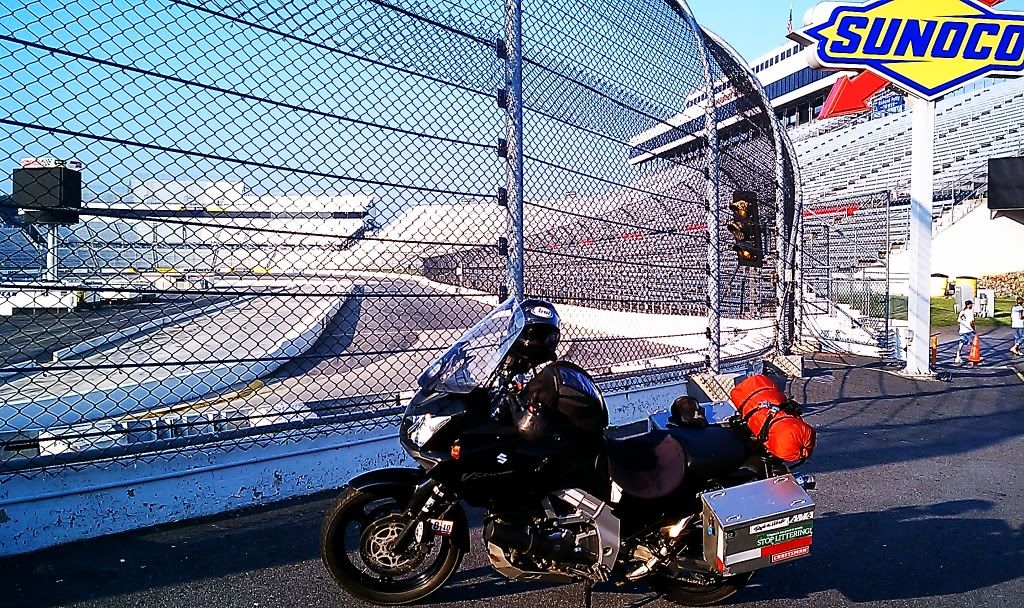 View of the infield

There was a couple around waiting for the $10 Mustang track day

Then I went for a walk on the track.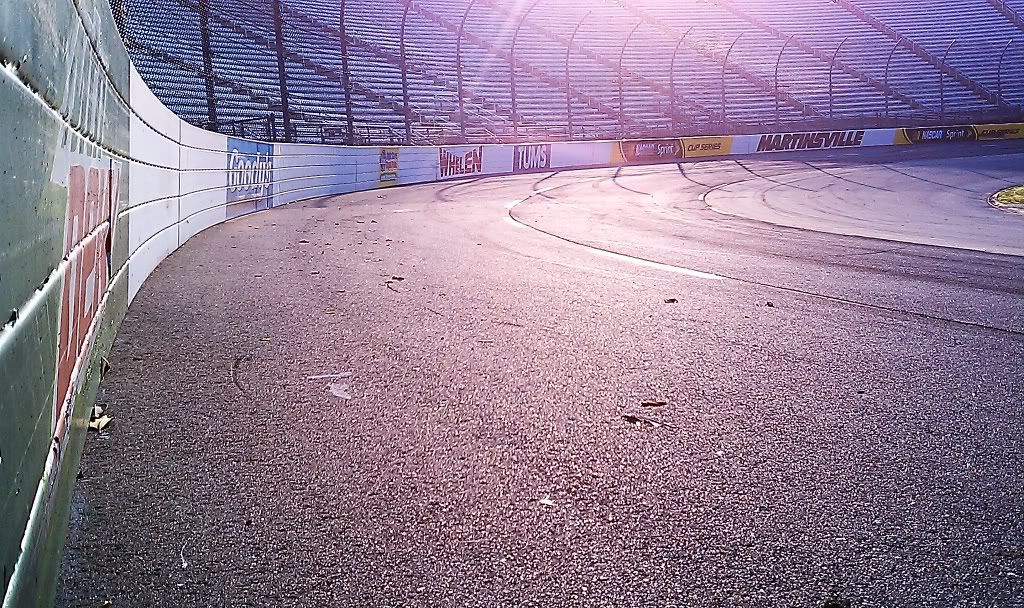 I cooked a cup of coffee up and watched the Mustangs arrive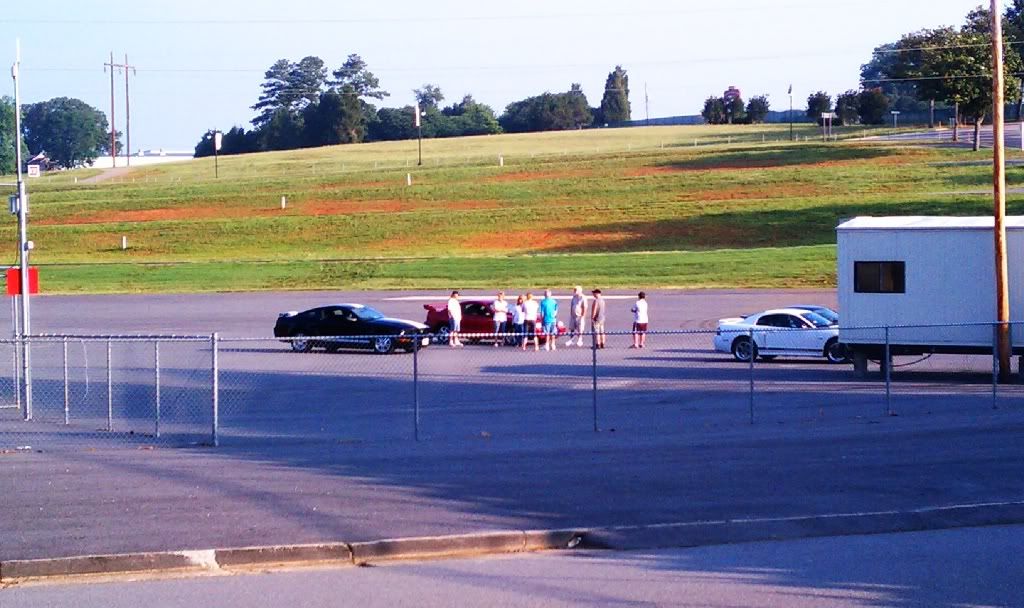 Finishing my coffee, I set forth for the town of Danville. Sorry, there are no shots along the way...not many notable items though. Coming into town singing "Virgil Cain is the name, and I served on the Danville Train..." I decided to meander my way to the old tobacco and industrial areas of town. There were so many photo ops that I could spend a whole day here with my camera and not be satisfied. Here goes a couple of the pics.
Huge old abandoned warehouse right on the river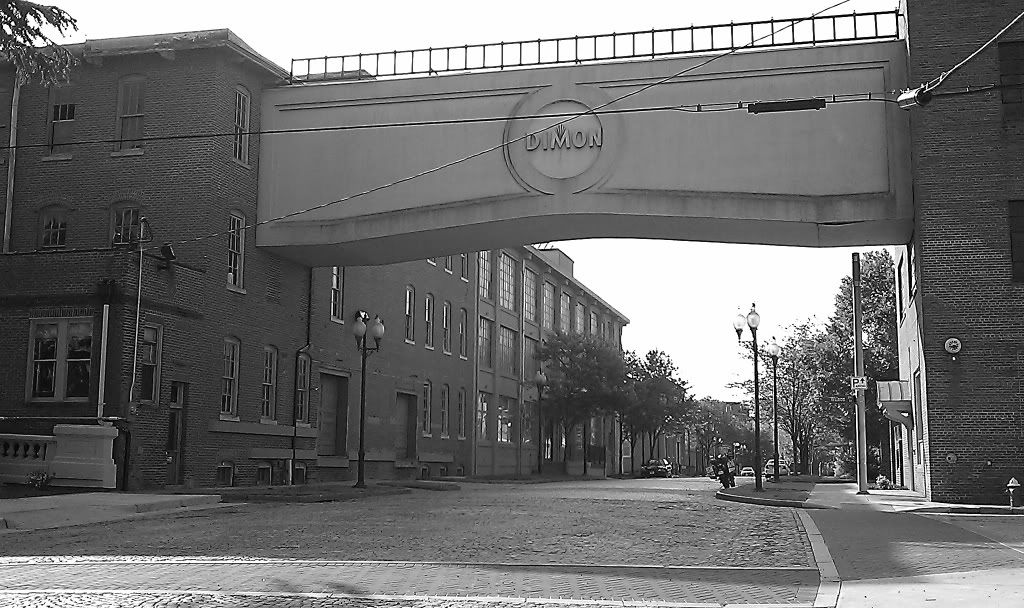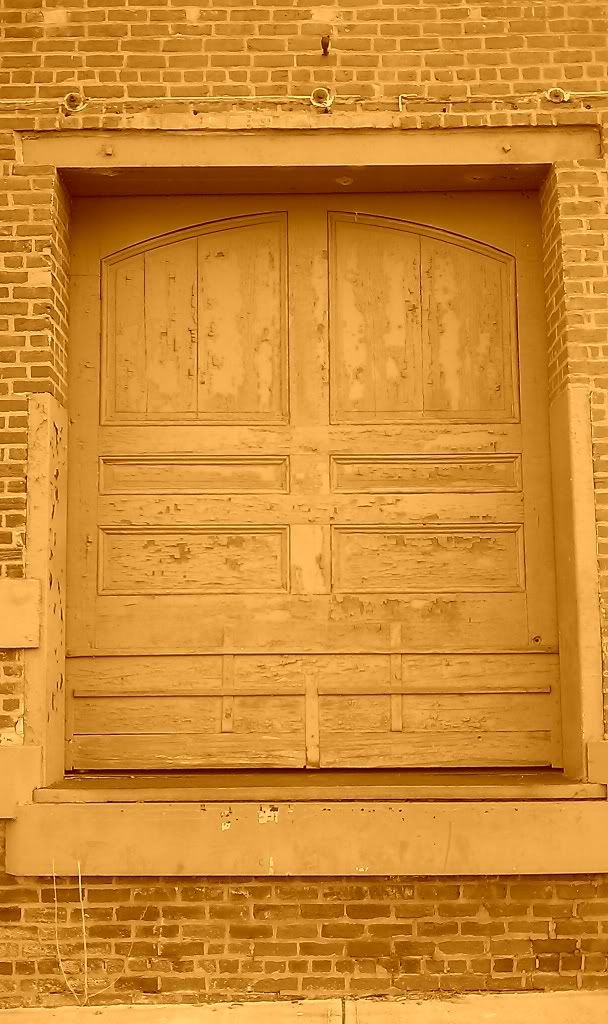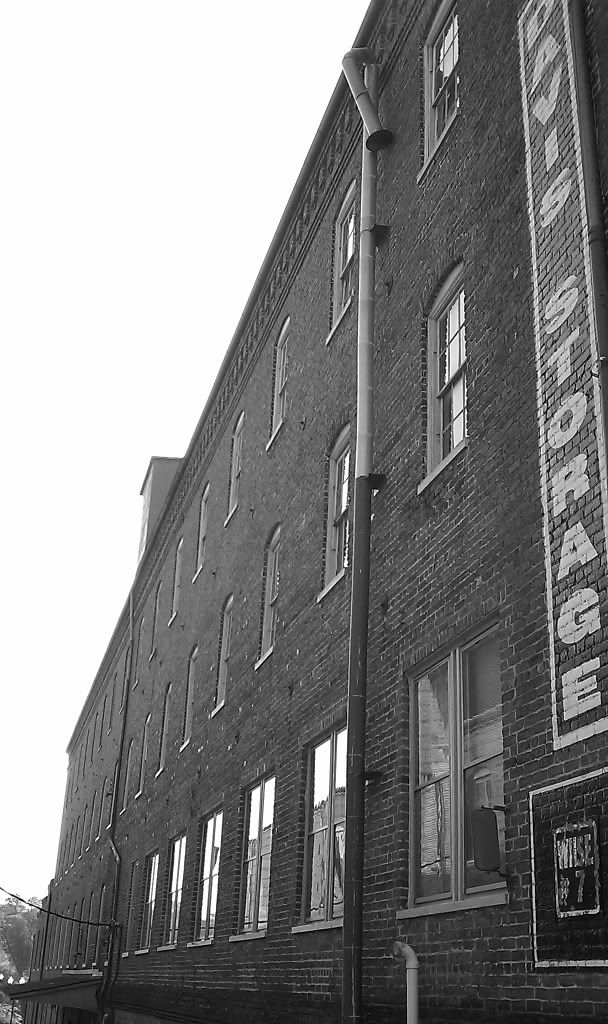 I like this shot :D

They had a Flower Market of sorts set up down here.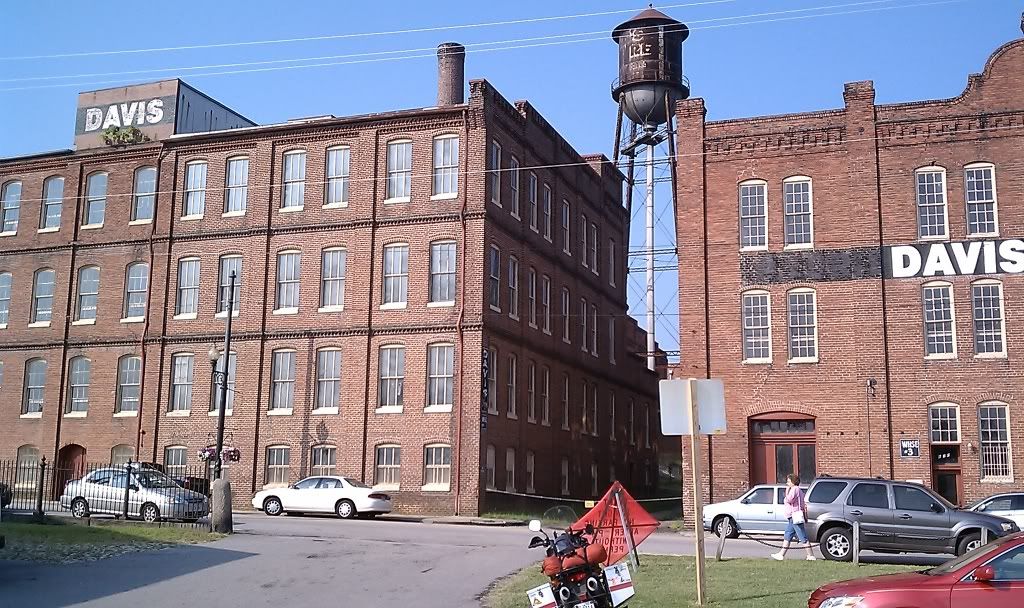 And a historical wayside on the way out of town.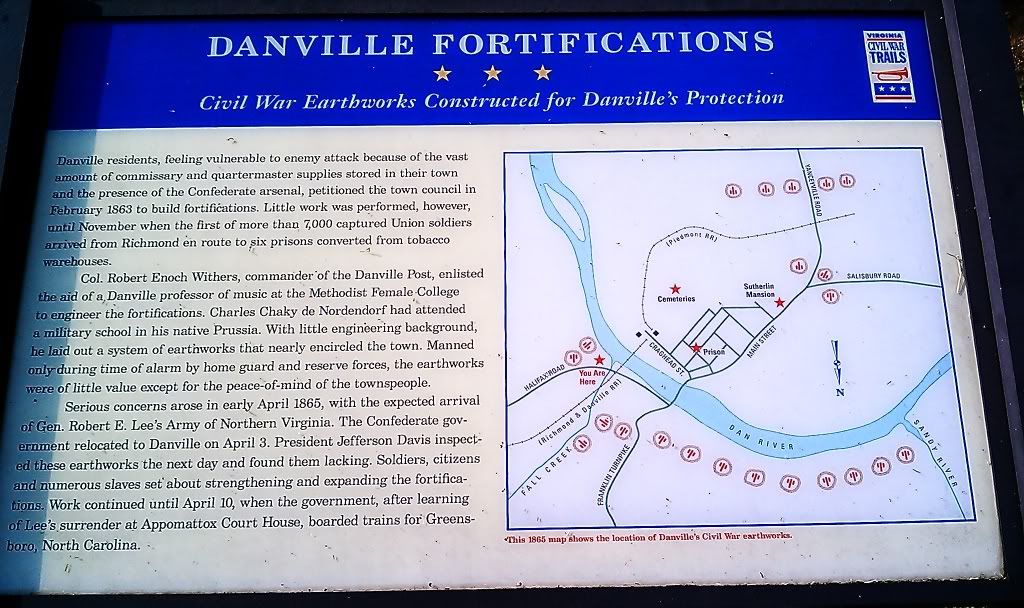 Jumped back on 58 and decided to ride till I found a suitable place to make some Oatmeal. After crossing the Occoneechee Bridge, I came to the state park. I just wanted to snap a photo and make some oatmeal but they wanted $ to get in. Just across the street I noticed this roadside curiosity so I crossed the median to see what it was.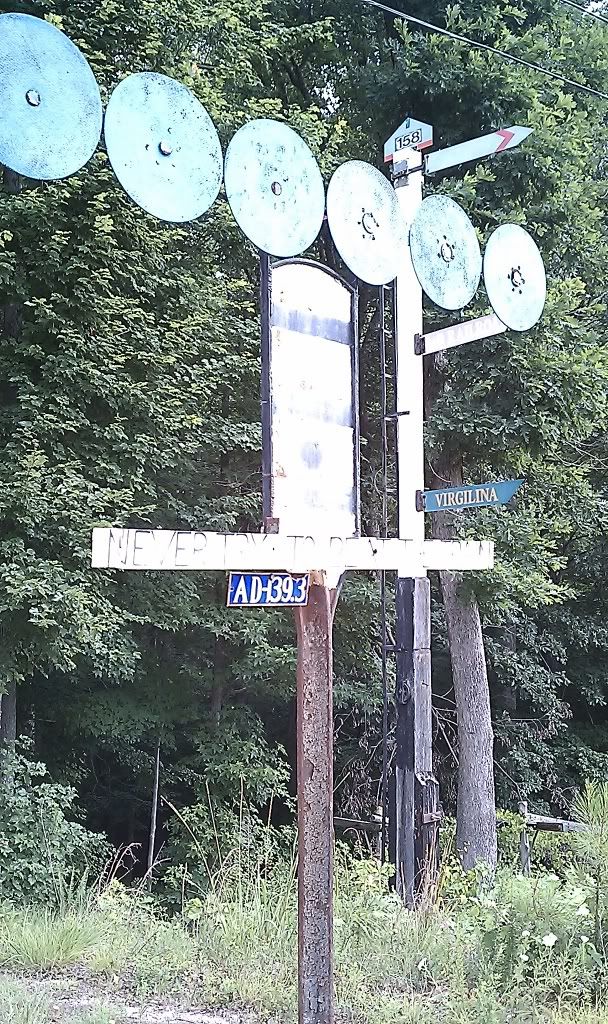 Perfect spot for some breakfast!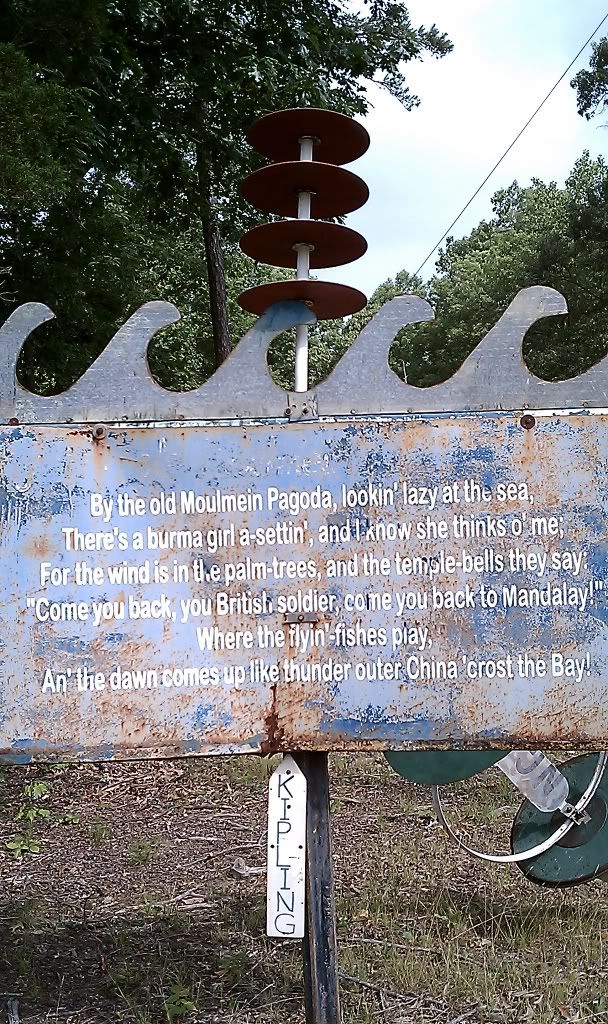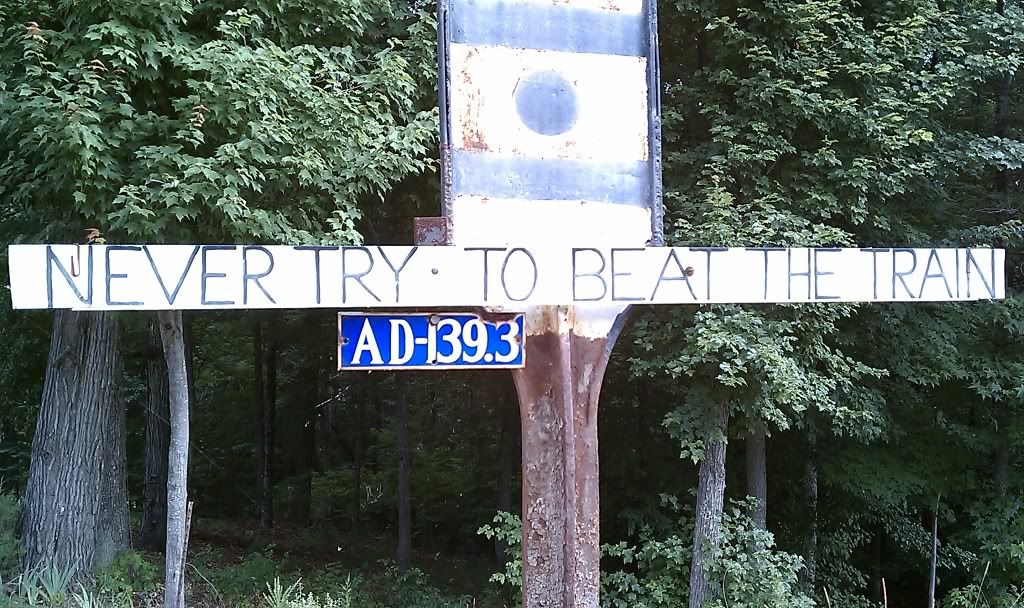 Oatmeal with freshly picked blackberries and raspberries from the bushes nearby

Checked the tag games and the current Global Tag was "A Vineyard". First sign I saw, I turned and headed for the Rosemont Vineyard. Apparently they were having a huge festival that day but I didn't have time to attend (or the wherewithal in my stich)

Then placed the new tag: Hooves on the Roof

Continuing down 58, I came across a peanut stand. Remembering that Father's Day was tomorrow, I stopped in to buy a bag of Redskin Peanuts for Pops.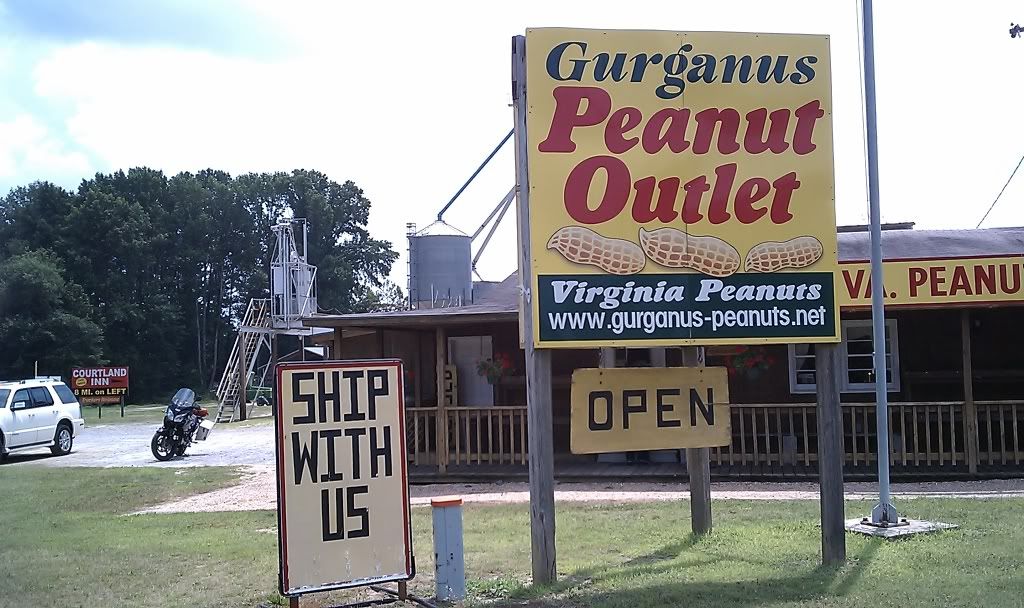 From here the road became continually more crowded until I was dumped into the "Bridge Zone of Hell" I did see my first Egret and Blue Herring of the trip so that put a big smile on my face! "I'm going to the BEACH!" I exclaimed into my helmet to nobody.
Traffic at the first Tunnel into Portsmouth area was dreadful and hot but I kept on it and was eventually taking the wrong turn into downtown :doh I made my way out and luckily found my way back toward the Bay Bridge Tunnel.
TaDa! $12 later...I was cruising over the water. What a great sense of accomplishment knowing where I started earlier that morning.
Emergency Pull Off - Photo Op Time


Big Ships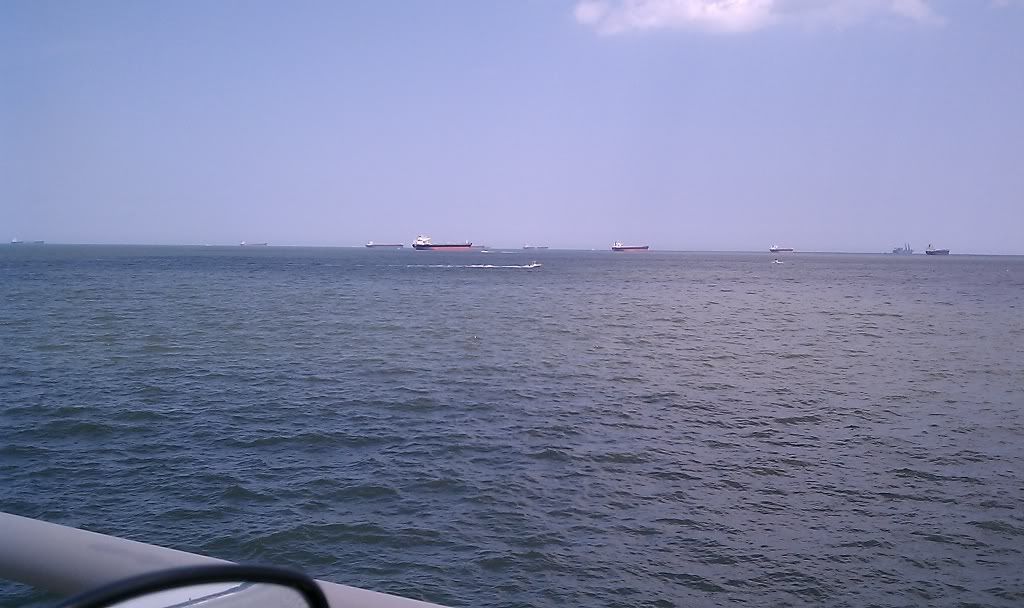 Then took a quick break to stretch around the first tunnel entrance.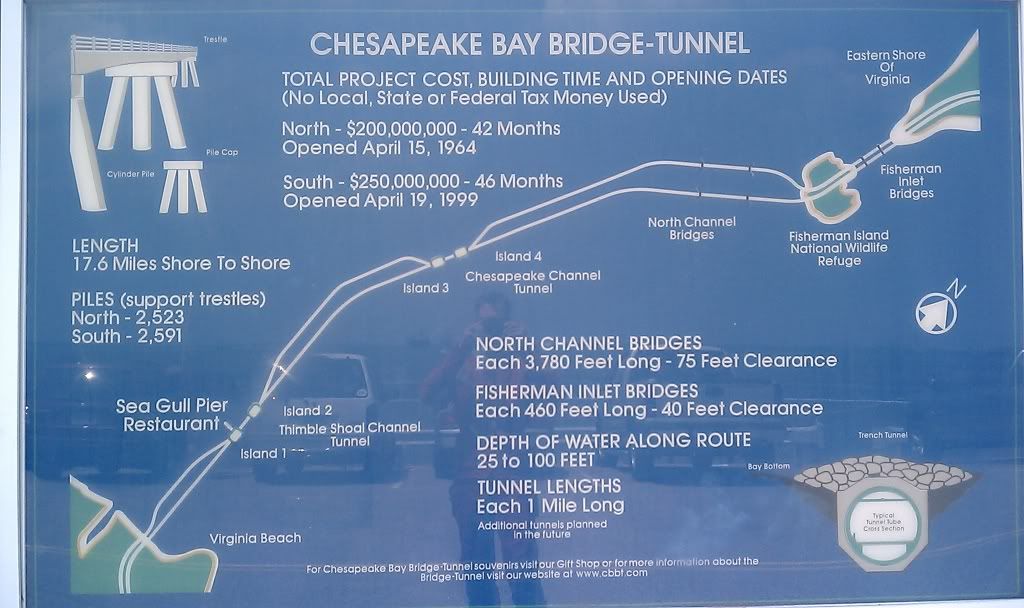 Did I mention it was friggin' hot!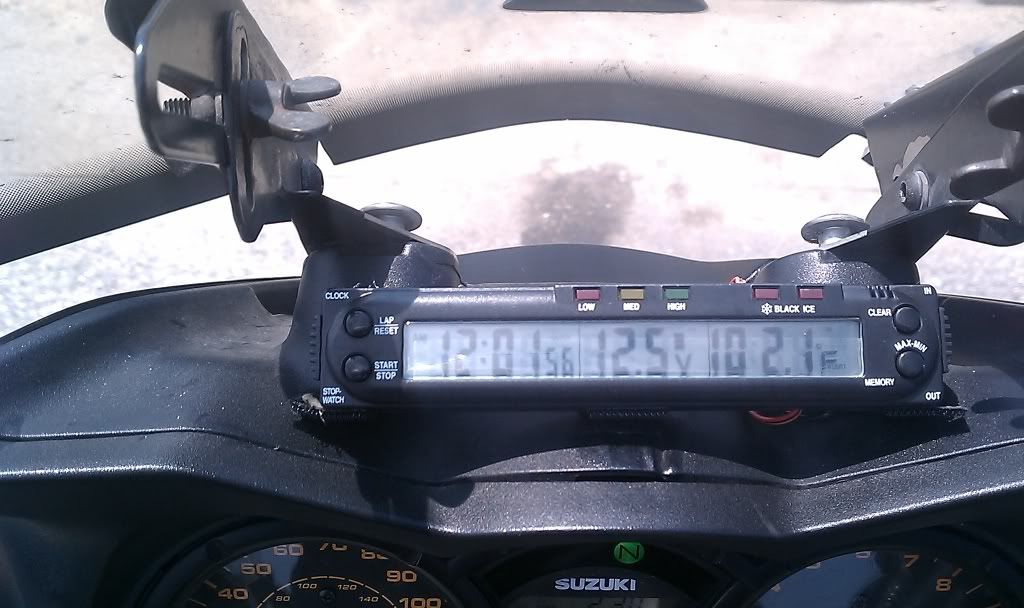 Scooted my way over to the other side. The temp eventually dropped to about 81 somewhere in the middle of the bridge. That was welcome but I still wished I was riding a Harley in a T-Shirt...NOT:jump
Once past Fisherman's Island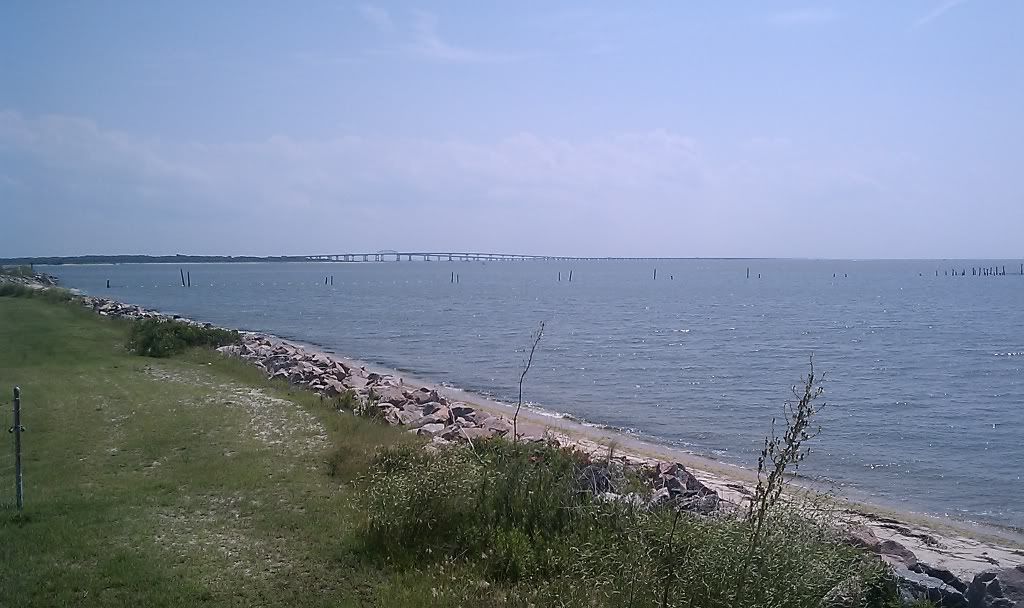 They have some information about the wildlife refuge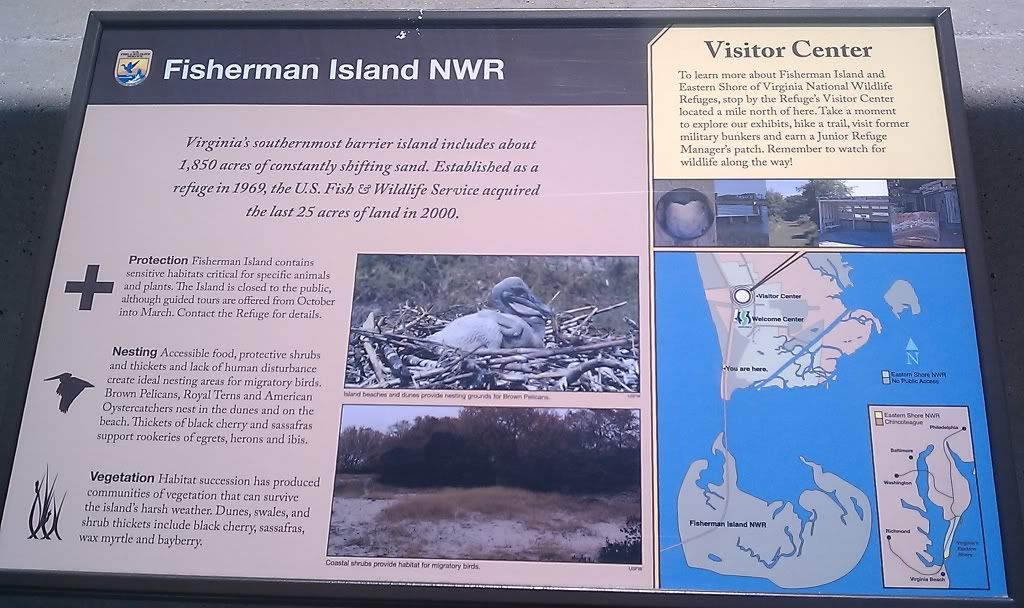 YAHOOO!!!!

I made it to the Eastern Shore :evil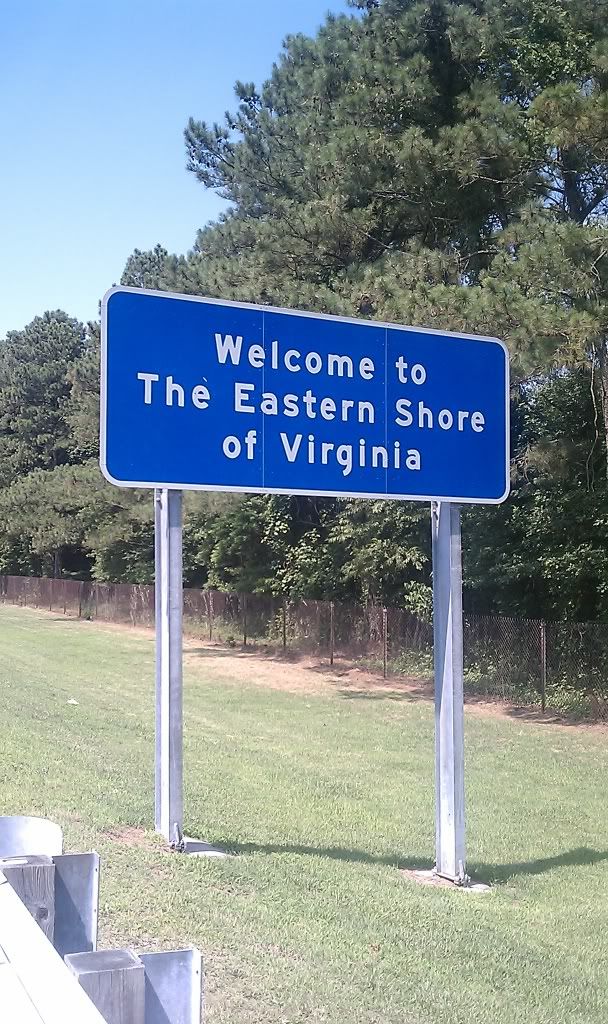 I didn't really have a new tag spot in mind yet. I took a side trip to go swimming at Kiptopeke State Park. I had camped here in the past with a former girlfriend but they wanted $5 to go in. No chance. Off I go. I saw a sign pointing toward the "Custis Tomb". I immediately recognized the name so figured I'd go check it out.
Yup...this will be the new Tag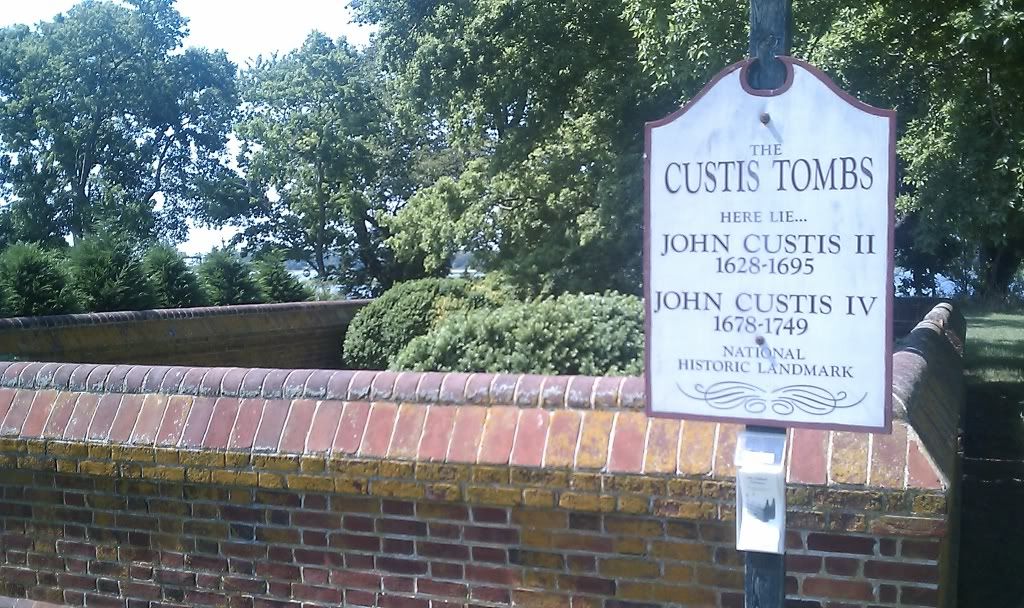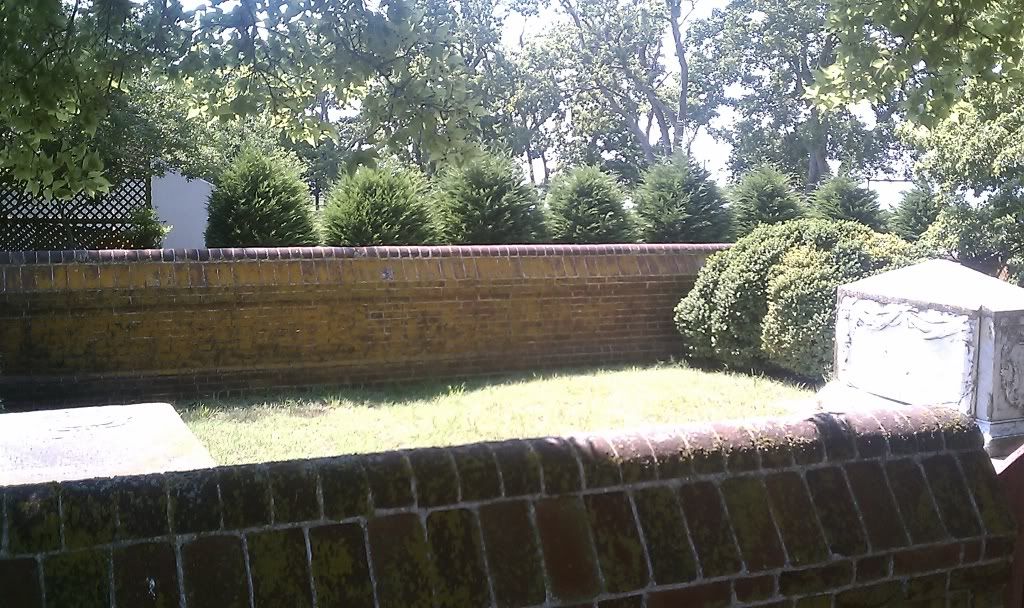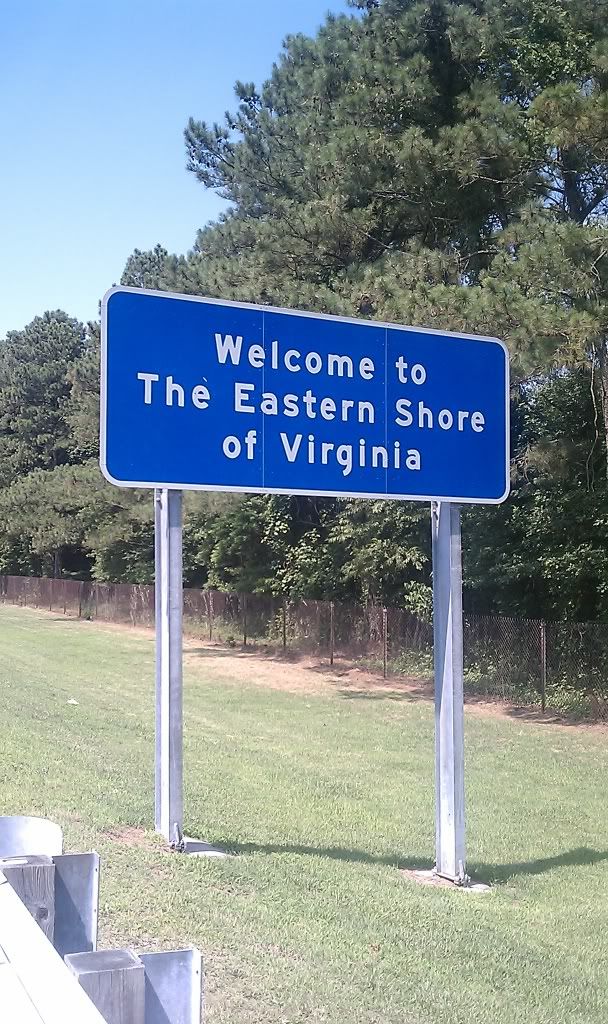 And some information about the mansion

My oh My...what a view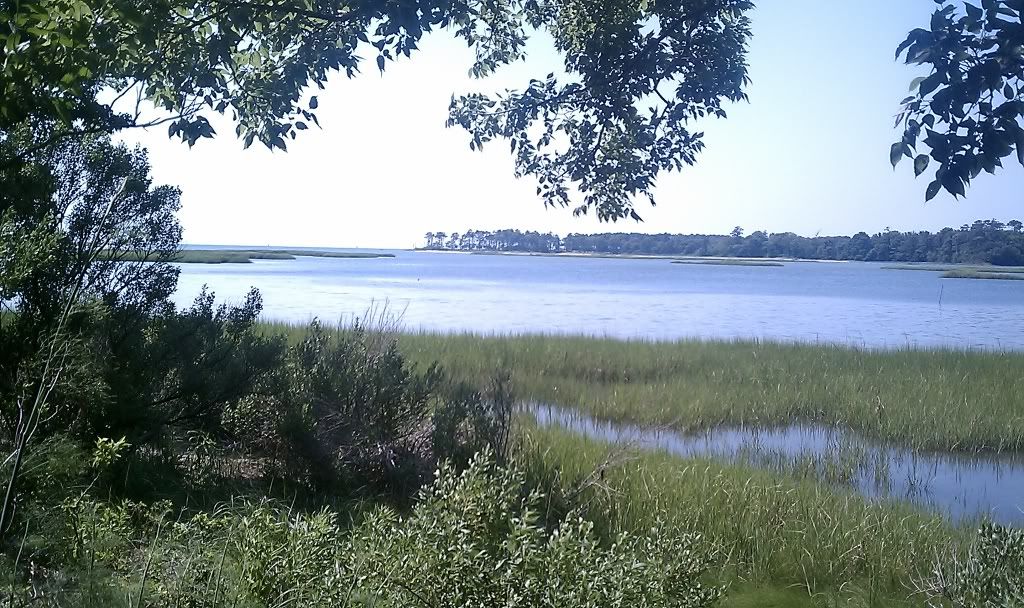 This ones for you Ma :thumb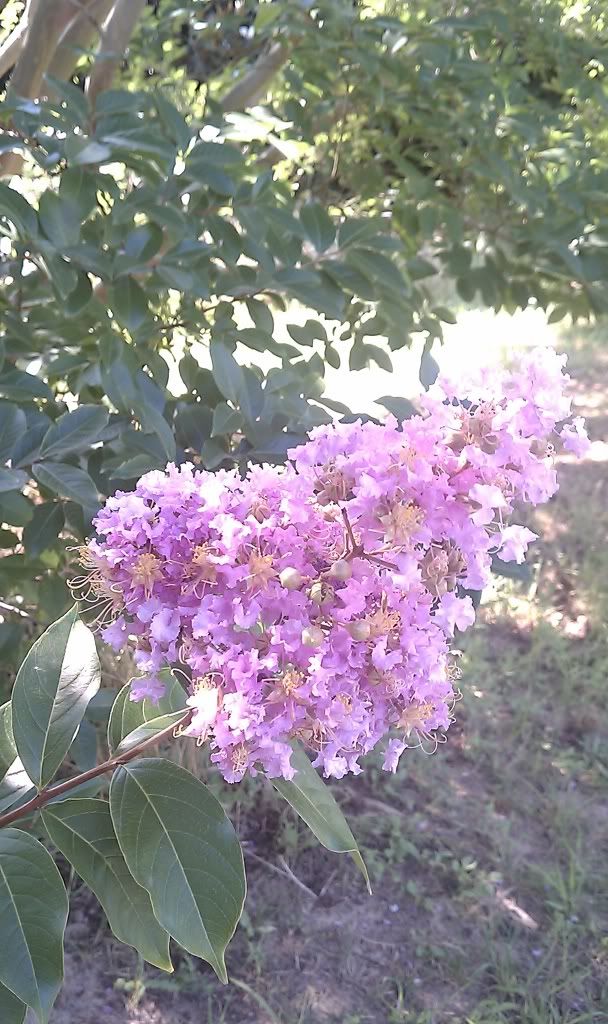 Rode 13 up into MD. Not much to see but large farm fields, seagulls flying around picking up seed and grubs, large combines and shanties
Then I crossed into

Made my way back up 50 then over to the Chesapeake Bay Bridge and across into Anne Arundle County. Wanted to take a pic of the bridge but they wanted $ to get into Sandy Point(?) State Park. No Chance. Ya'll can google the bridge :deal
Hopped on the speedway known as I-495 Beltway and the temperature immediately jumped to the upper 90's. Super hot but I kept pace about 85mph or so and just hummed my way toward the folks' place in Alexandria.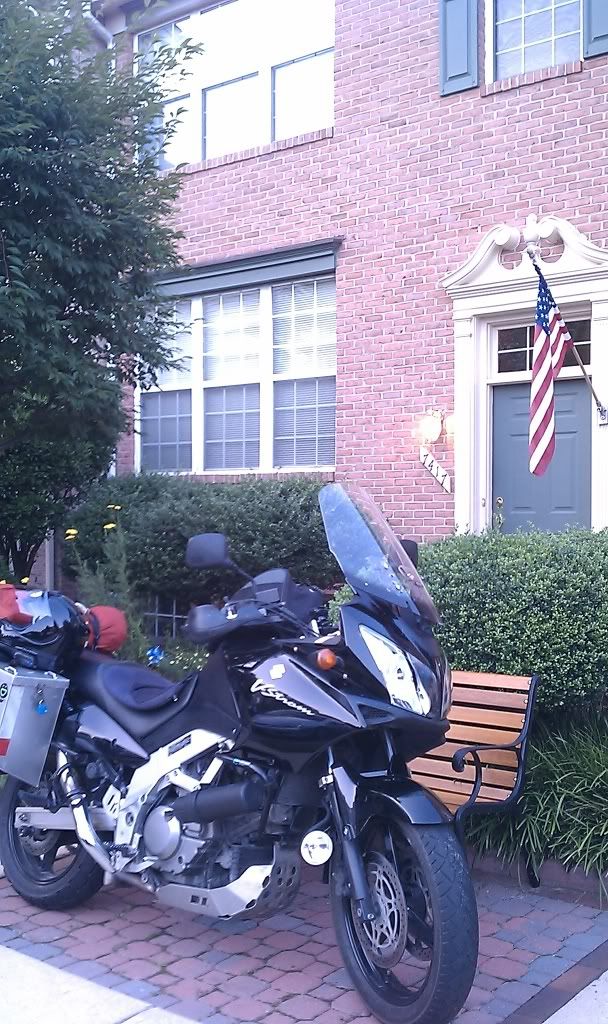 Happy Father's Day Pops!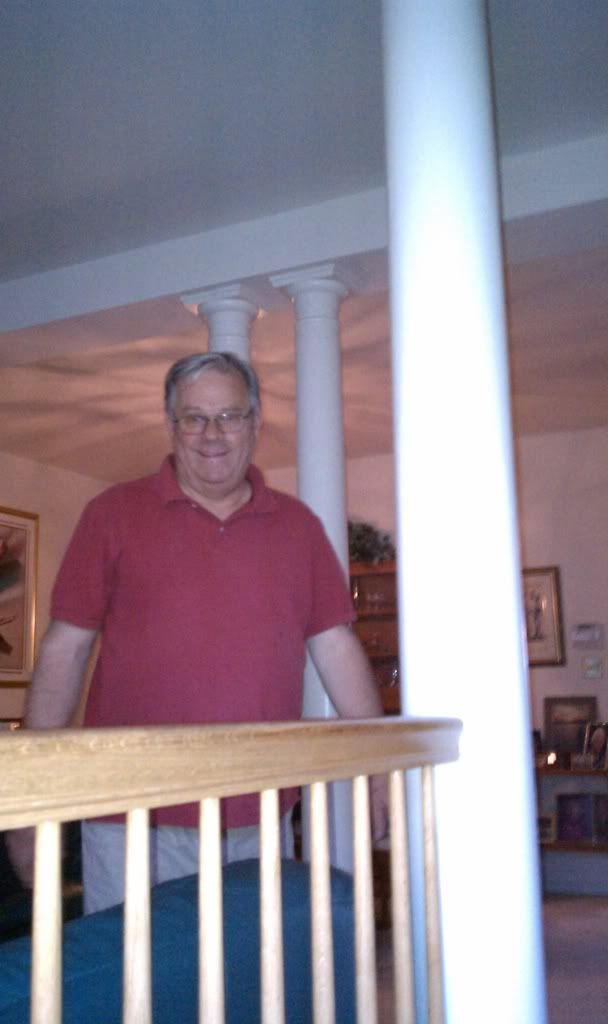 They even had some leftovers ready for me. Great thing considering all I had to eat was Coffee, an Apple, Granola Bar and Oatmeal + gallons of water.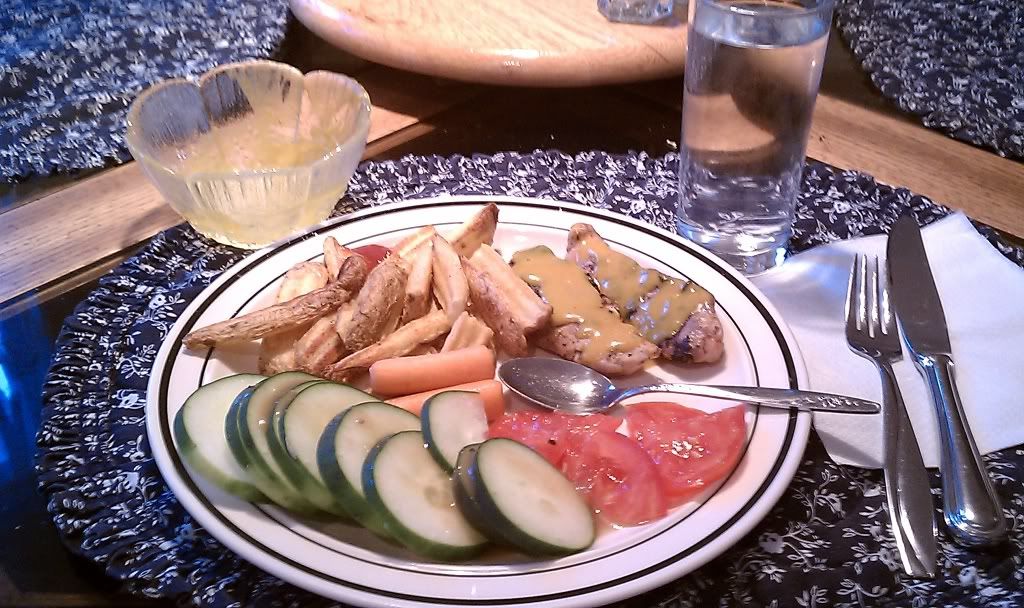 Enjoyed the evening at home chatting with the family then retired around 10PM to rest my bones. Had the NOVA Tag been within 30 min, rest assured I would have grabbed that sumofabitch :deal :super
SUNDAY - Father's Day
Awoke at 5:30 and packed up my gear. Enjoyed some coffee with Mom and loafed around the kitchen. I was getting antsy to ride but this was not to be MY day...
Prism's in the kitchen...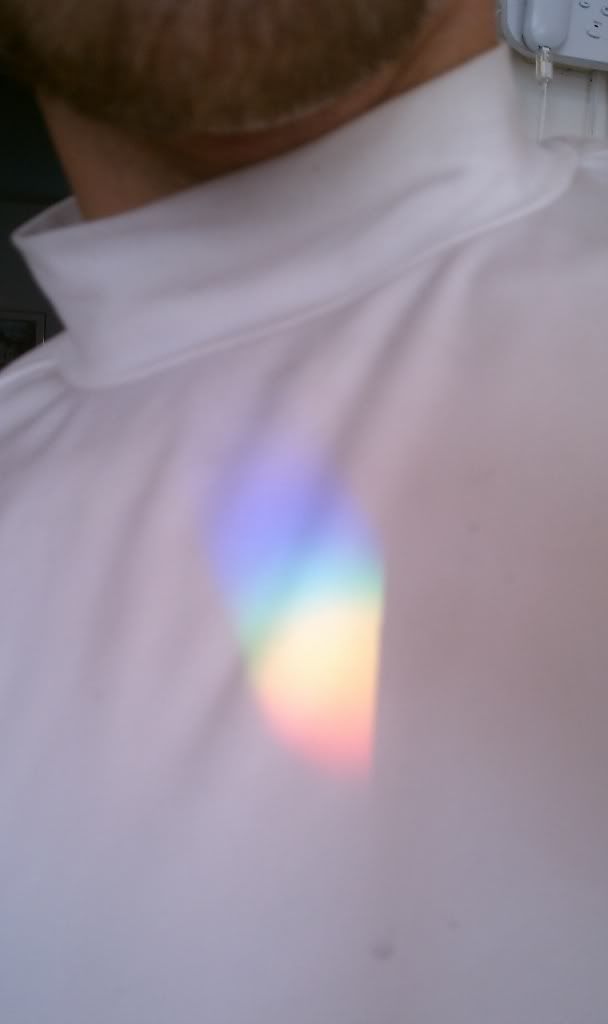 Huge Strawberries were part of the big breakfast we enjoyed as a family. I also brought home some of the blackberries and raspberries from the ride.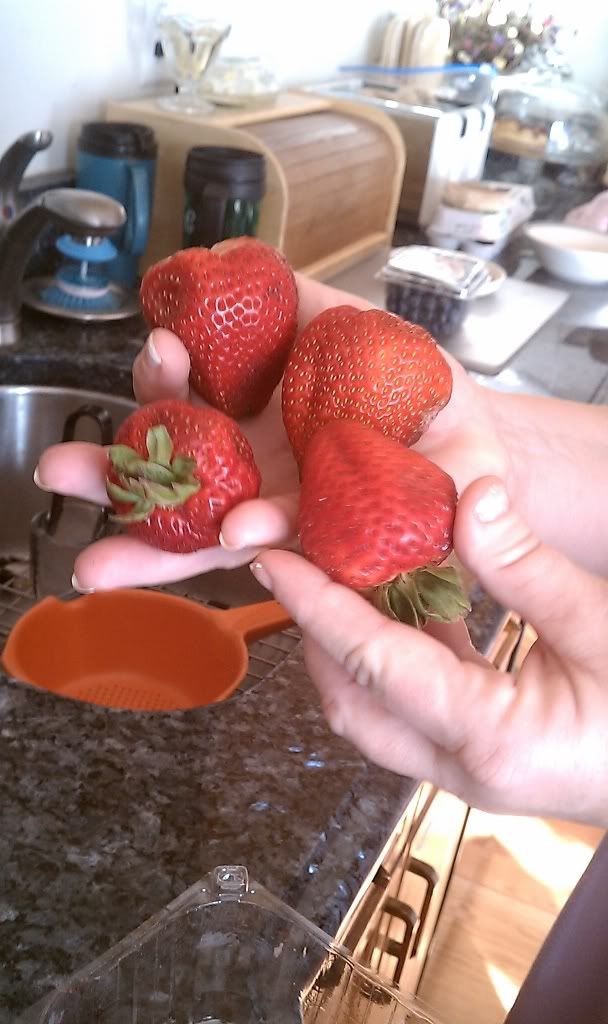 After breakfast, I helped Dad set up a router for his internet then headed off to grab the NOVA Tag down near Stafford.
Gotcha Ali!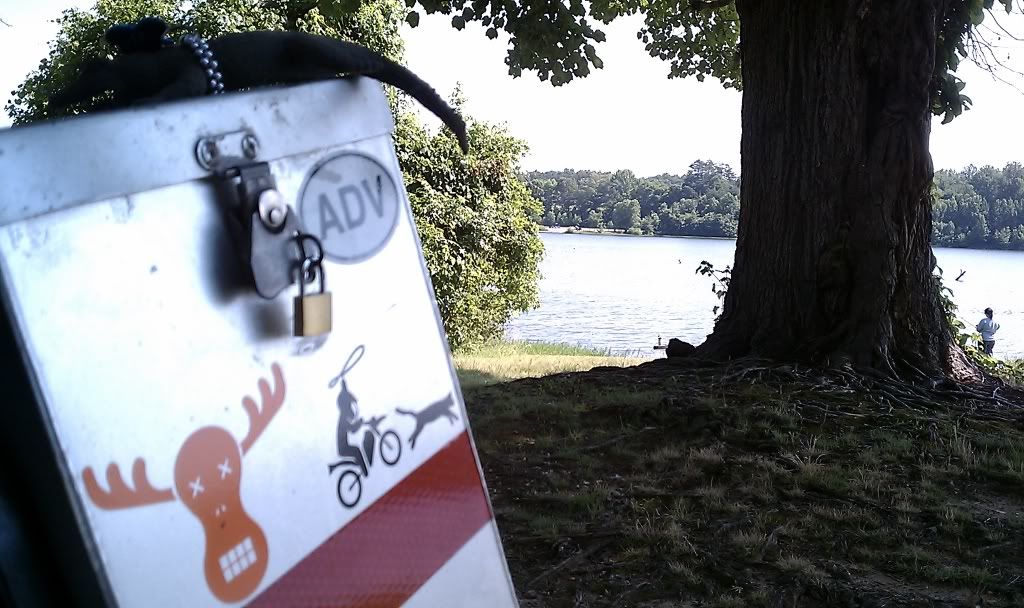 I'm a sucker for old gas pumps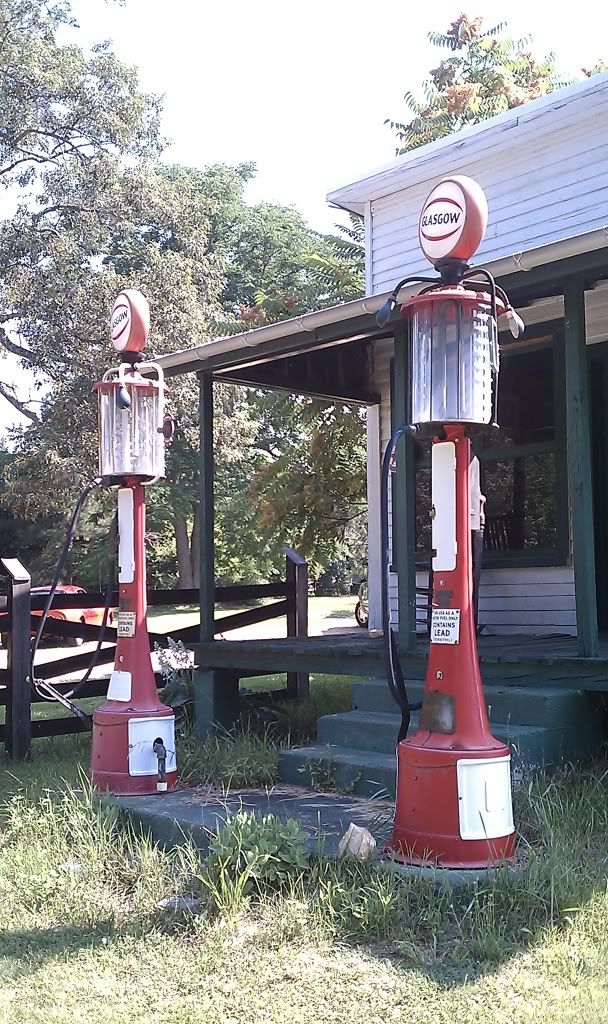 And Opel's ! :tb

I placed the new tag at Chatham House down in Fredericksburg on the north side of the river.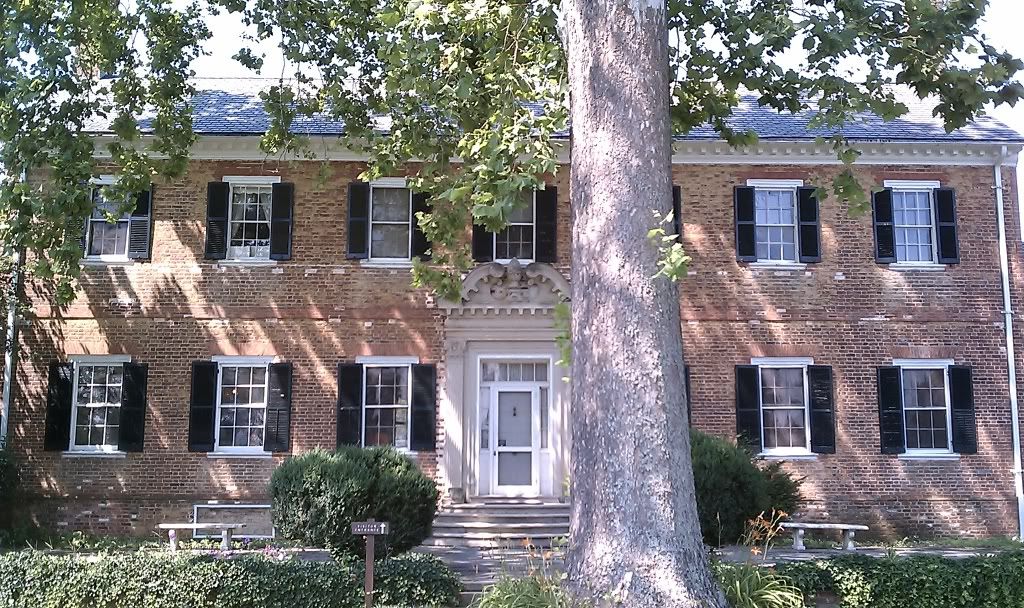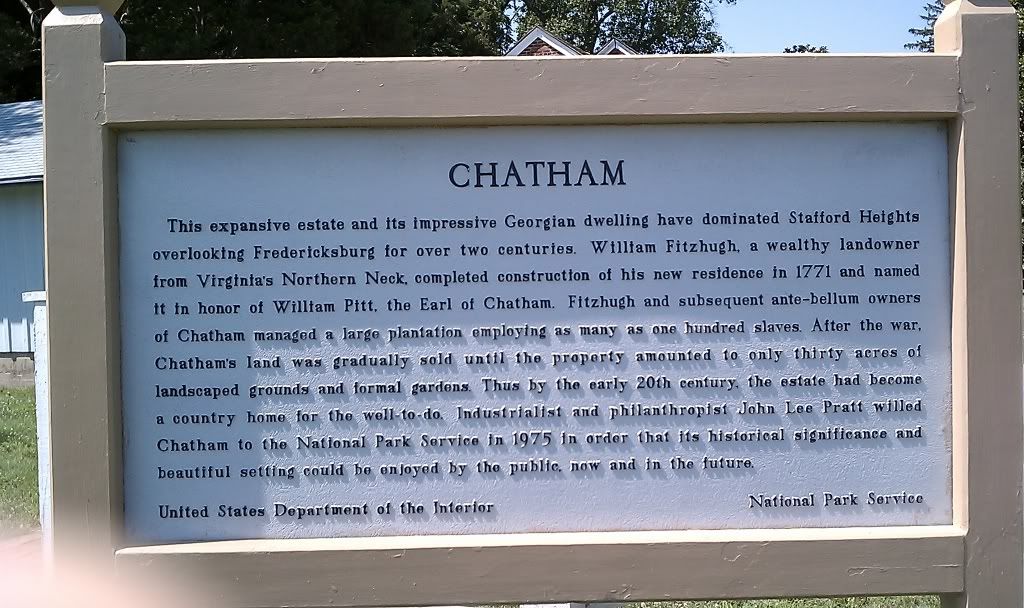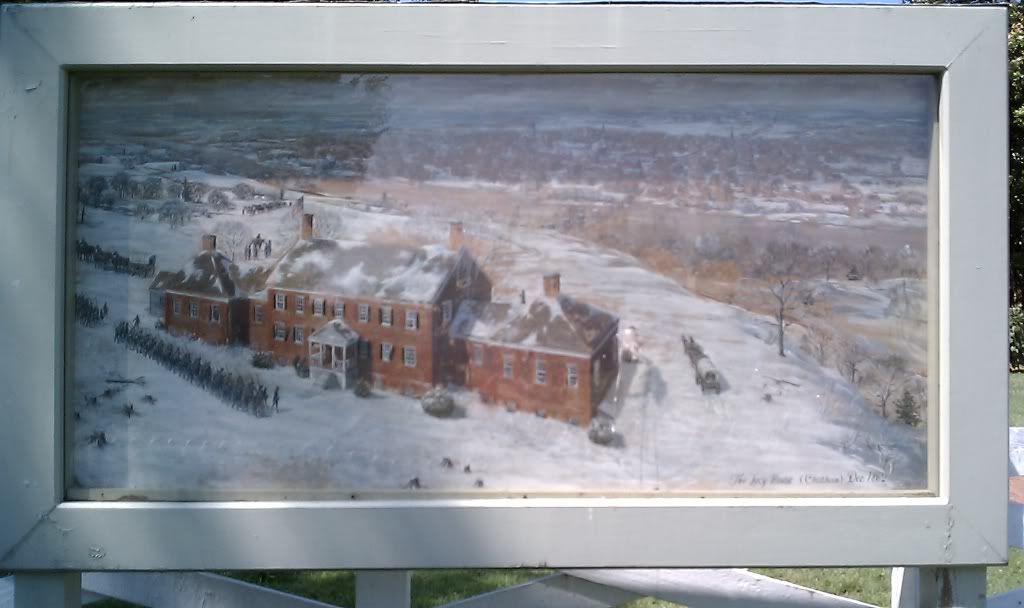 Ali stopped to smell the lilies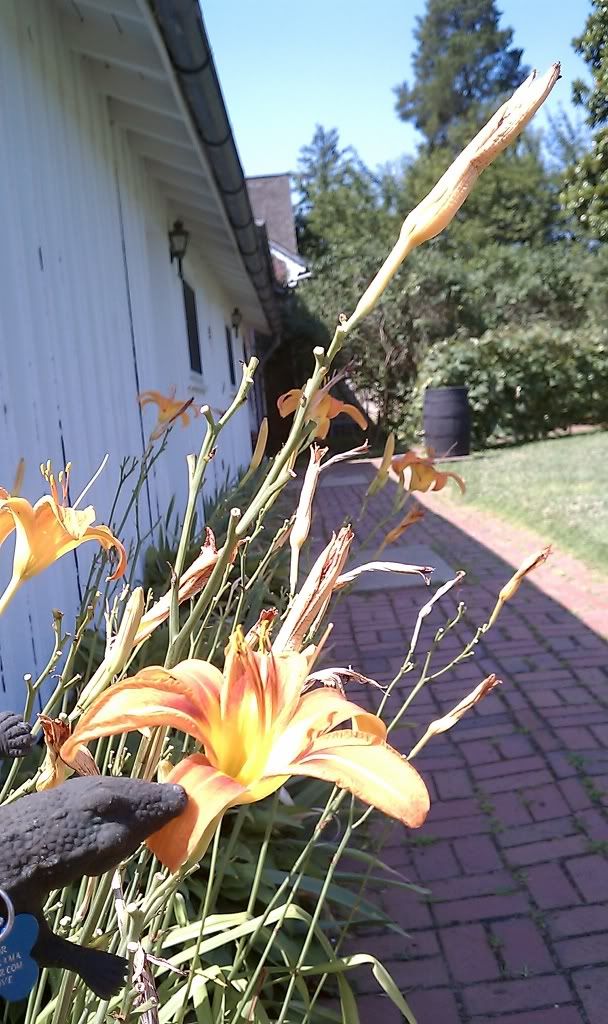 I got a call from my Dad on the helmet bluetooth as I was leaving saying the family was just turning onto Rt 20 from Rt 3 headed for Montpelier. "I'm on my way!" :pynd
Met up with them near the entrance at the old rail station.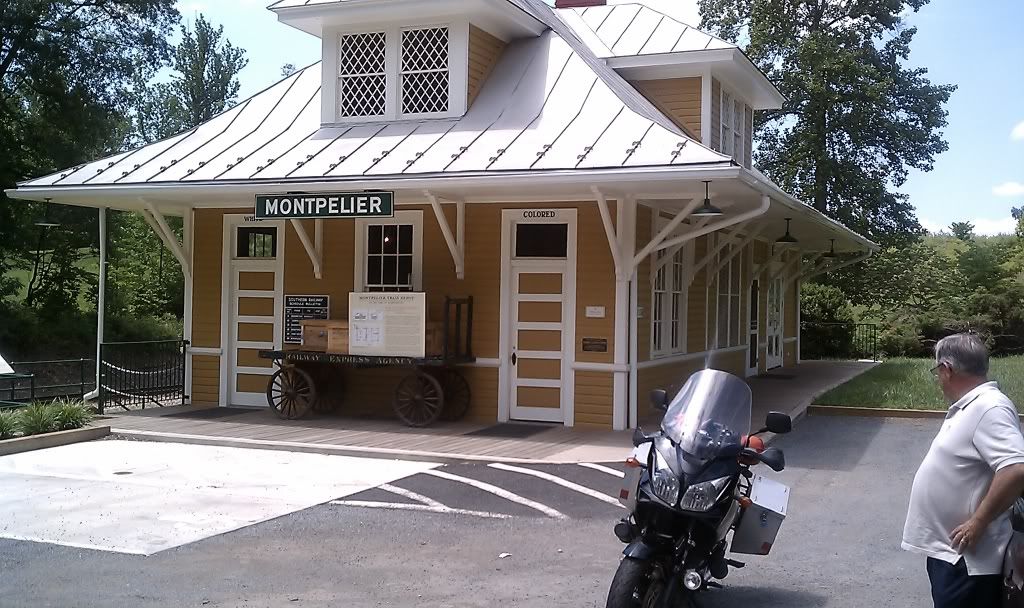 Notice the signs above each doorway.

Went inside to take a peak.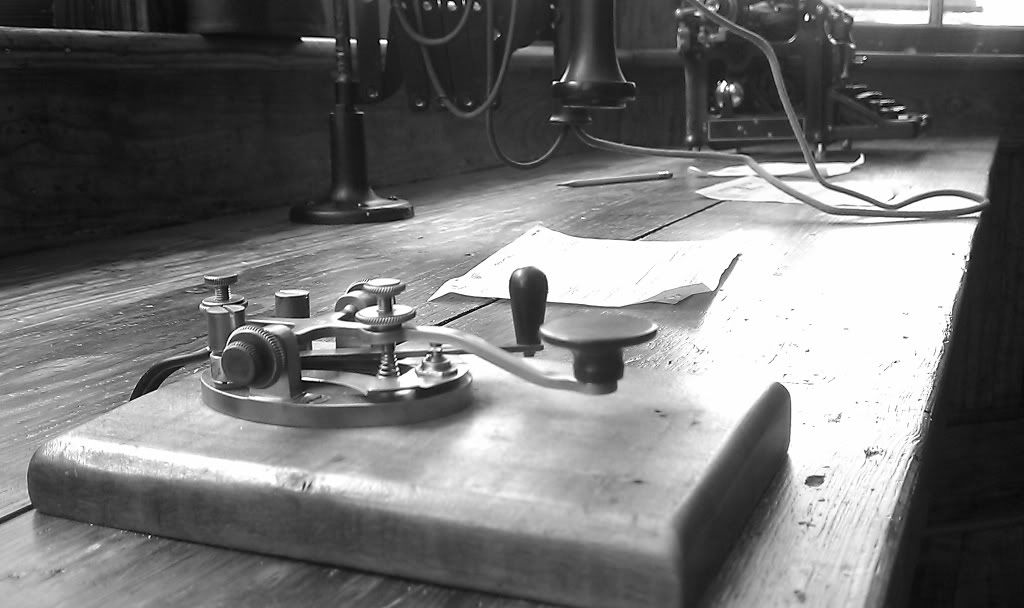 Very interesting...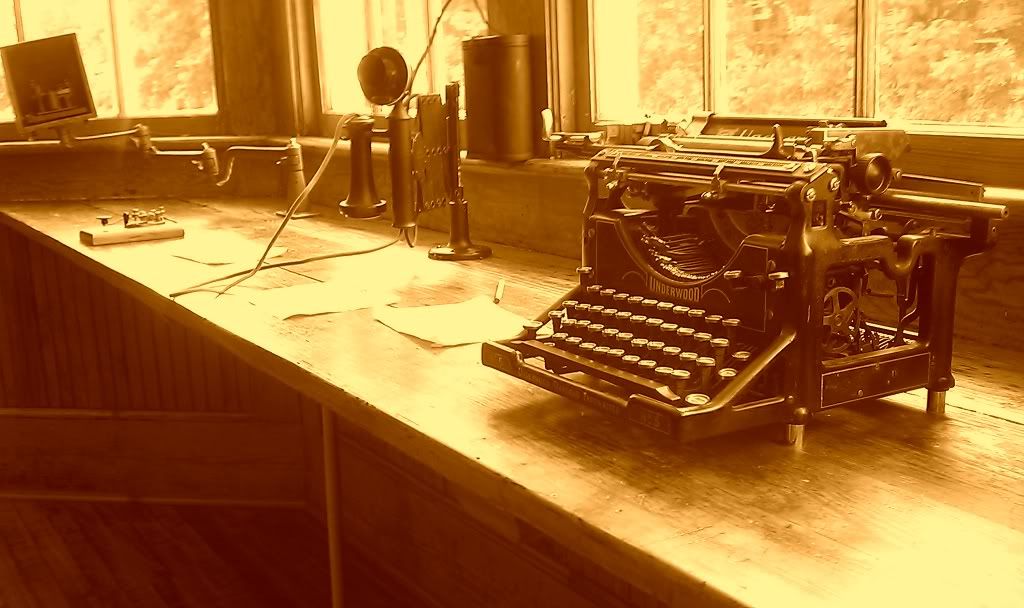 Then the family and I toured the mansion

They did not allow photographs inside. I took a shot here from the Portico of the southern wing. This is where his parent's side of the home was.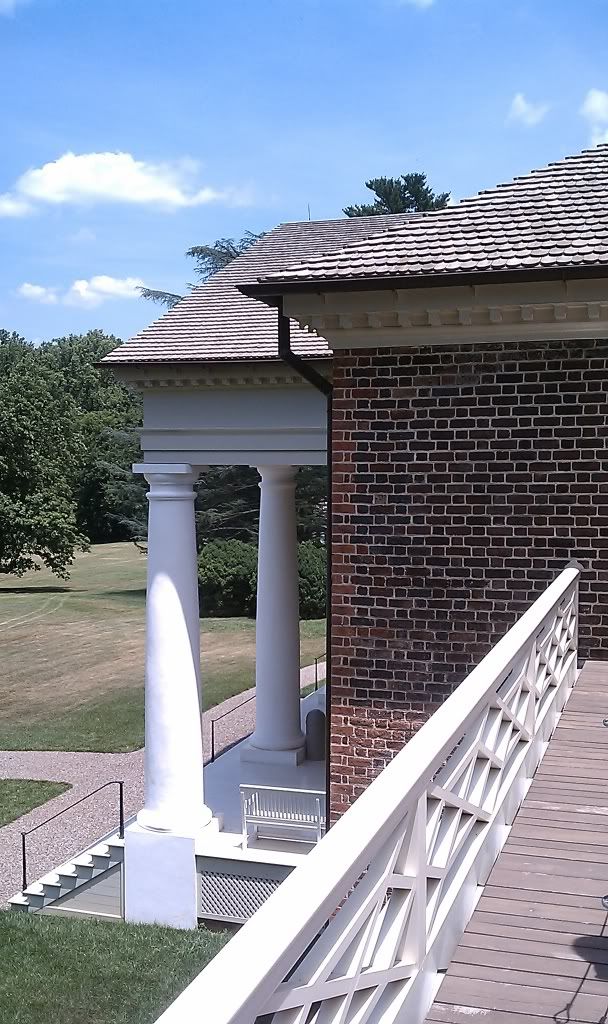 There was an educator out there making period meals but somehow we missed lunch:patch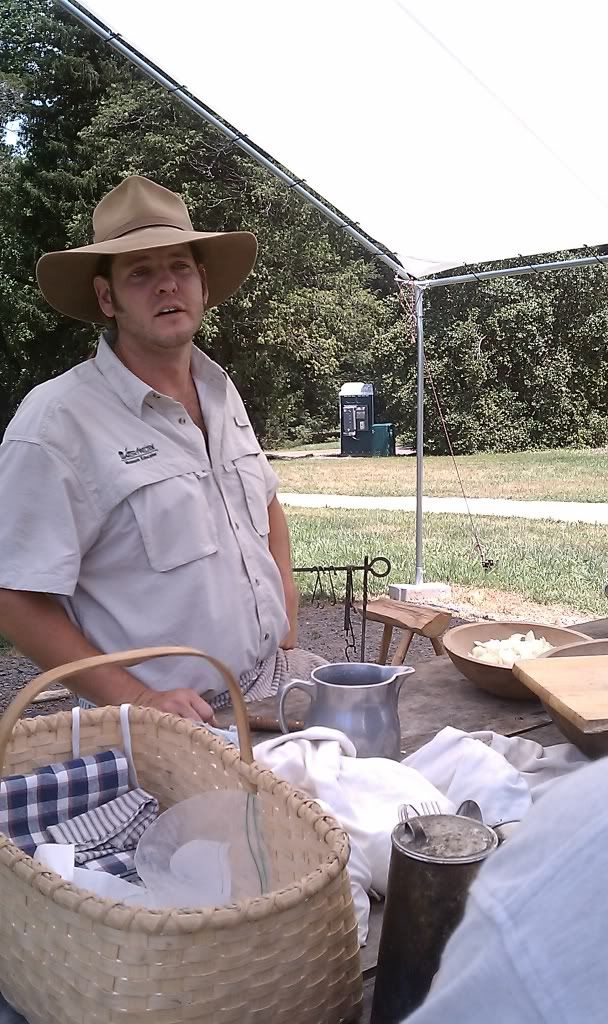 Dad hanging out with 5'4" Madison. Dolly called him "The Great Little Madison"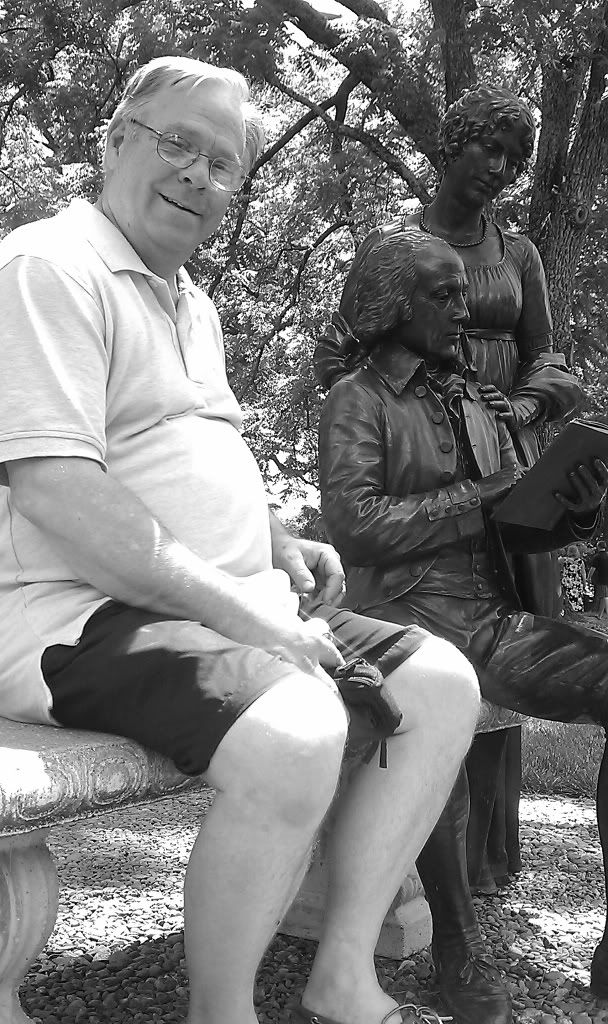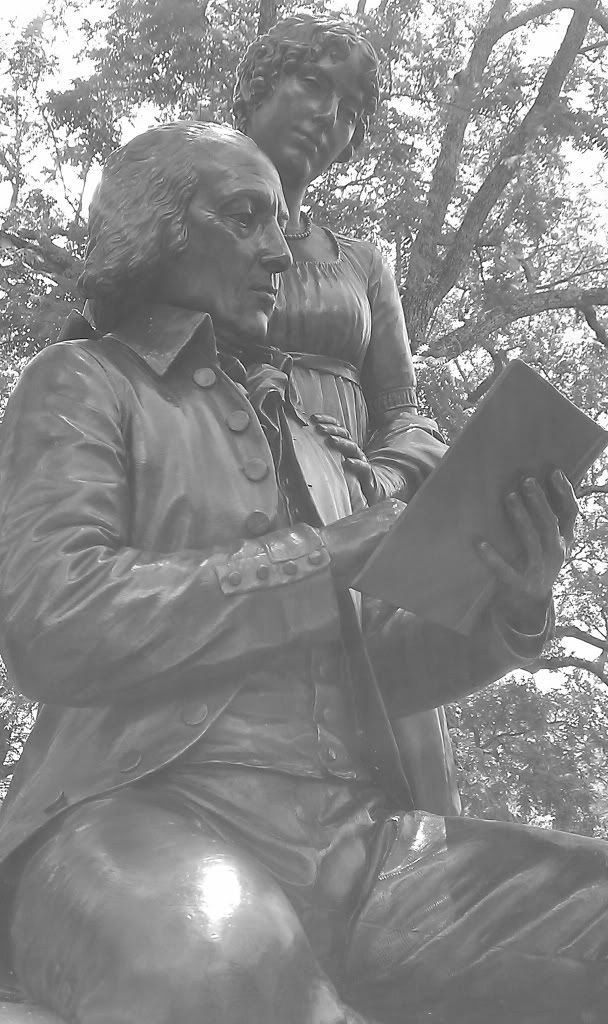 This educator was demonstrating woodworking techniques.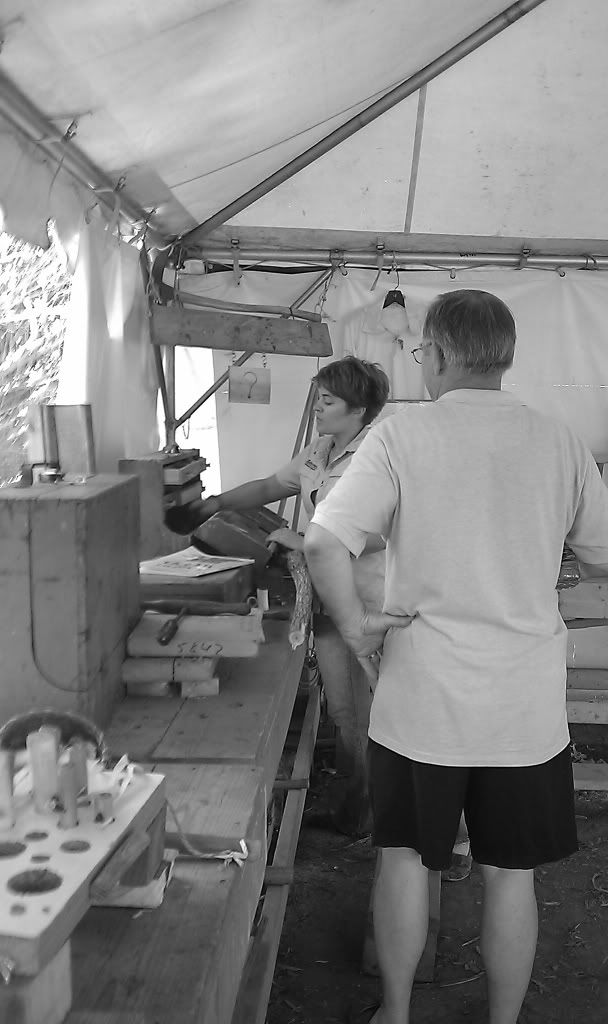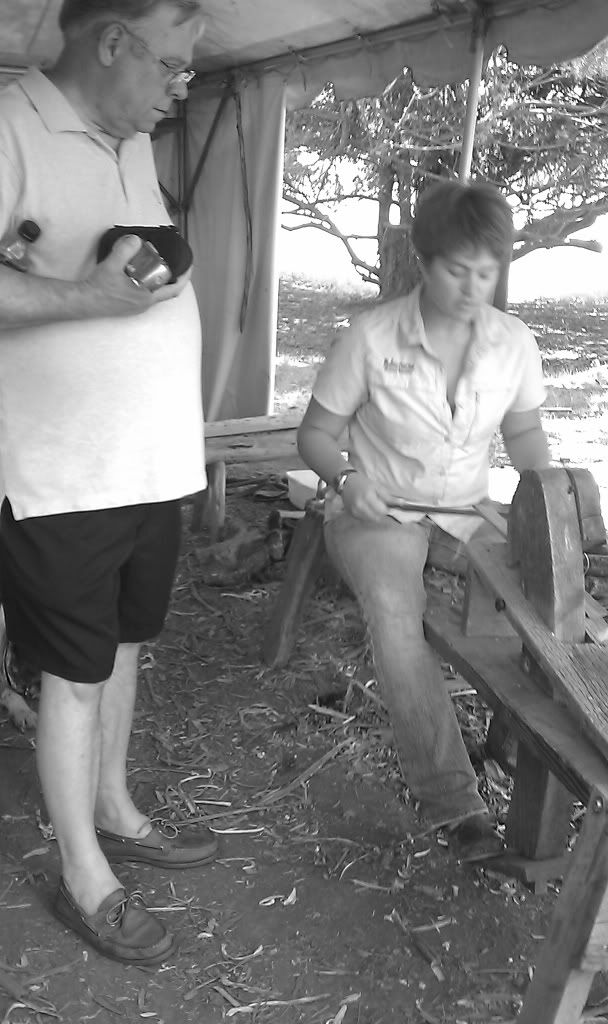 This tree was a gift from the Marquis de Lafayette to Madison. It is a 200+ year old Cypress

And then we toured the gardens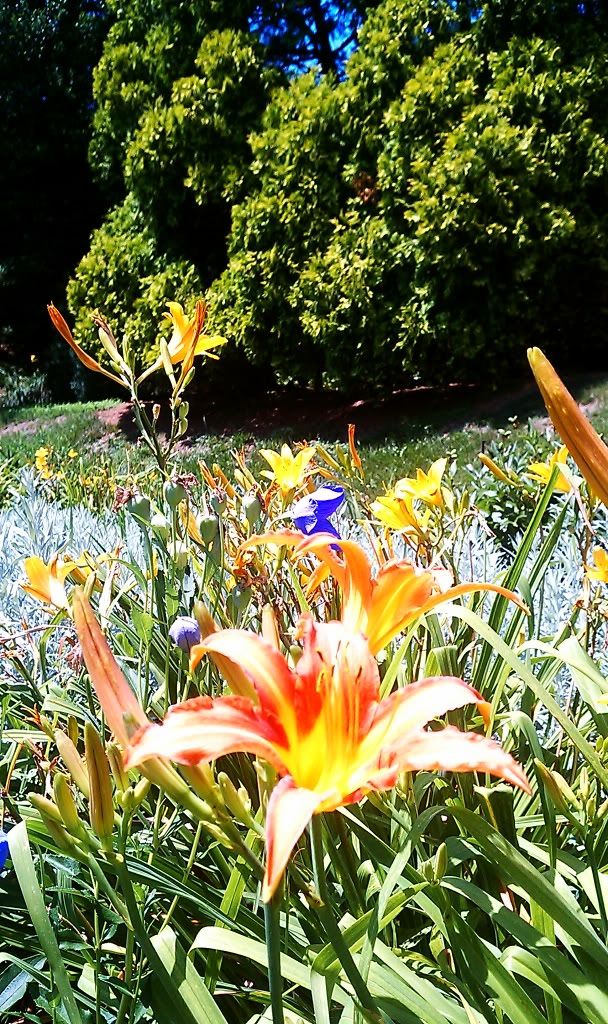 I was most impressed with the virgin growth Landmark Forest. I just love trees:raabia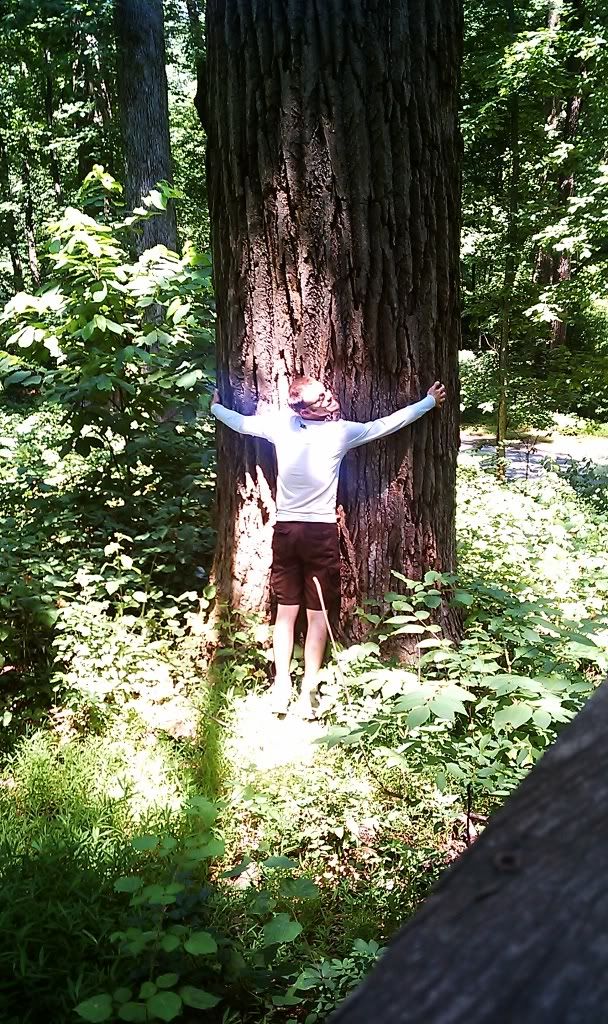 The family went for more of a walk around the grounds while I decided to go for a mile run in the forest. I came across many raspberries, a deer and almost stepped on a black snake! I also drank all my water. I made it back to the visitors center to find the family.
Happy Father's Day!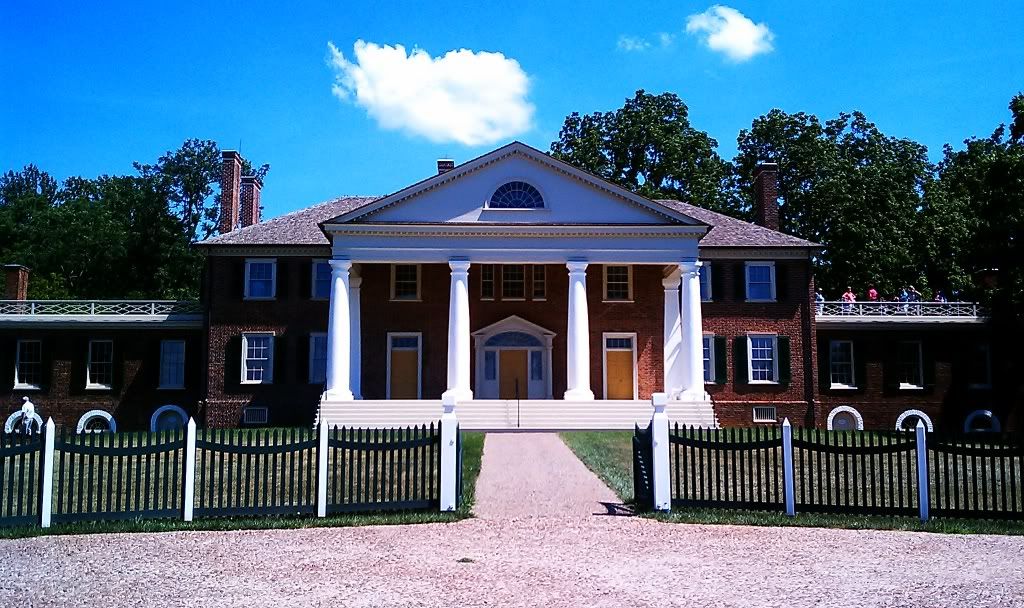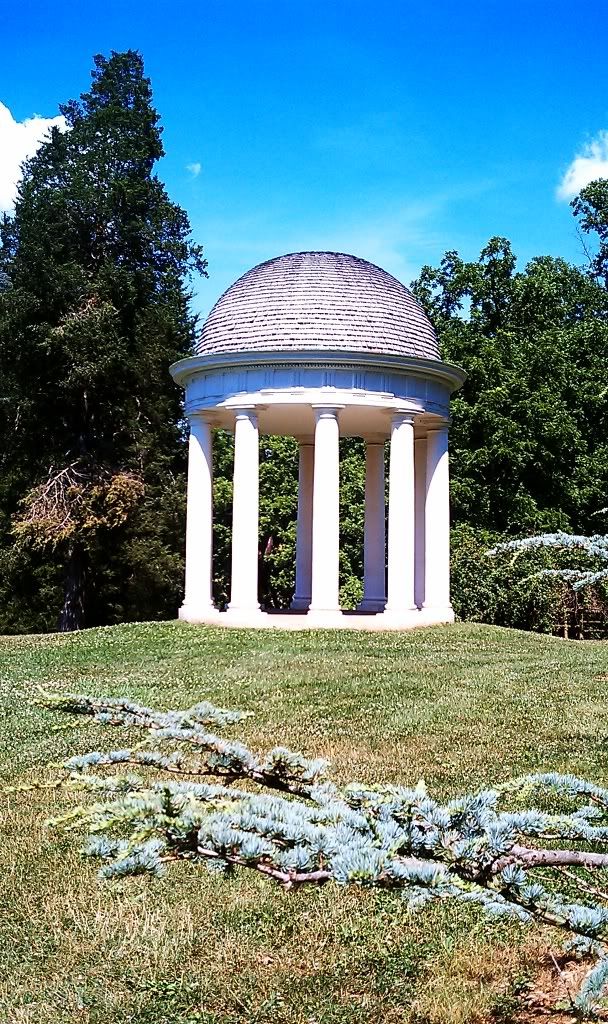 And here rests Mr and Mrs. Madison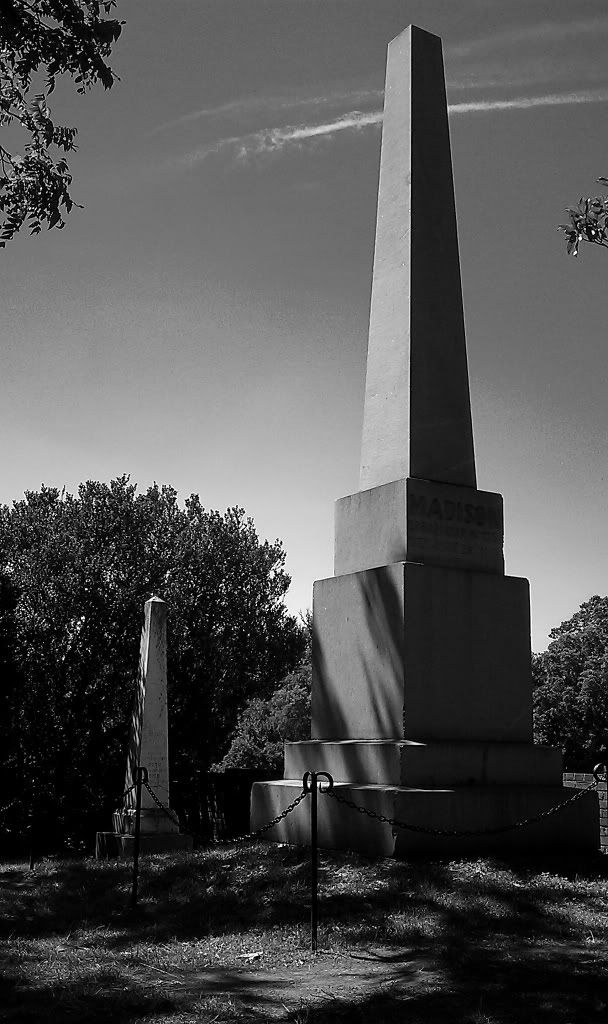 It was already 3:30 so we decided to go out for a late lunch to the BBQ Exchange in Gordonsville. If you haven't been...WHAT ARE YOU WAITING FOR!?!?!?!

My brother's: Pork Brisket

My Dad's: Beef Brisket

Mine: Small BBQ Sandwich

Mom had a salad. She is being good :deal
After the meal, we went over to the old Exchange Hotel but the reenactors for the Civil War display were packing up their stuff.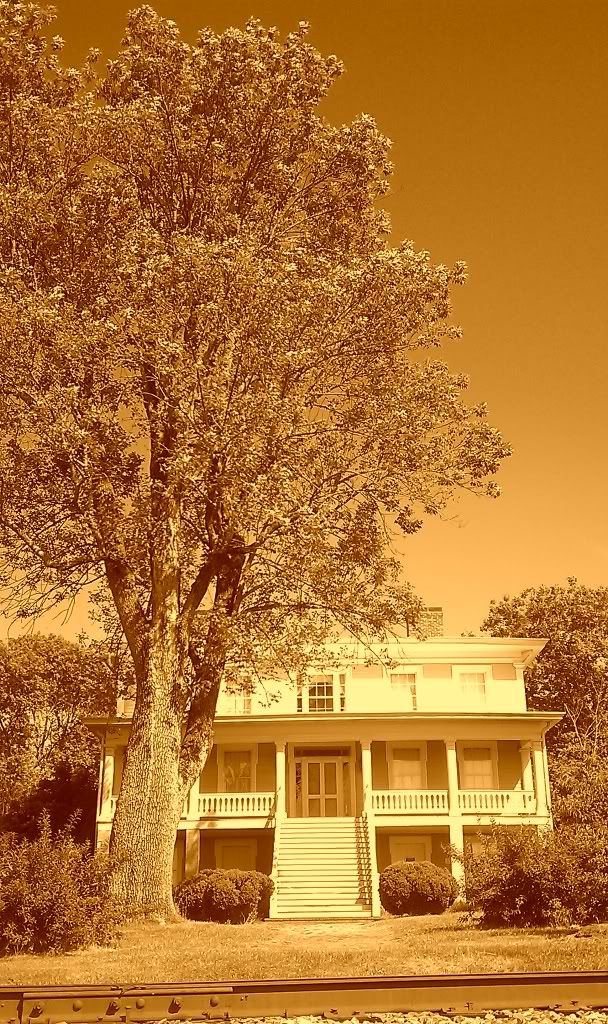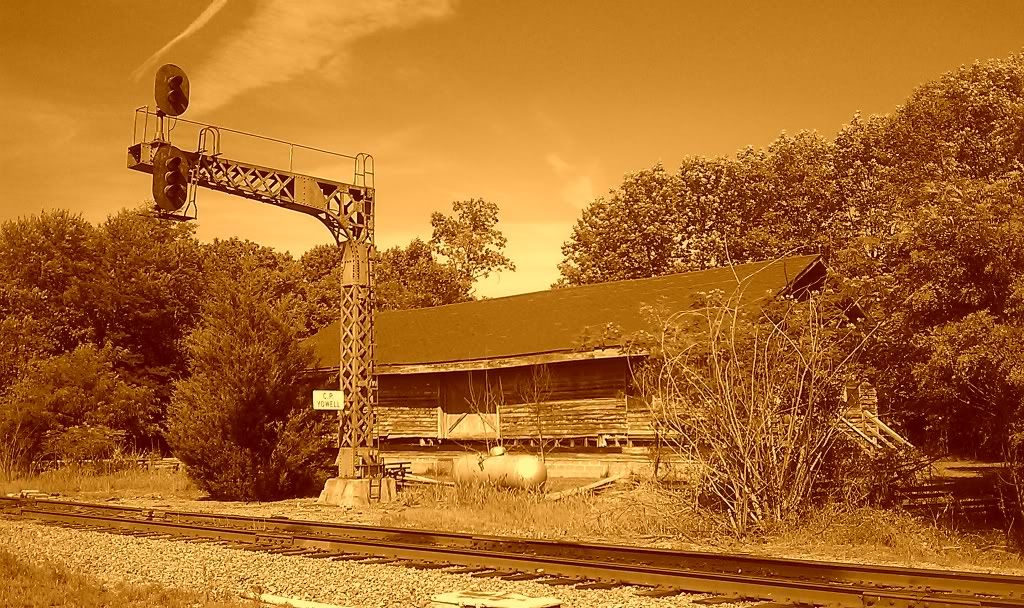 So down the tracks walked our family.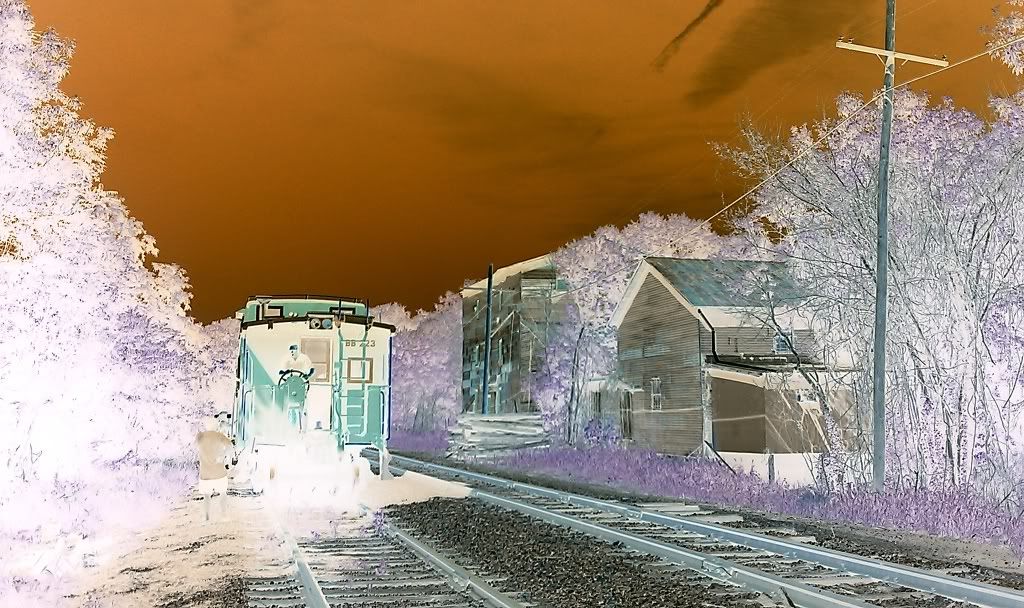 Hi MOM!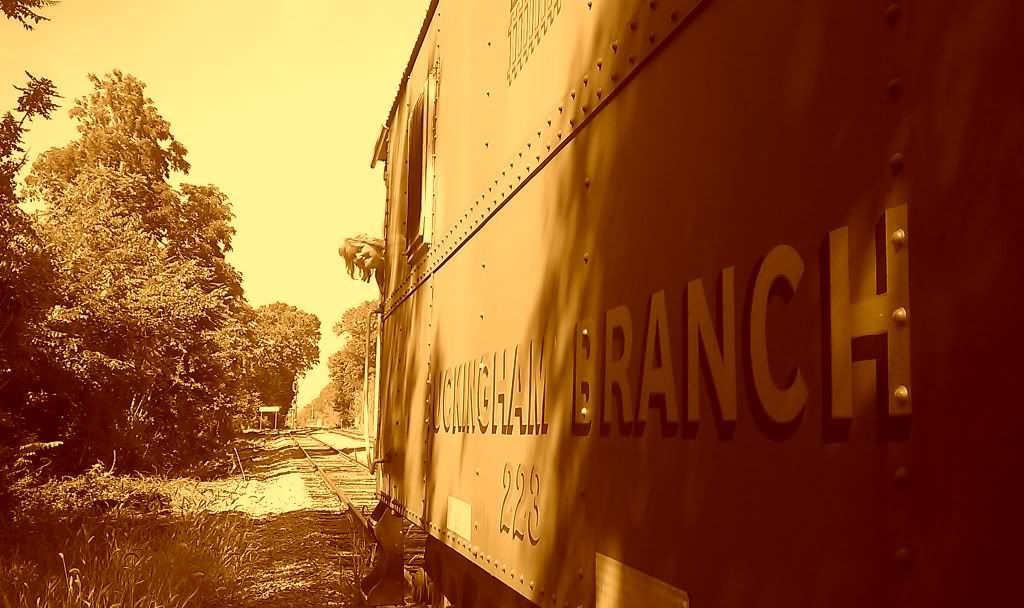 My brother bringing up the rear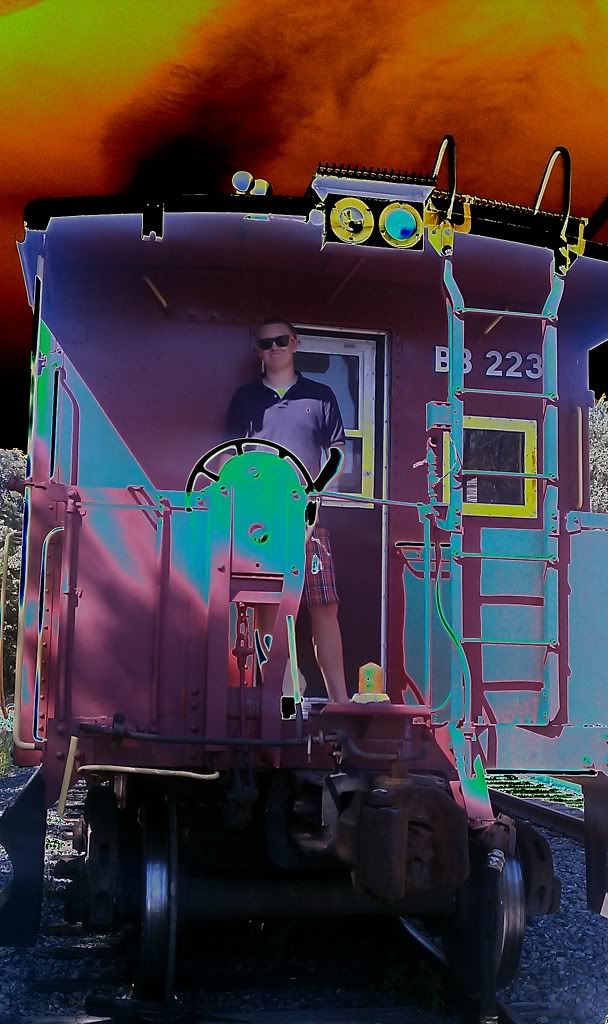 Father and son

All ABOARD!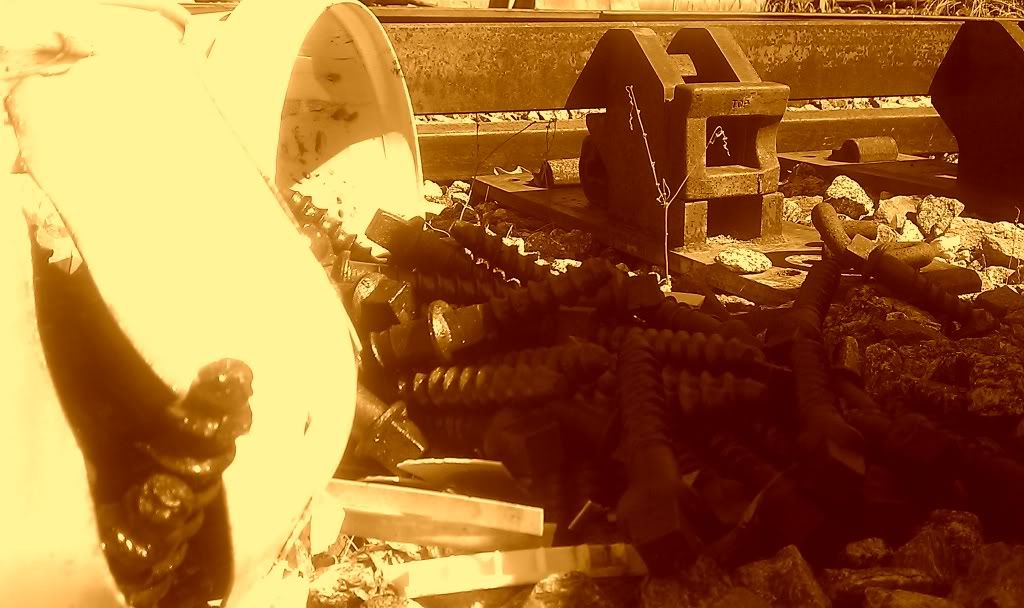 After our adventure with the caboose, we bid farewell and they set forth back to Alexandria. I didn't know where the hell to go. Not home...too early. SOUTH!
Rode down 231 past Hardy's place then hung a left. He will probably kick me in the rear for not stopping by. Back to the best roads around...:augie

Then I purposefully got "Lost". This is a relative term considering I usually know where I am. I was just on roads I had never traveled with no GPS or guidance. I went somewhere past Lake Monticello then south from there.

Picked some more berries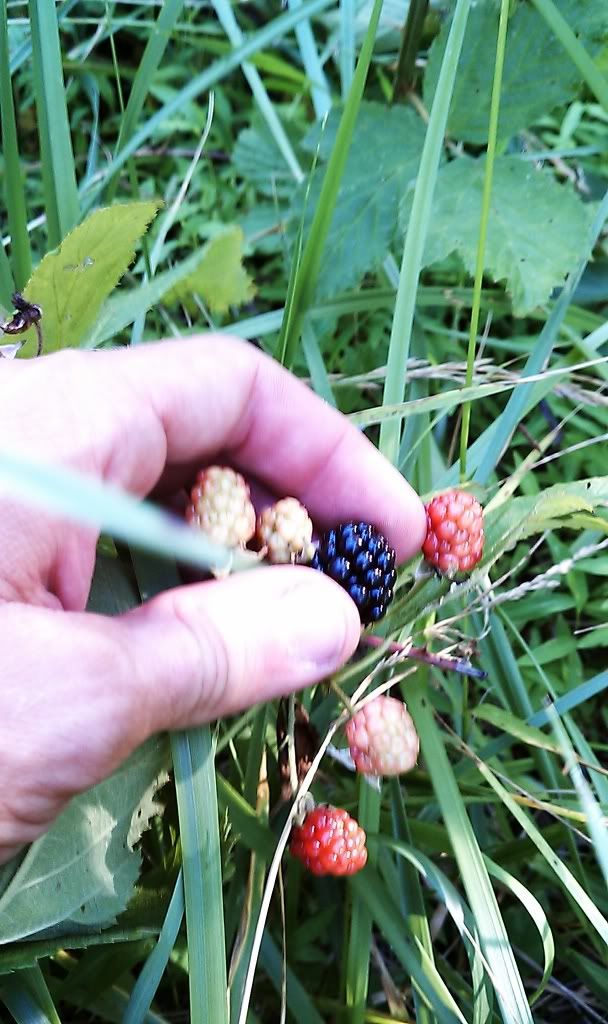 Muddy Waters

Under this bridge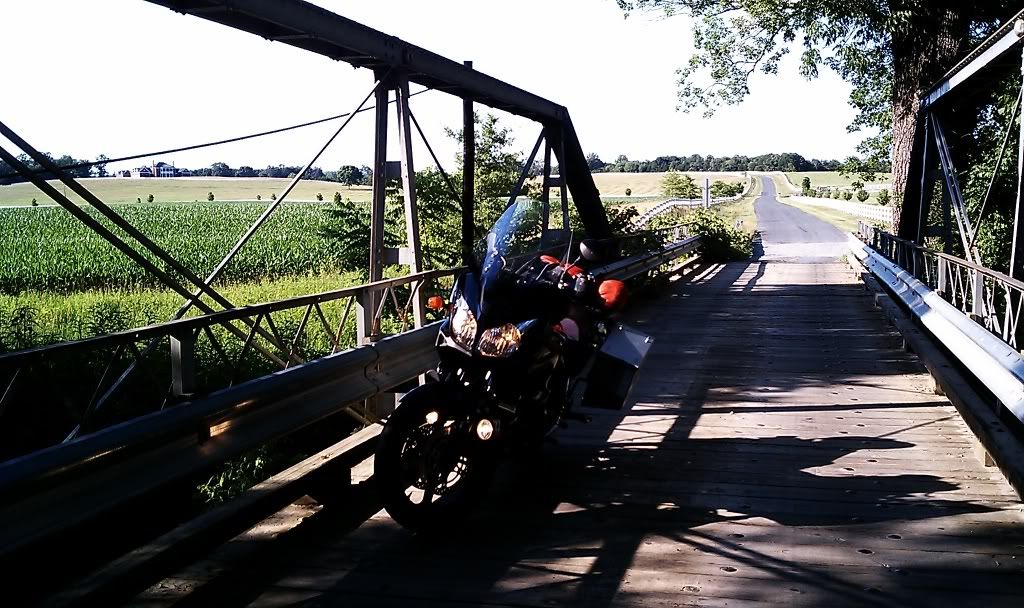 Found a neat creek along Rt 712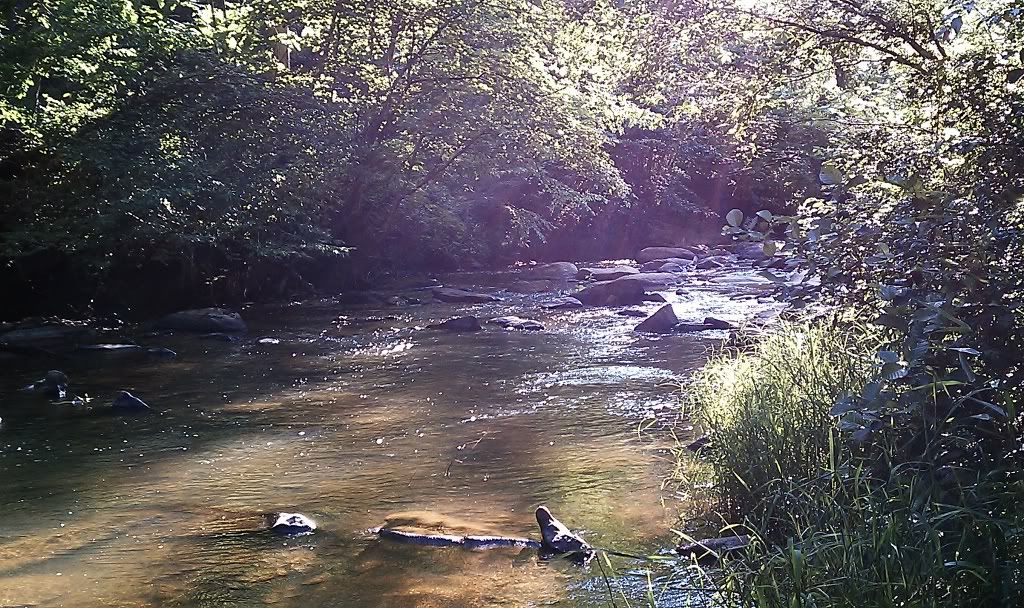 And drank from a fresh spring nearby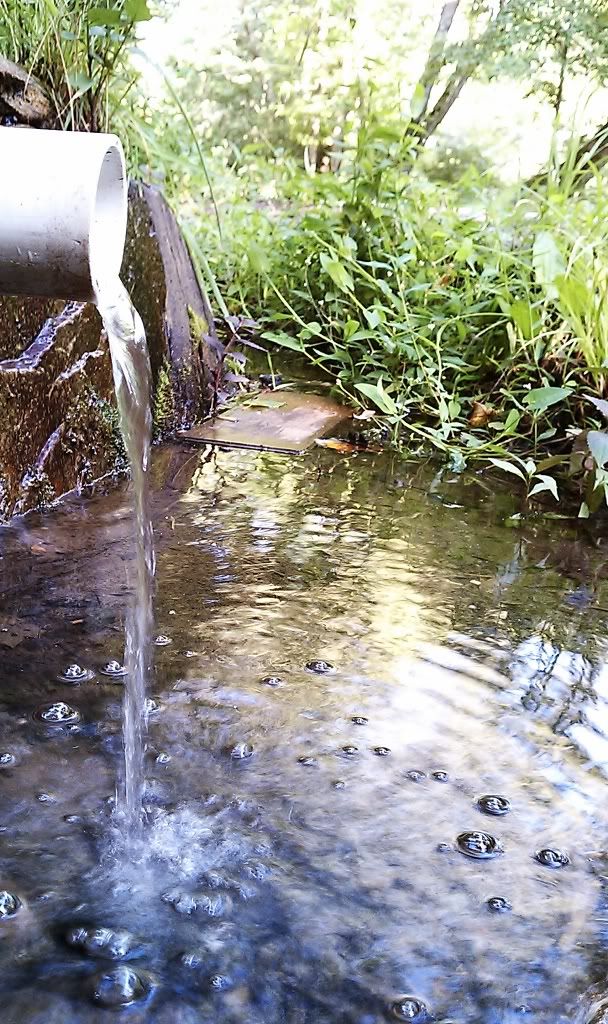 Then I found this dinosaur and looked around to see if it could be a tag. Nope!

Made my way to North Garden then back up 29. I figured I'd drop by hppyfngy to see if he was around. Sure enough!

He gave me some refreshing tea and some squash from his garden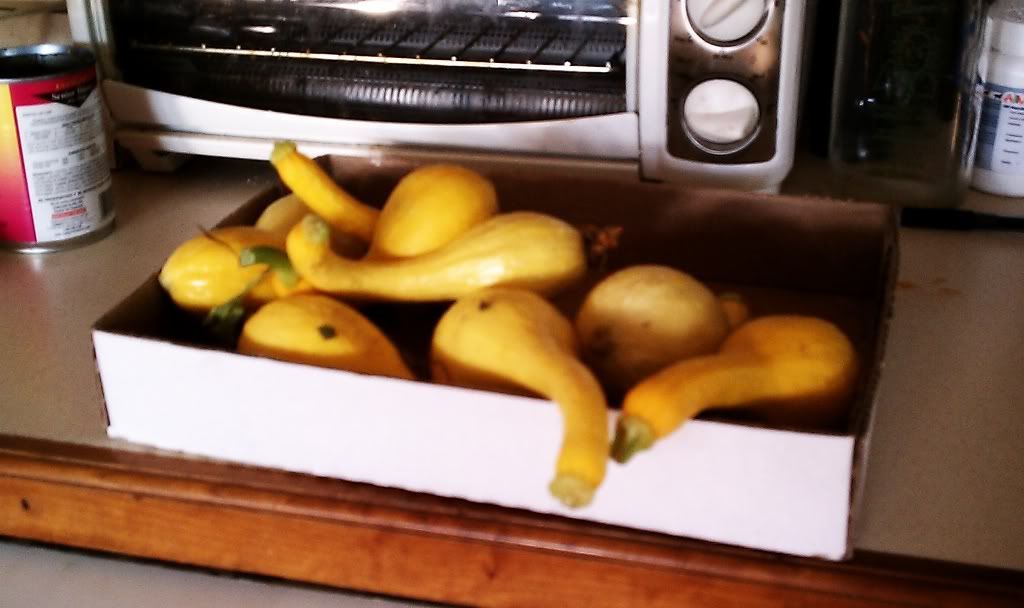 And I had some time getting reacquainted with my dubb :thumb Thanks for the spin!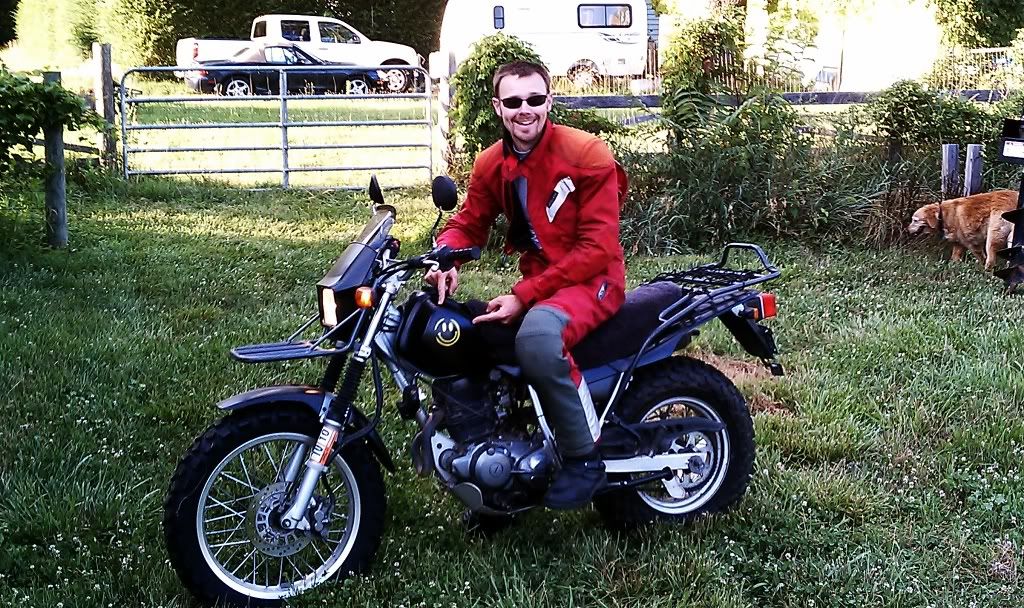 After our visit, I set forth toward home. But not after a few more shots. This is near Mirador as the sun set over the Blue Ridge

And here is a shot from the BRP looking east toward the Rockfish Valley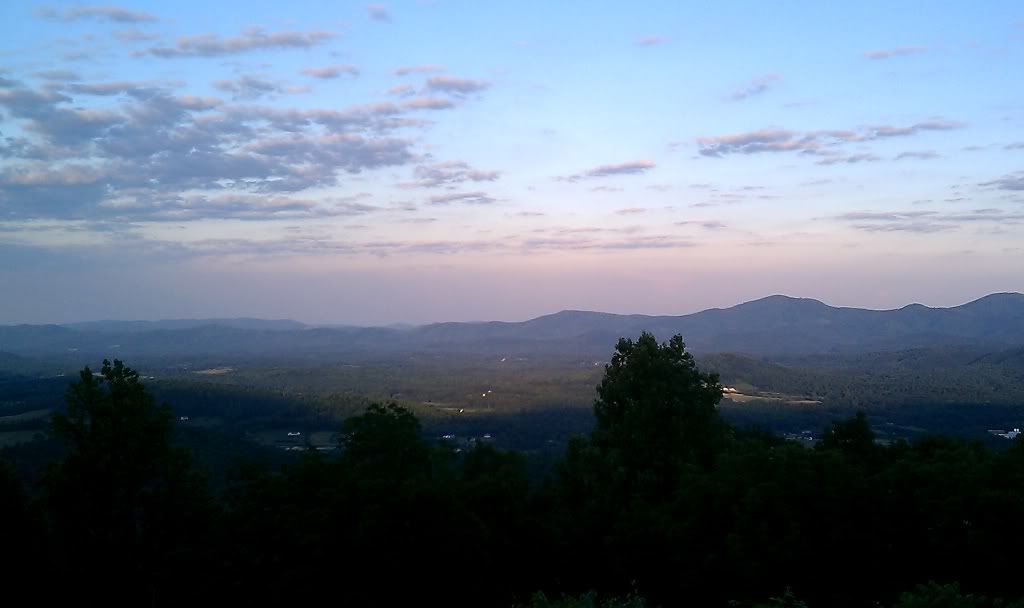 Then up to Skyline Drive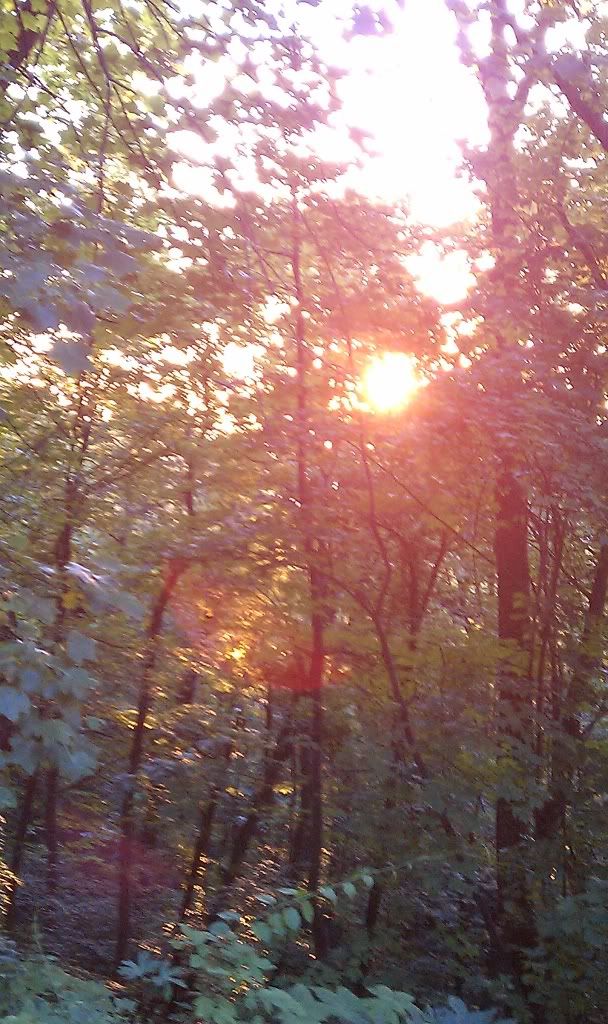 For some sunset shots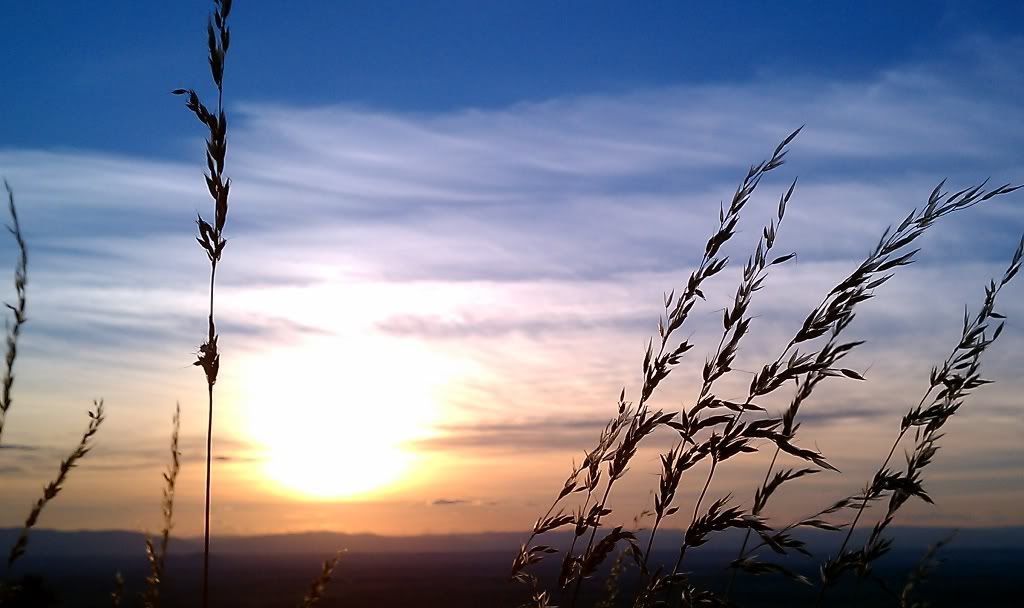 View North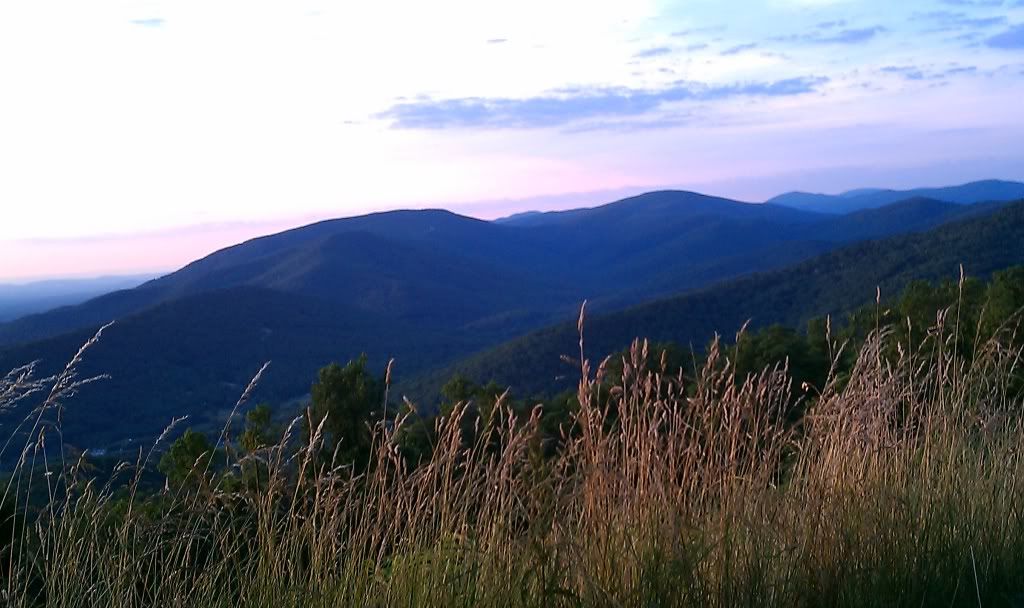 And the final pic of the day: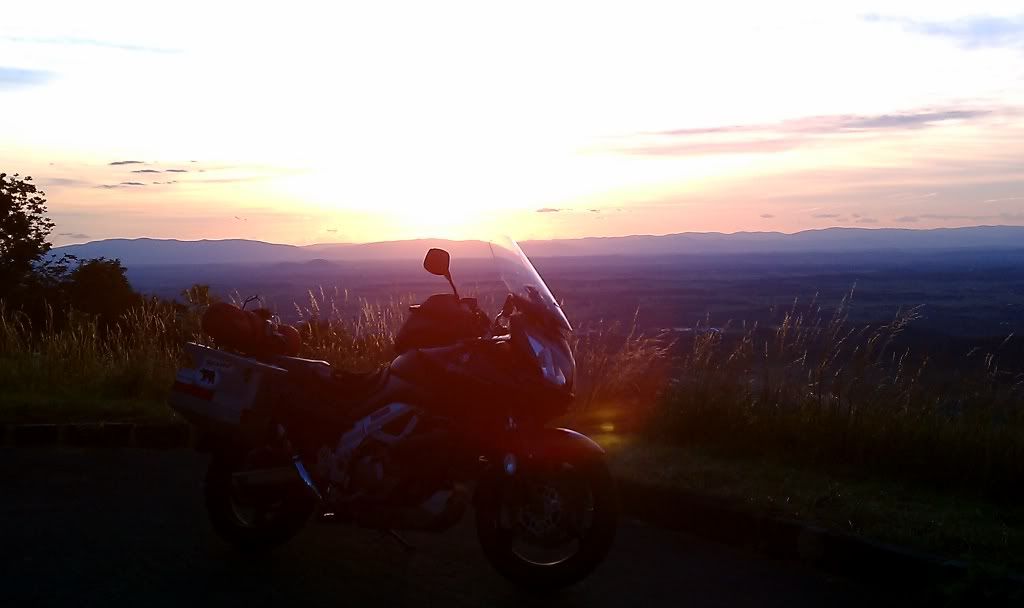 Slabbed it home to beat the fading sunlight and unpacked, had a small ice cream, poked around ADV for too long then went to sleep.
I love Virginia.