New River Gorge and Rella's (2010)
7/2/2010
Every weekend since May 22, I have been camping off my VStrom 650. We get around...
This weekend, RFlagg42 (Eric) and his buddy Gale were heading into WV for a ride and invited me along. Now I had just clocked 600mi in WV last weekend with some of the WV Tag-O-Rama folks but told him I was game. I love the Mountain State...
They spent the night at the Fox's Motel in Brandywine and wanted to get an early start. Meeting time was 7:00 there, so I had to be up bright and early to hit 33 over Great North Mountain.
First thing's first, my routine daily breakfast: (Just noticed the smiley face)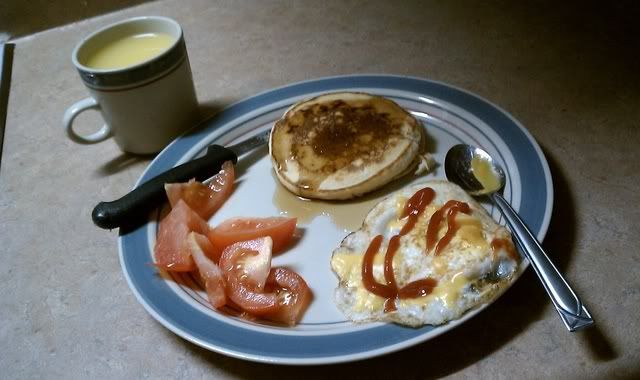 Then some twisties on 33 :ricky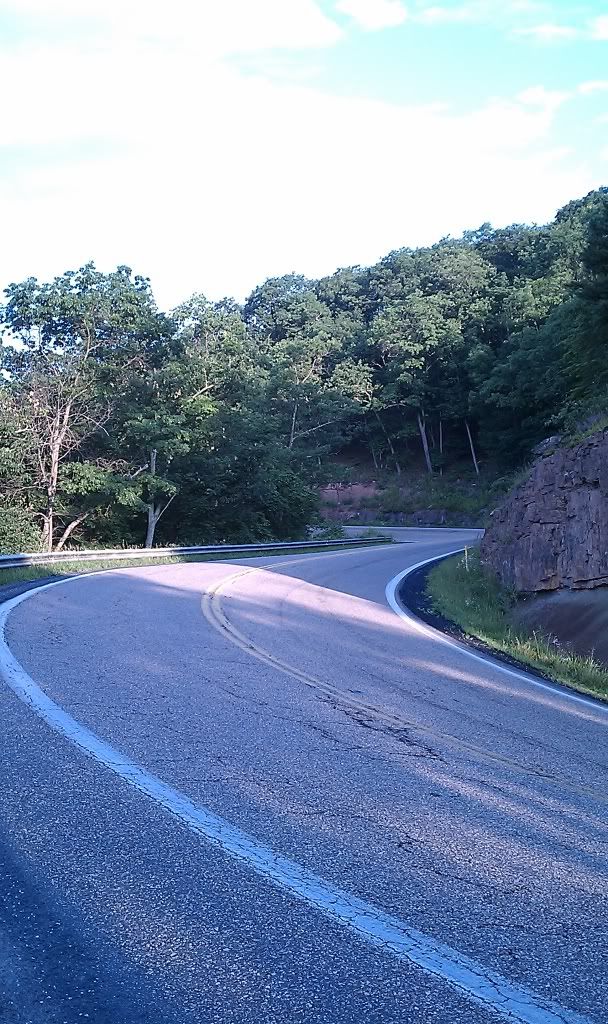 I neglected to take a shot of us meeting in Brandywine but there was not much to see there except some map glances then they just defaulted to having me be their WV Tour Guide...a role I happily accepted.
First destination...Germany Valley Overlook on Rt 33 between Franklin and Judy Gap. What a view at 7:30AM :nod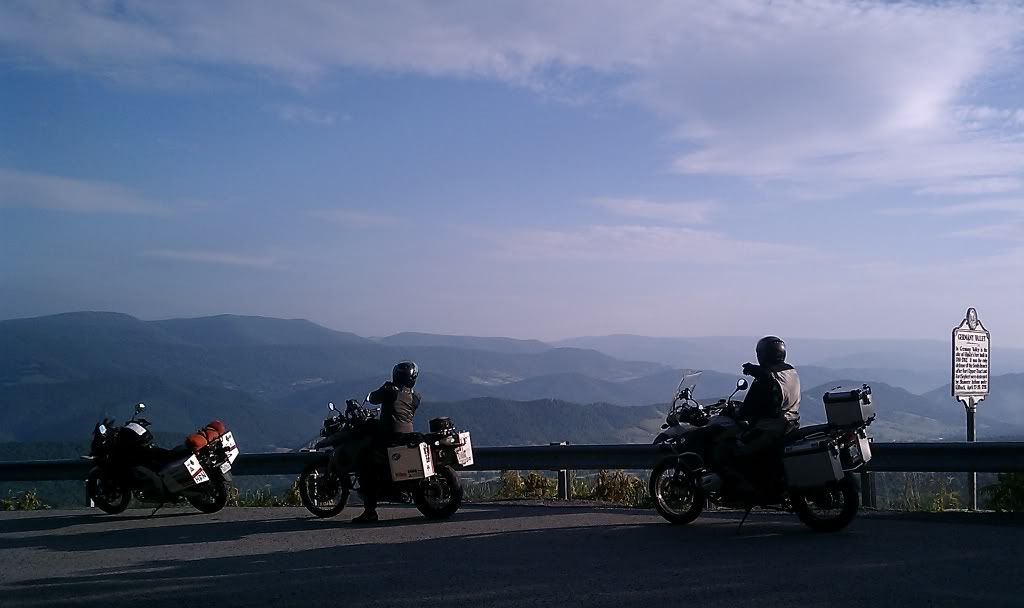 Then on to Spruce Knob, Gale had never been and Eric had never actually seen the view on account of fog during LF.
Making our way up, this is the first pull off you come to. I stand in the same spot for all these pics (I have about 5-6 of these pull offs and destinations but keep taking shots everytime anyway :dunno )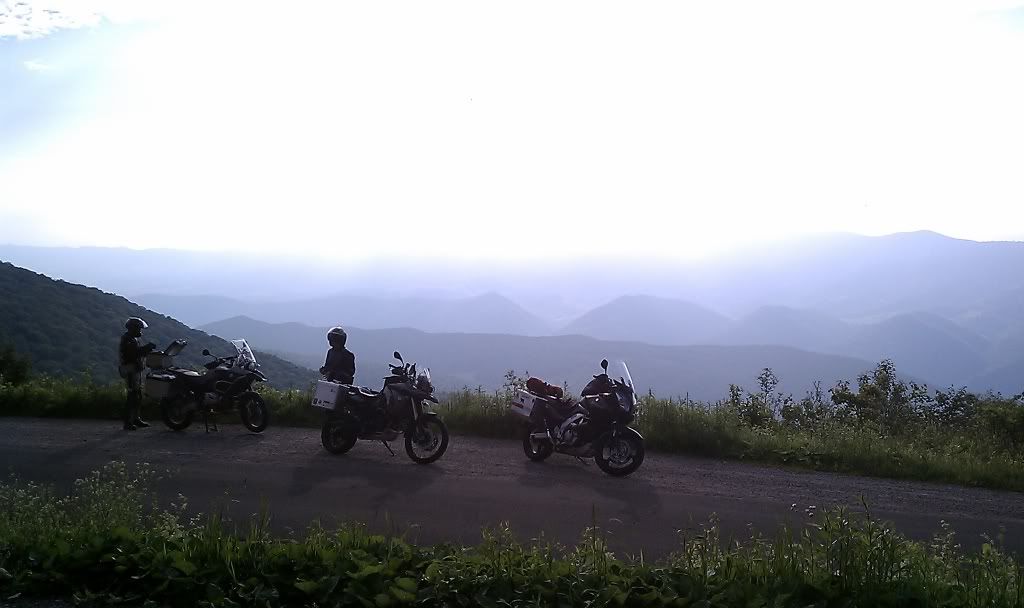 Hooray! It is clear, cool, and we have it ALL TO OURSELVES! ADV On top of the world (being WV)!!!

View from the observation tower:

From here, we dropped down west on the backside, past Spruce Knob Lake and on up Gandy Creek toward Whitmer. The roadside dispersed area campers were just stirring their fires to life. The scent of woodsmoke and cinnamon rolls baked in a Dutch Oven occasionally wafted through my open face shield vent. We all slowed and offered gregarious waves to the skilled anglers in the creek. At one point, we came across a group of 5 or more equestrians. We stopped and allowed them to exit the road down to the creek for a drink. I neglected to take any pictures (I know...I know!) so the description will have to do.
Eric had about 60 mi of gas left in his tank so, with that in mind, we set off toward Thomas/Davis area. We rode up through Harman turning left on WV28 then continuing for about 10mi till WV72(awesome road :super) I always like to drop down to the Cheat River by way of River Rd. Excellent views and a nice leisurely pace affords many photo ops when alone.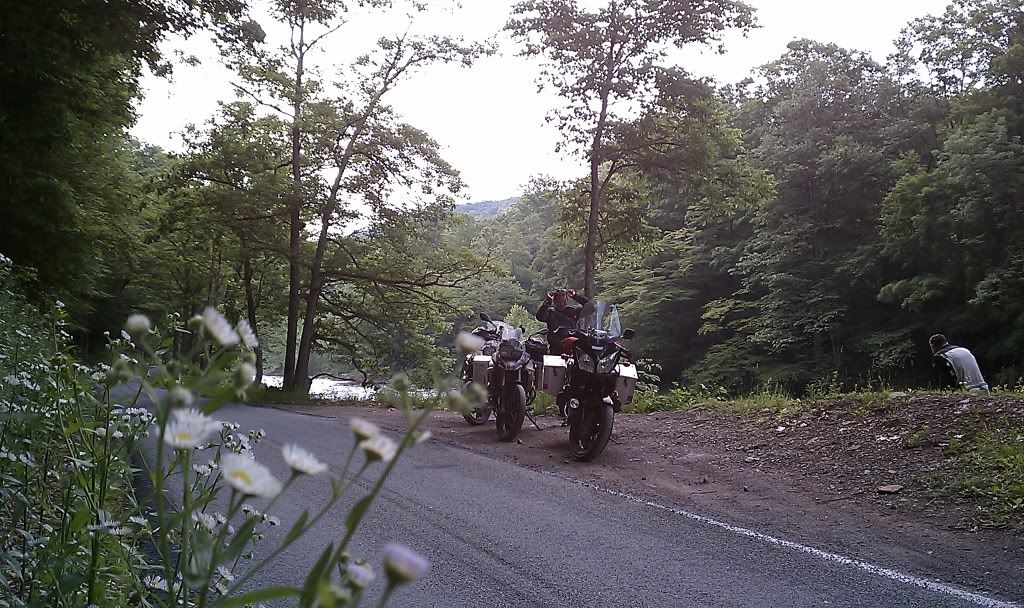 And of course, what would an HBN RR be without...tada!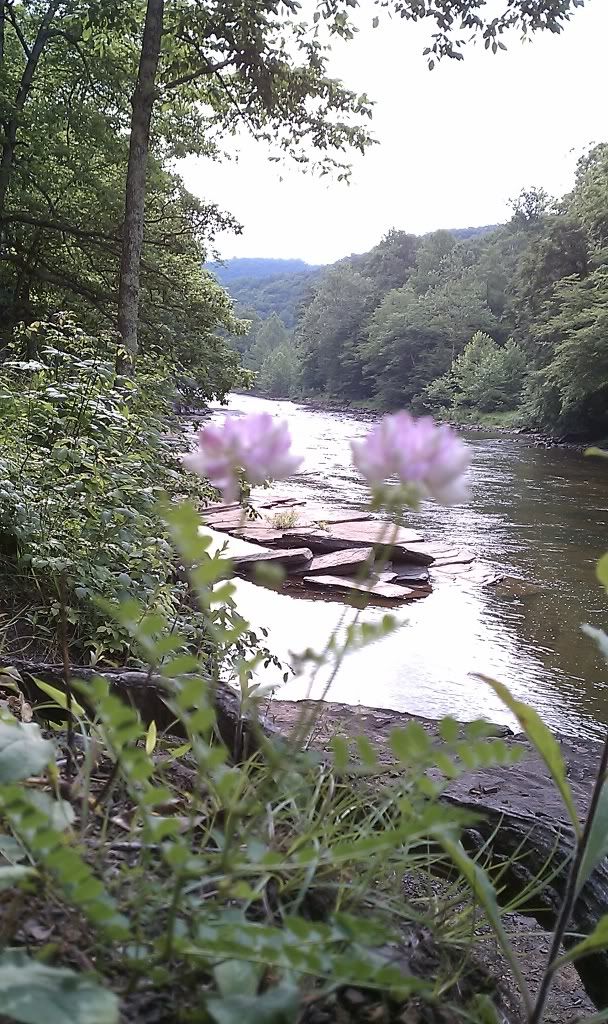 Slithered our way up River Rd then back on 72 into Hendricks and Hambleton. We turned right onto 219N in the direction of Thmoas (and gas for Eric) Then, we came upon an unexpected solar storm that wreaked havoc on our bikes and camera equipment :eek1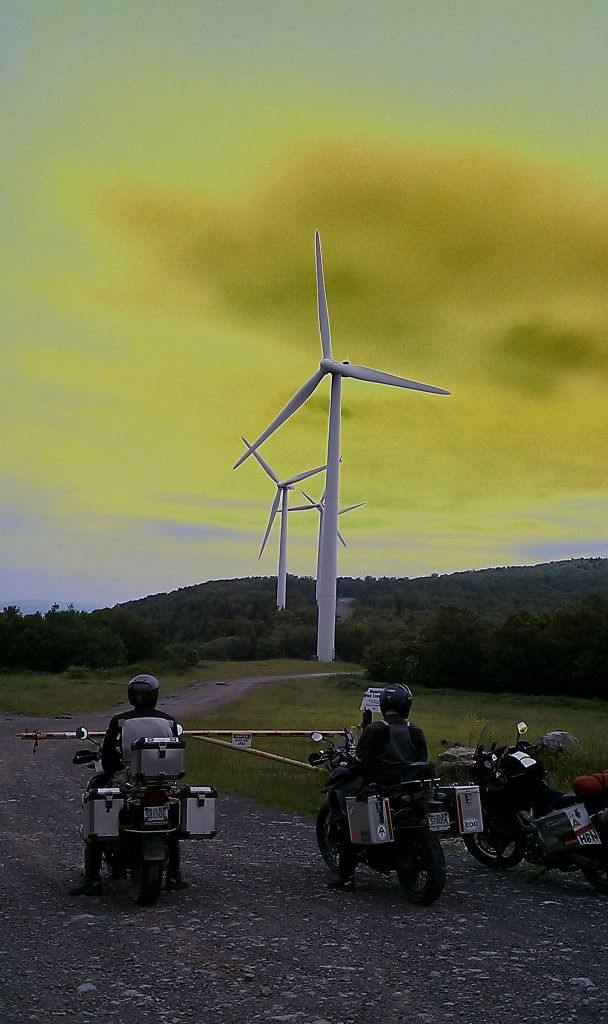 (Just kidding)
Rode past the Purple Fiddle but alas, the long-haired earth people had yet to burn one down, the open sign was dark :cry Onward to GAS!
Then over to Blackwater Falls State Park. A first visit for Gale.

We left the park around 11:30 and had lunch on our minds. "I know just the place" I said. I forgot just how far it actually was away...off to Rella's Roadside Cafe in Hacker Valley :tb
Route: 219>33>20(Buchannon)>Hacker Valley
After finally getting past the noxious semi we followed for 15mi, the skies opened up. I immediately made the first turn and look what I found? Dumb luck :thumb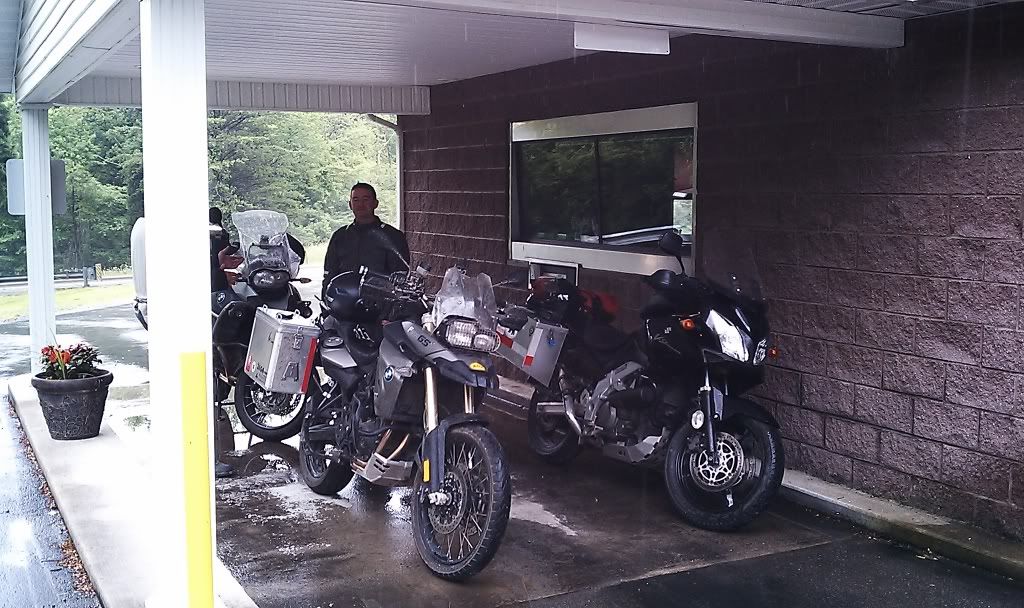 The rain fell for a good 15 minutes then let up :clap I donned my rain gear in hopes that it would ward off the precip. Well from here, I forgot just how far it actually was to Rella's. Quite a ways - sorry boys! Oh well...it is always worth the wait! :deal
The one and only: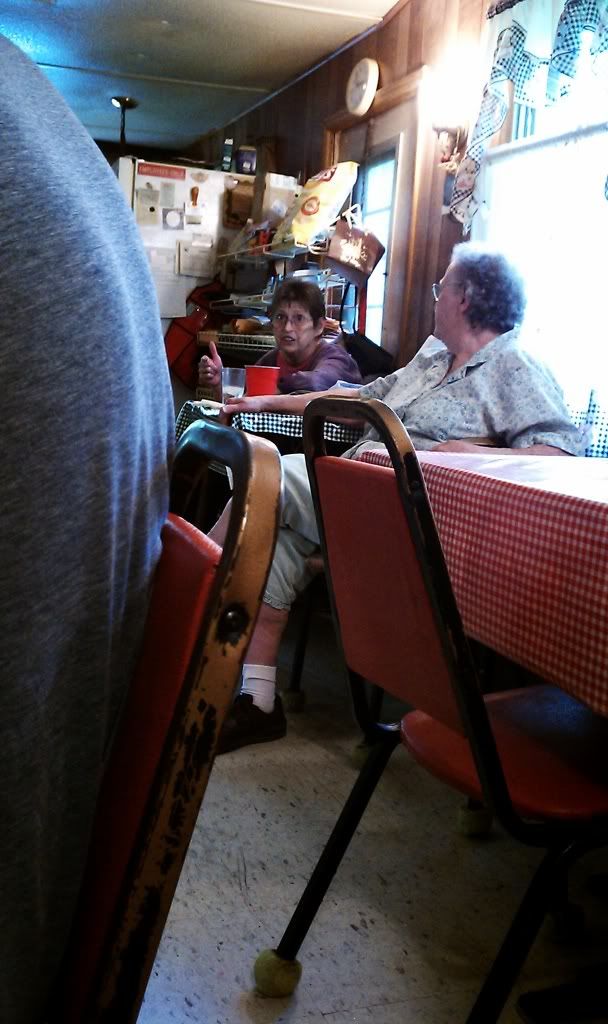 She remembered me from last weekend. "You come back to get some meat on them bones?" she remarked. We all had burgers. Very good.

We had a wonderful chat with Rella and Jeaneace, her daughter. Gale started getting nosey and stumbled across her fire arms collection. She showed him her 22-Jet (I additedly know little about guns but this was a rarer item no longer in production)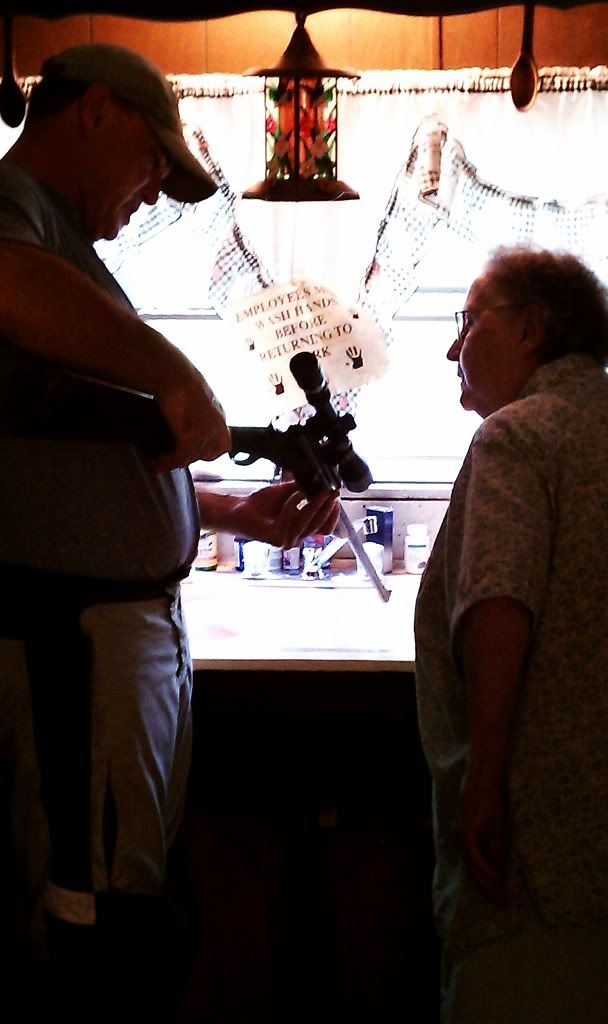 How cool is that? She keeps it next to her shotgun. That's one mean cook and one cool hunter. She apparently belongs to a hunt club; I'll let your imagination run wild with that one :D
"Now I know you boys saved room for dessert"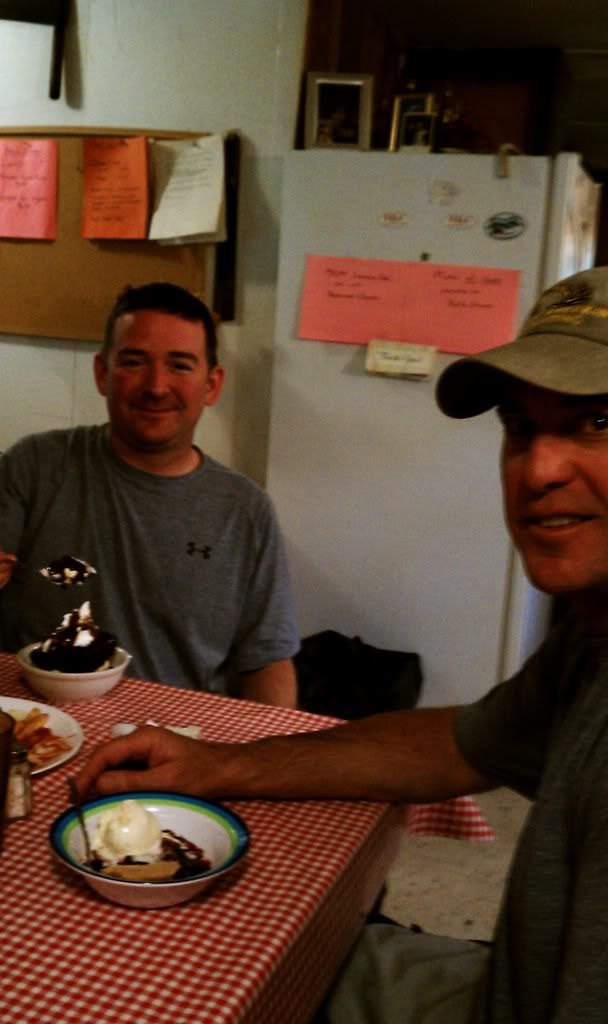 I had the Graham Cracker Pie, Eric the Fudge Cake with Ice Cream and gale had the Blackberry Cobler. All were TO DIE FOR.
I should recount, when we pulled in to eat, it was sunny with blue skies. We were there stuffing ourselves so long the heavens opened up and man did it ever pour!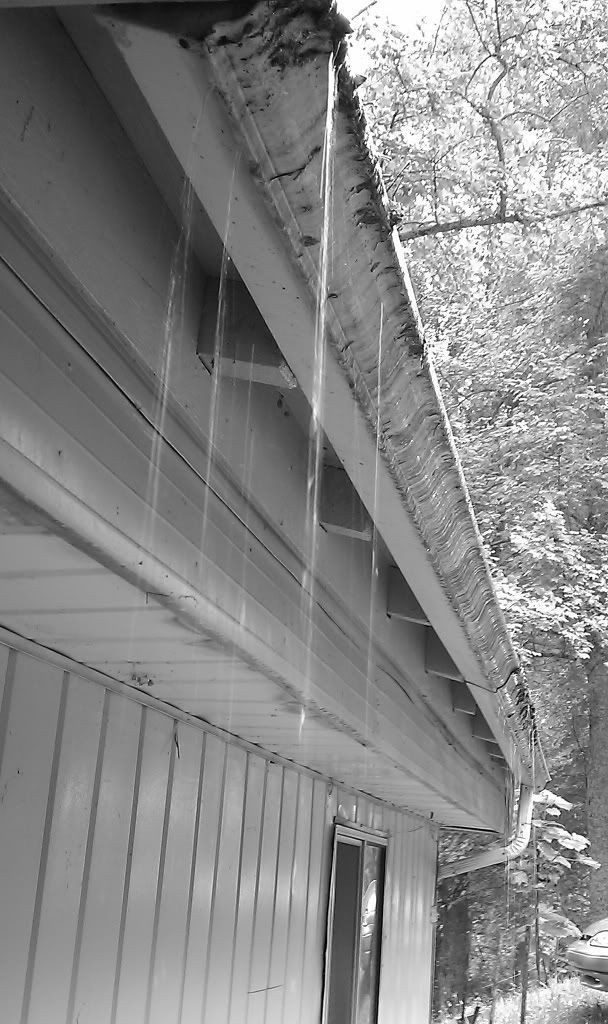 So we stayed here and chatted with them. Total time @ Rella's 2:20 :rofl
Eventually, we had to get back to riding...the rain was not going to stop...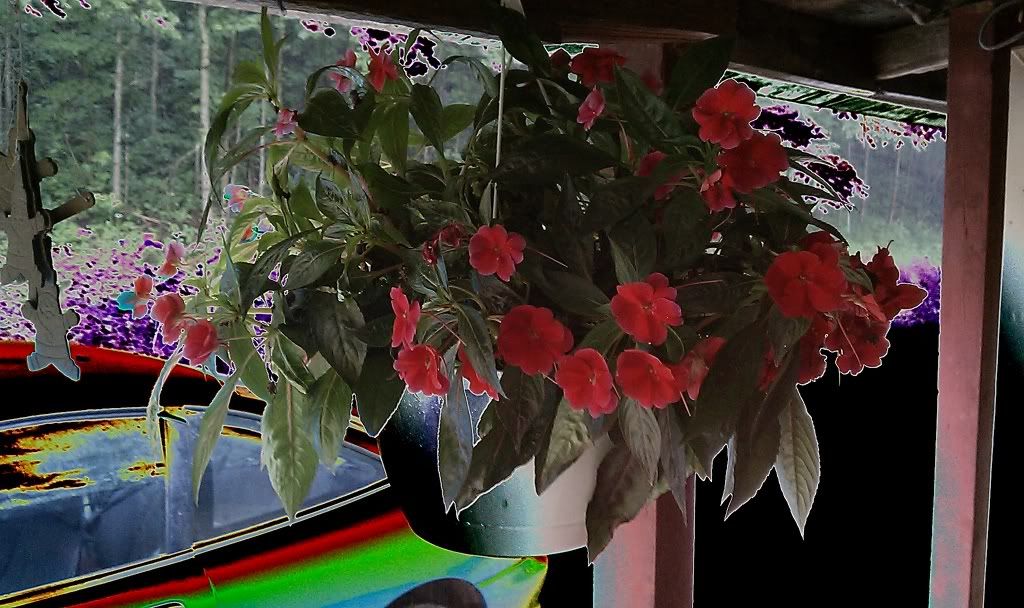 Back up 20 and then hung a left on Replete Rd. Here is the view from the Gazebo onto the community of Wheeler. I love the way the clouds just hang in the hills, a true WV scene.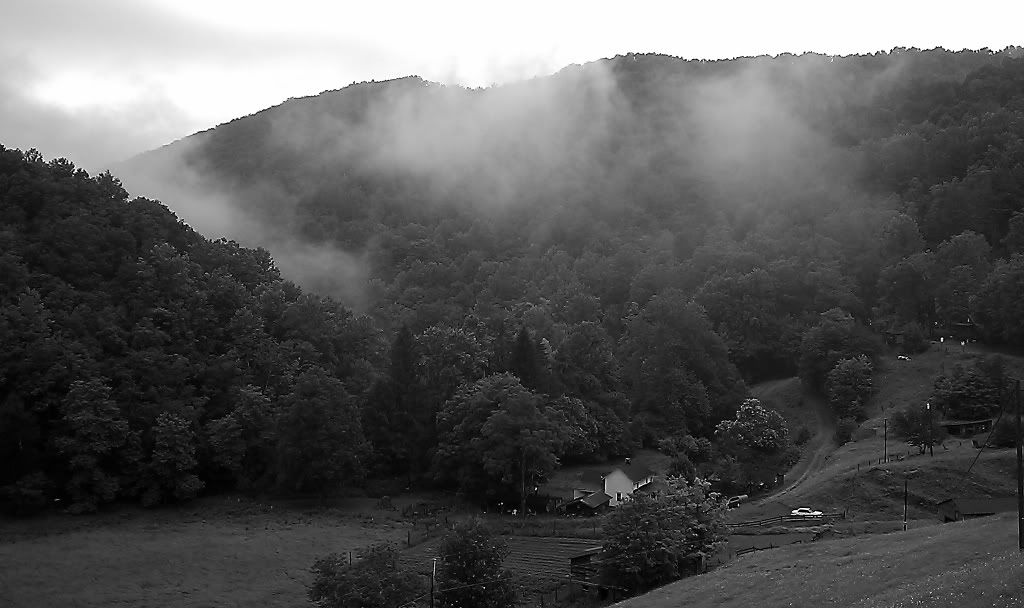 Next, we scooted up to Hanging Rock on Replete/Pugh Rd. Always a must-see destination when in the area:

From here, we followed the road to its end at Rt. 15 (I think?) then turned toward Webster Springs. Here, we decided to split paths. They opted for the Motel nearby and a case of beer. I opted for more :ricky
See ya guys! :wave Great riding today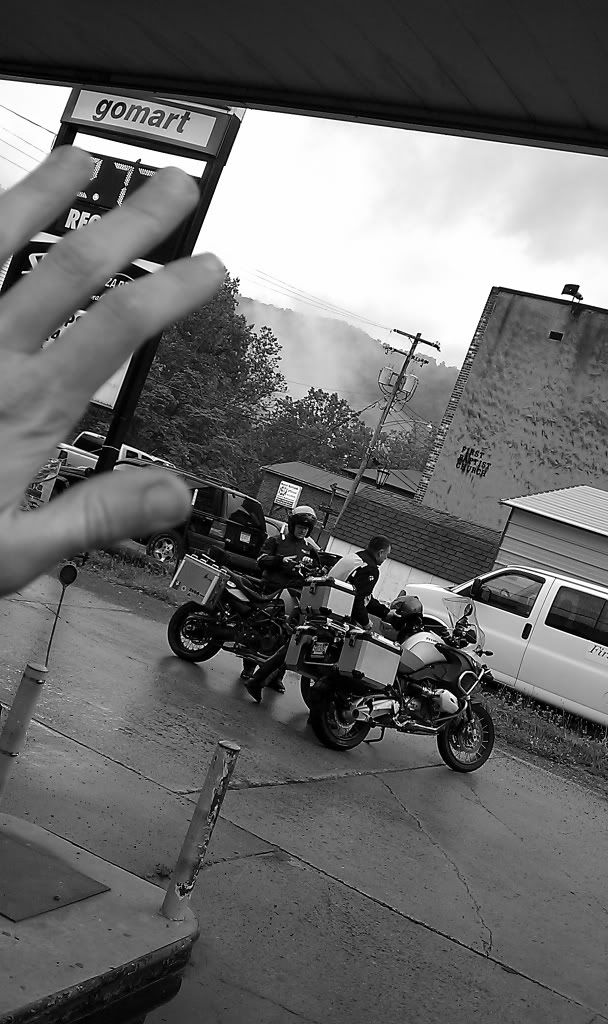 Have tent...will travel. No particular place to go...just need a spot to set up for the night. I left Webster Springs at 6:30 and hauled ass up 15 in the fog (danger! danger!), dodged deer and eventually made it to my general evening's destination: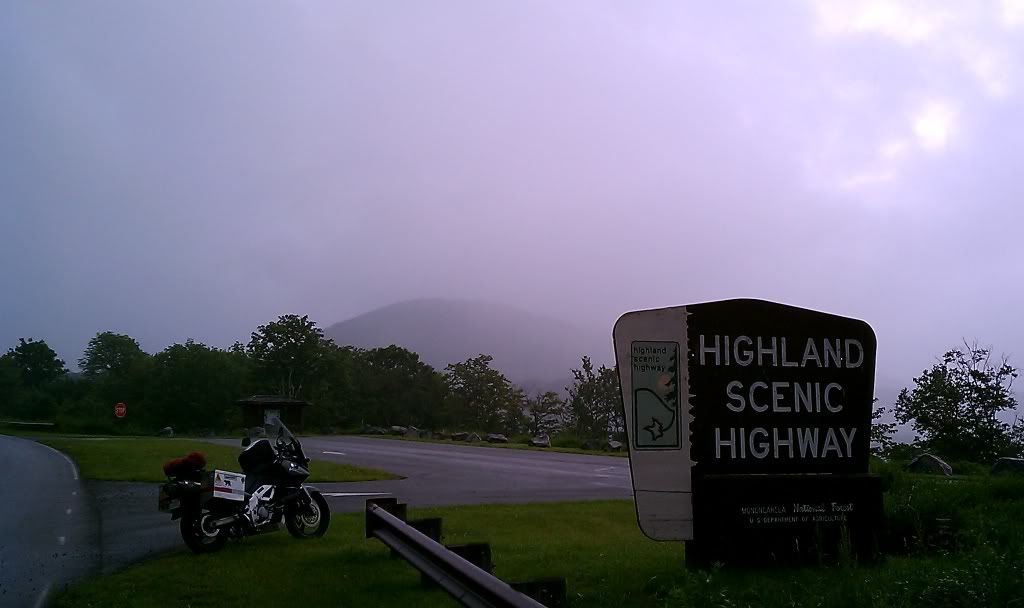 Shortly after this photo was taken, it began to pour and then fog came in reducing visibility to 20 feet at most. Difficult conditions. I took a couple side dirt roads to find a campsite but no luck. Each wound up at private property or gates. Damn. At this point, it is already 8:00 but I continue on. It is getting dark so I resolve to pry open my wallet and take a "Pay" site at Tea Creek Campground. I get there around 8:30 and it is full of RV's, kids on bicycles, and everything I hate about campgrounds. Blech, I leave in search of ANYTHING less commercial. On down to Day Run Campground around 9:00. It is pretty dark and I am happy I mounted the driving lights on my forks. I decide I will camp here for the night for $8...Dismount, take off my helmet and begin to unpack my tent and rain fly. I remove my ear plugs and immediately am acoustically assaulted by the annoying hum of multiple generators from the RV's scattered around camp. OH HELL NO! Not after this long day. Though I have been riding since 6:00AM, I repack my tent and gear, put back on my gear, and set off to...ughhh I don't know...anywhere but here :deal
I ride down 17 in the National Forest till I reach the "Leaving Forest" sign. Damn. I didn't see anything open along the way other than more RV campsites at the William's River Camping areas ($5). Just then, I notice this beautifully cleared field and camp fire ring to the side of the road...:scratch whats this? There is a gate which reads "Public Use Welcome. No Motor Vehicle Access". The large field curves around beside the road but has a dense hedgerow and woods that shields it from the main road...yeah, this will be camp for the night. I disobey the signs and ride the strom through a break in the wood stanchions. I'm IN. I position the bike so it is narrow while riding down the road then cover it in my rain fly and camo poncho.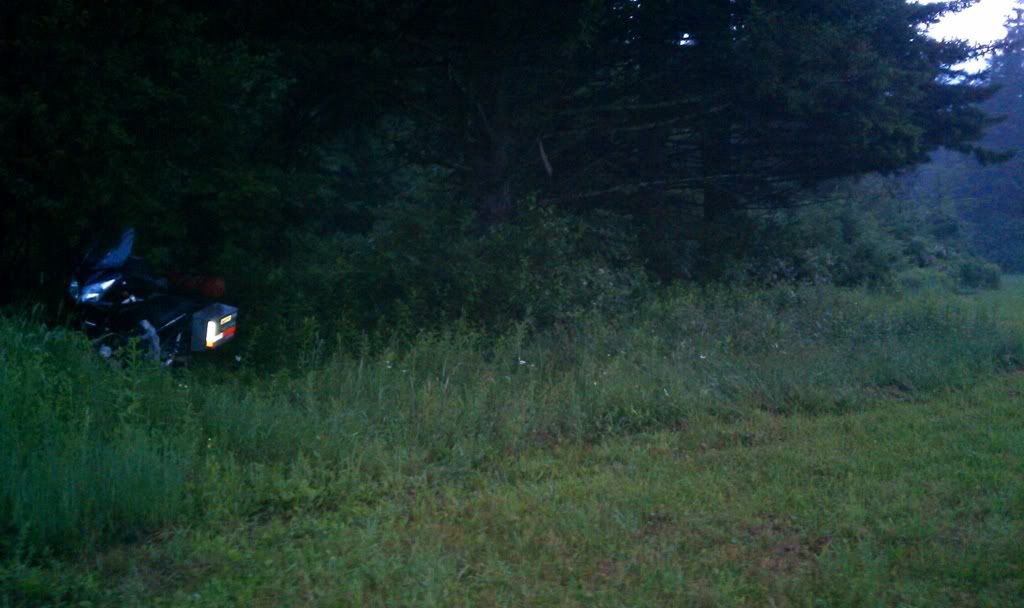 Then proceed to set up my stealth camp. PRICE: $Free.99 :thumb

After I get situated, I crack open a Tap Room #21 IPA and munch on some trail mix. The field is aglow with thousands of brilliantly blinking of fire flys. I sit here for some time drinking, reflecting on the day's ride, thinking about mating lightning bugs and finally, where I should ride tomorrow...then it begins to sprinkle, gets harder, then thunder and lightning. Time for sleep. :snore
Part 2: Sunday
I awoke at 5:00 and promptly rolled up my sleeping gear, packed my clothes, loaded the bike and broke camp. By 5:45, I was riding down the narrow back road up to the Highland Scenic Highway.

Quick Snapshot of the Williams River in the morning light.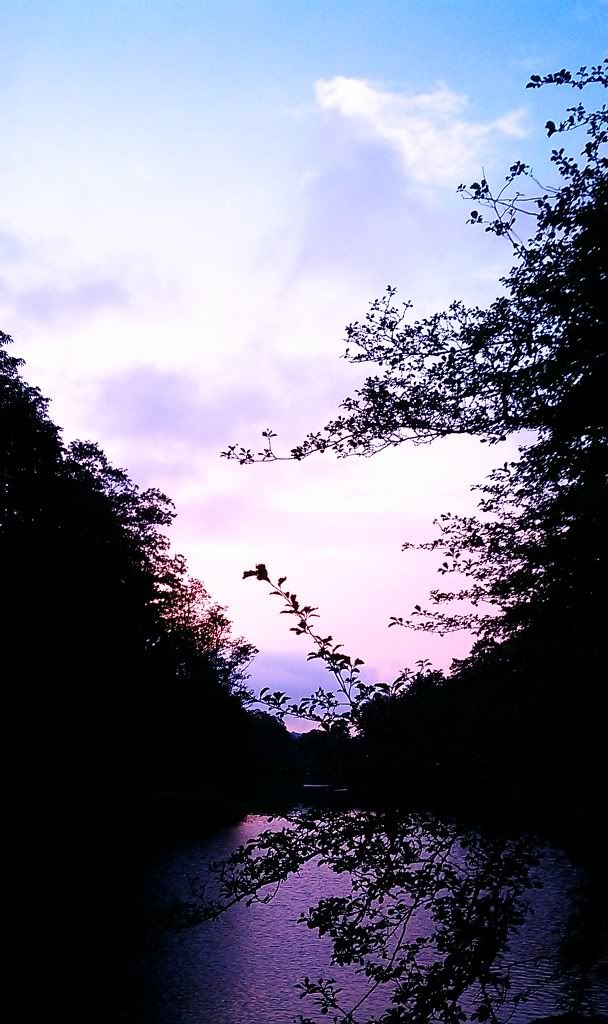 I always liked Geology so I stopped over at Honeycomb Rocks. A must-see if you are on the highway. A couple local drunks recommended it to me in the past...but thats another story.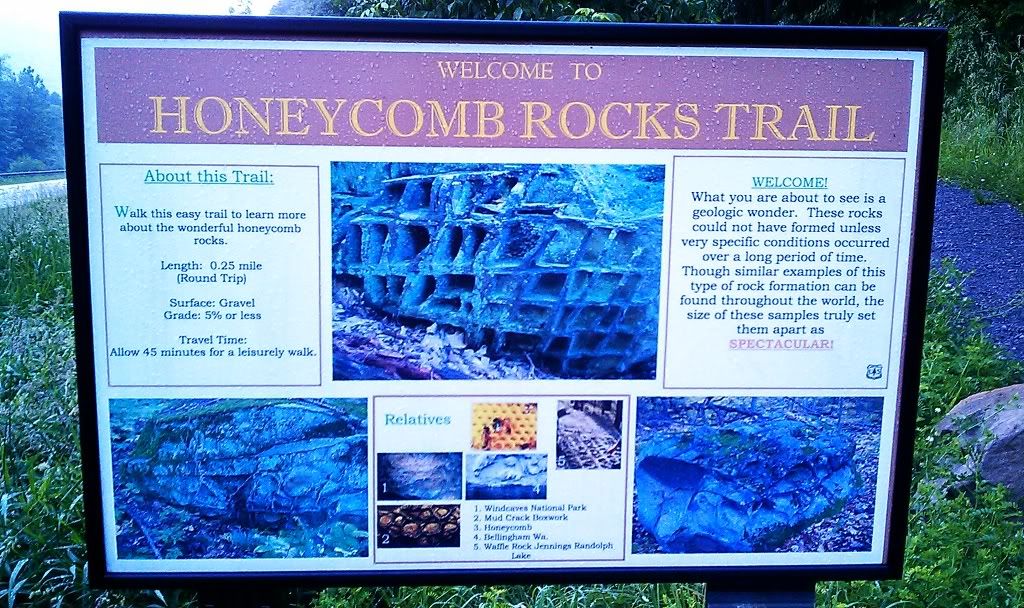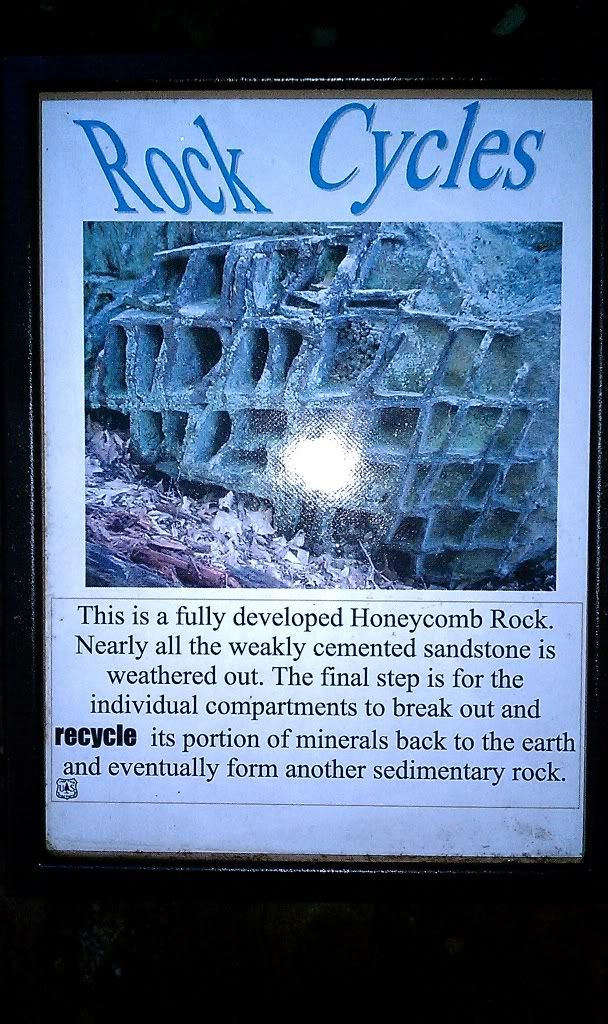 It was too dark so I set the camera to negative and this is what I got :dunno

The Highland Scenic Highway has a special quality when you are alone, pass no other vehicles and are afforded these views at 6:00AM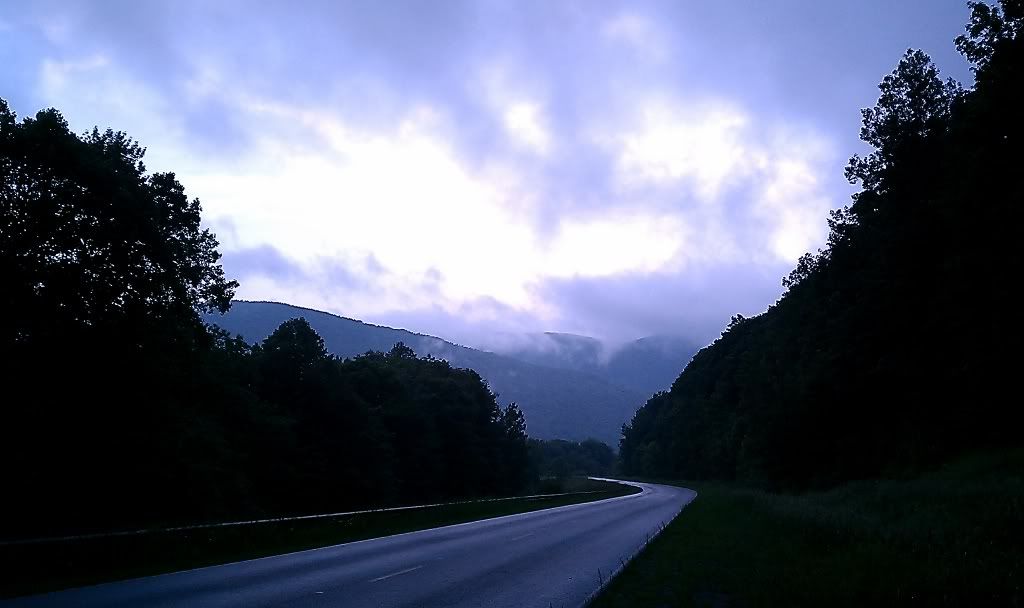 Then I drove into the pea soup fog again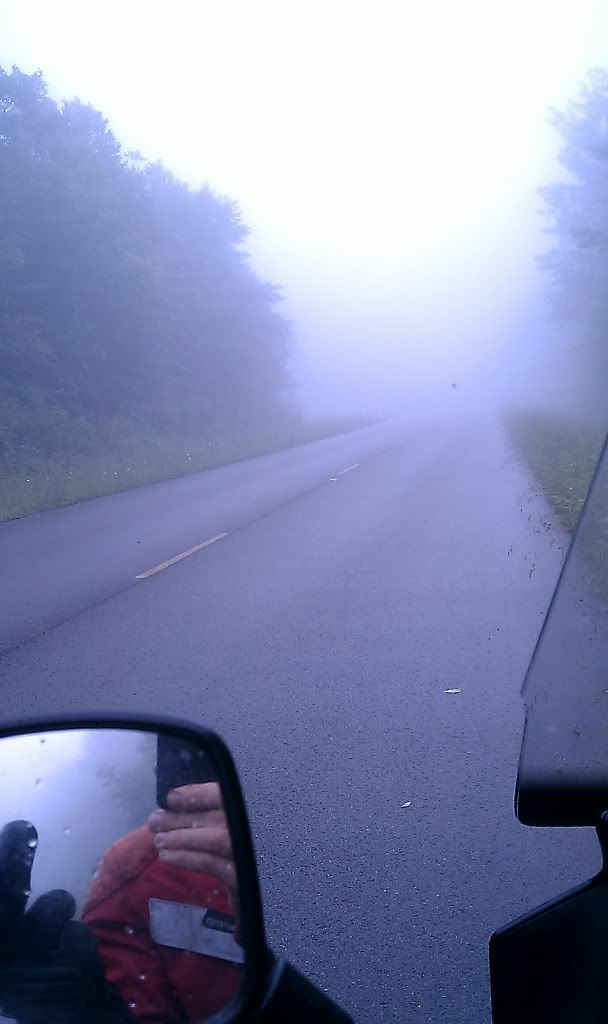 Jamming to my music via Chatterbox XBI2 Bluetooth, the Wilco song came on with lyrics that began
"Maybe the sun will shine today
The clouds will roll away
Maybe I won't be so afraid
I will understand everything has its plan
Either way"
Mornings like this make you happy just to be alive. Reached the terminus of the byway and turned right onto 39 toward Richwood. My first stop was the Falls of Hills Creek just a couple miles away.
First shot of the Upper Falls:

Fern Gully Anyone? (this pic has not been doctored)

Down the neat stairway

Hills Creek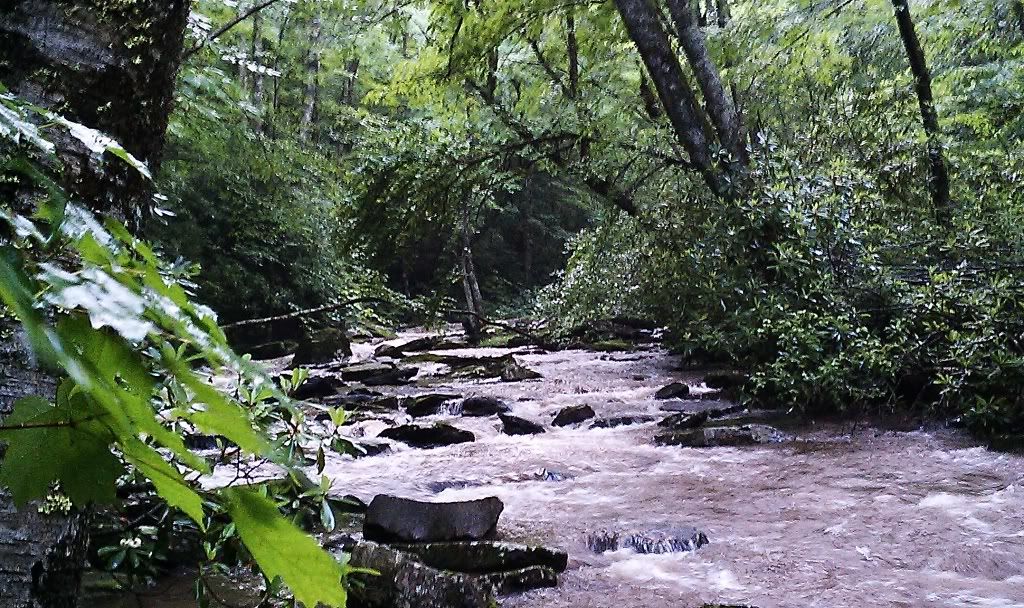 On down a metal staircase and some more boardwalk takes you to the Middle Falls. Mist and blowing wind. Just awesome and all to my self :jump

The Lower Falls are the largest so I continue on down only to be met with this unfortunate sign. Blast!

Oh well, back up for a cup of coffee, trail mix and banana.

After enjoying the walk back up to the bike, I pack my cooking gear away and set off for the New River Gorge Bridge. I had been before but I recall Eric and Gale mentioning it yesterday and there was the off chance that I'd meet up with them :dunno
Just before the bridge, it began to sprinkle. It then began to rain hard and the fog rolled in. This was the view I had of the Largest Arched Bridge in the Western Hemisphere in the mist: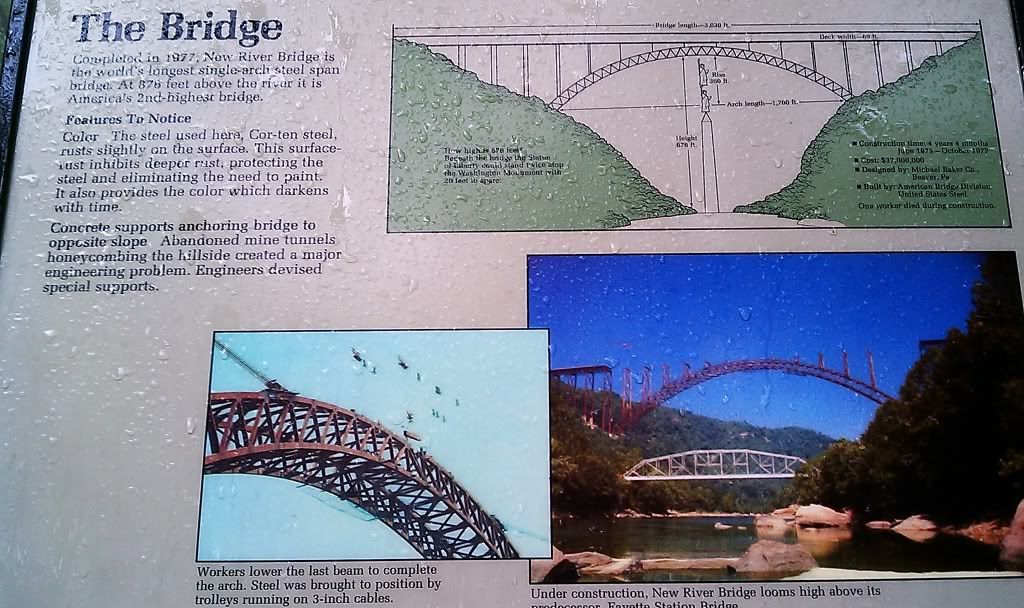 Chatted with a fellow at the visitor's center about my bike, stickers and how he wanted to go on a motorcycle ride someday. DO IT! I told him:1drink Departed in the heavy rain toward Babcock State Park. Stopped along the way to get gas and noticed this sticker. Ever wonder why WV Gas is so expensive?

Down to Babcock State Park and the Glade Creek Grist Mill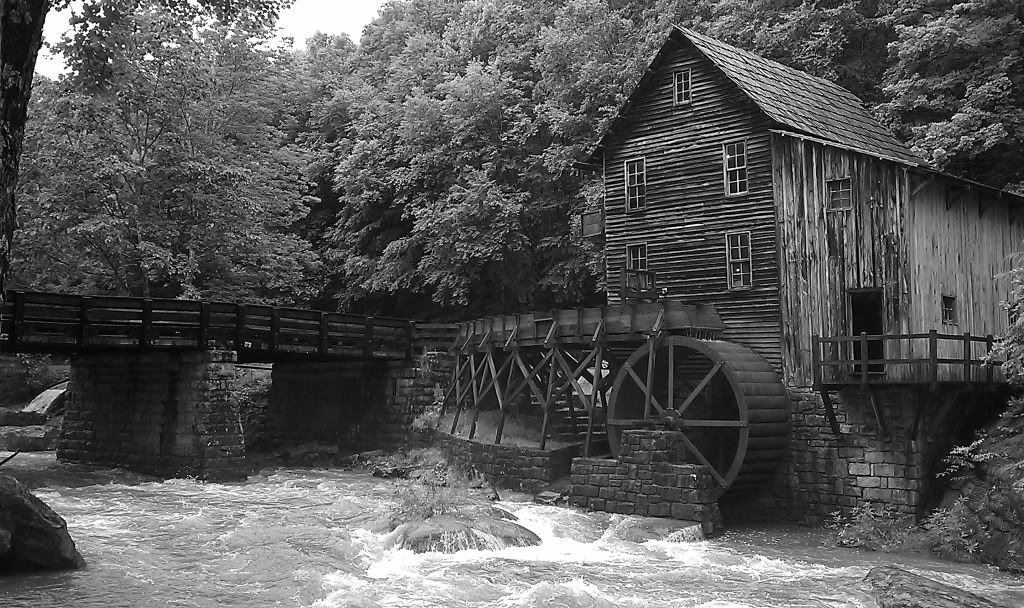 And in living color!

Ever see Stone Mill Pale Ale? (Organic Beer)? How cool is that :evil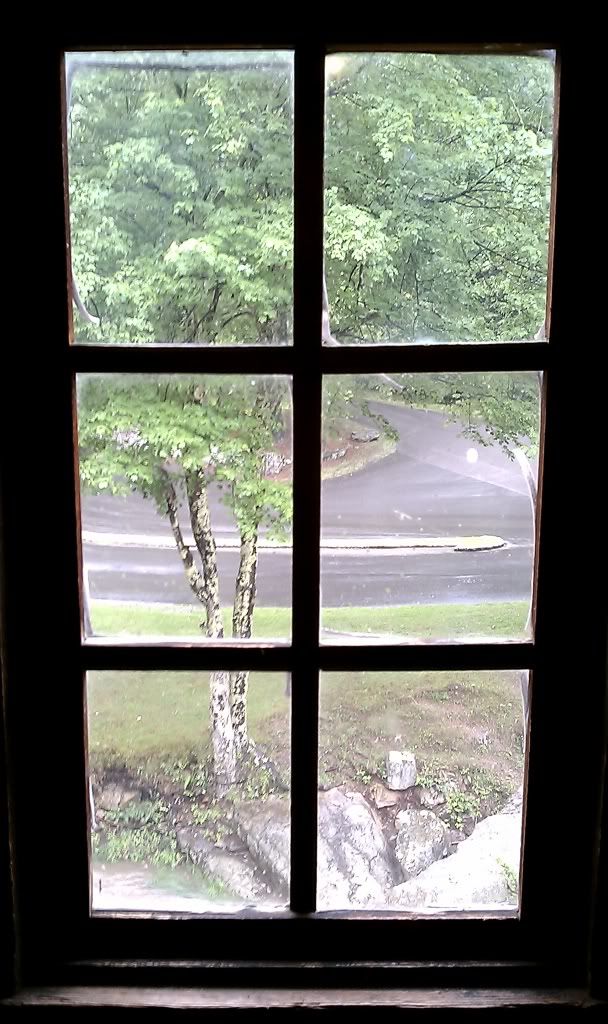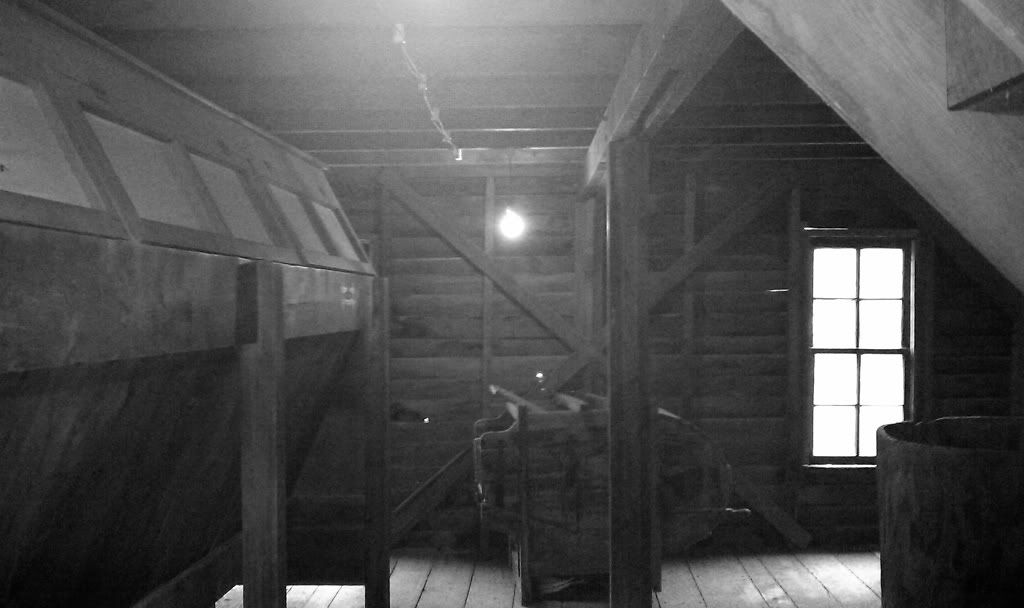 Then I set off toward the town or Rainelle. Ironically, it stopped raining in Rainelle :rayof The streets were lined with American Flags along much of the small Midland Trail (US60) towns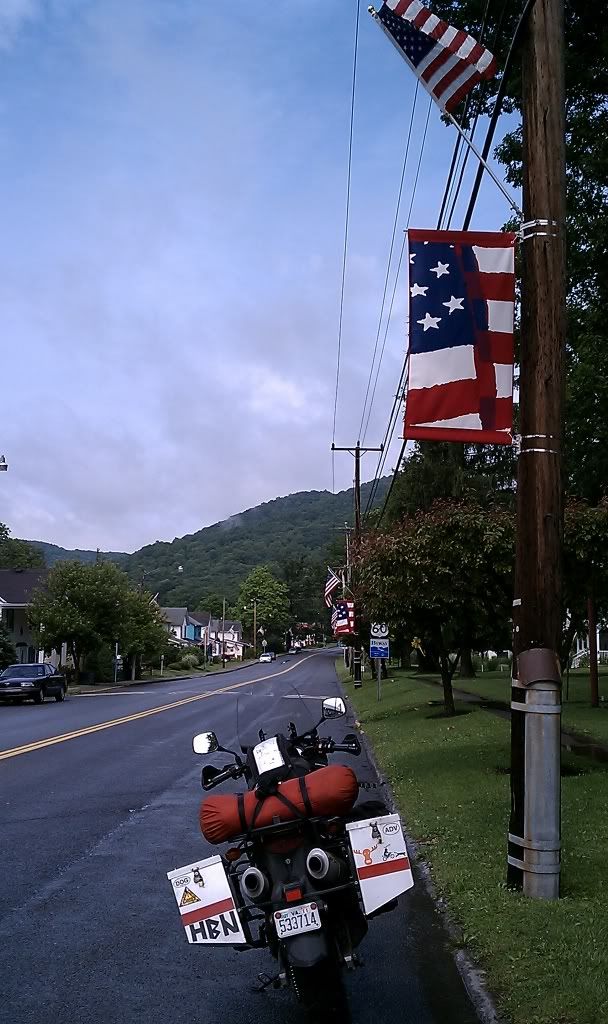 This guy looked interesting, he walked by twice and mumbled something to me through his cigarette...

I rode 60 and saved a turtle :D

Tired of the shitty pavement, patch work, sand and wet roads, I jumped on 64 and slabbed it the rest of the way home...
NOT! I just rode it to the Greenbriar State Forest where I decided to make some oatmeal by a small creek.

Always liked this neat one lane bridge with the cut-through for the creek

From here, I continued down 60 to Humpback Bridge just outside Covington, VA

Covington STINKS on account of the Mead West Vaco Paper Mill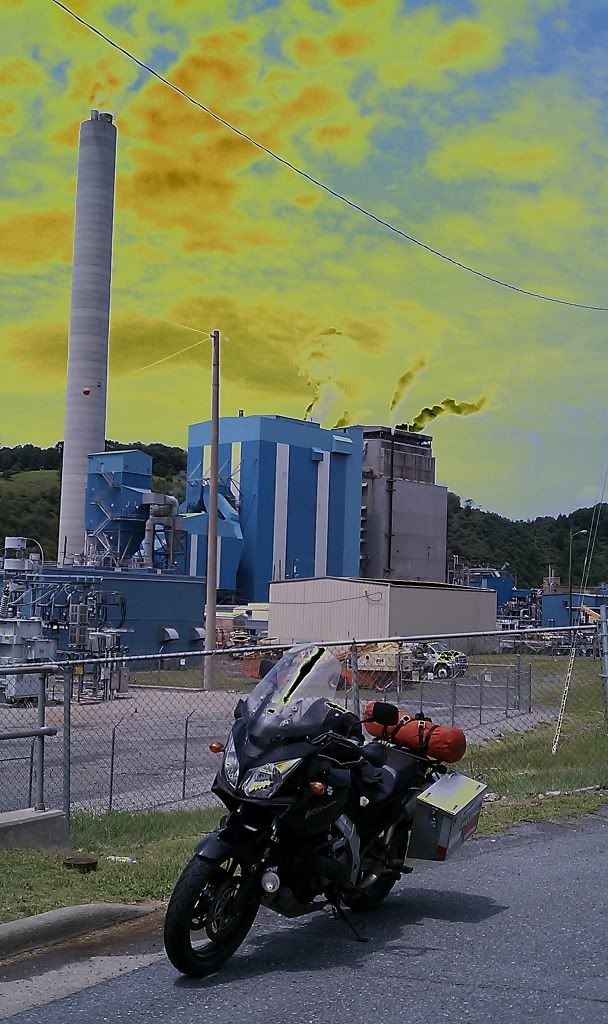 So I high-tailed it up to the mountains to get away from that jazz. 220 is such a nice road through here

And a view of the 80ft. Falling Springs. Once it was 200ft but they mined lime for fertilizer and redirected the stream. I feel they ruined it.

Took a ride up 606 to Airport Road and decided to ride up to Ingalls Field only to find this sign. DAMN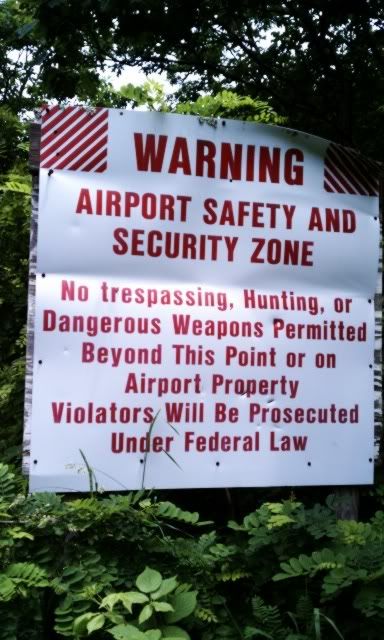 But the Warm Springs Overlook is always nice

Then rode 606 :ricky down to Clifto Forge. Man is that one crazy, tight, technical, weather-beaten stretch of pavement. Really fun but you gotta bring your "A-Game"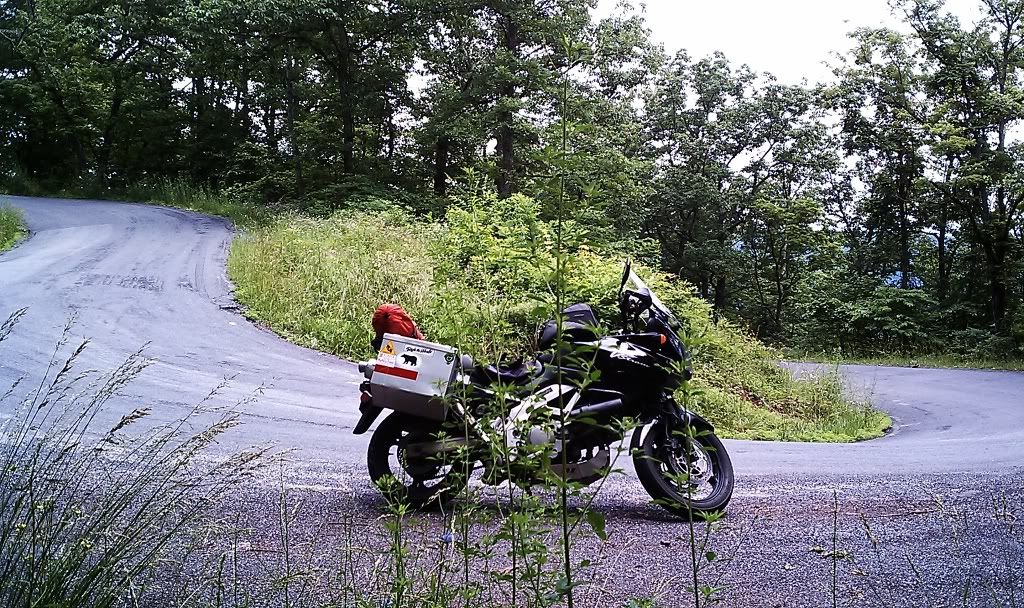 Then 64 to Bratton's Run and up into Goshen. Here is a nice shot of Mill Creek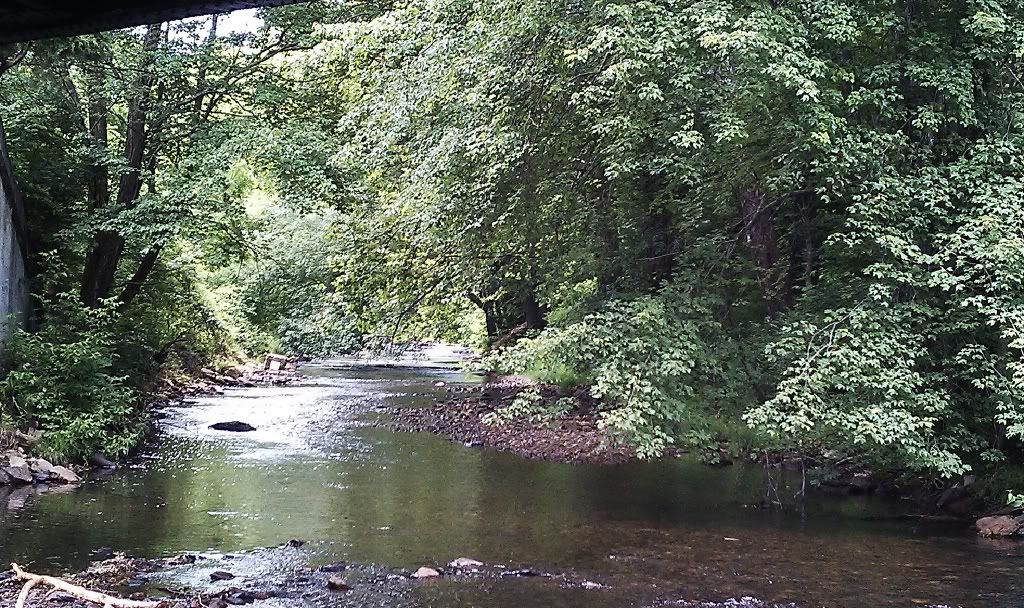 Then enjoyed the quick shot up 42 to Churchville. Man! What is this!?!?!


Fire Dept. Cruise In, Chicken BBQ and Fund Raiser just ending.
Here are some car shots for all you motor-heads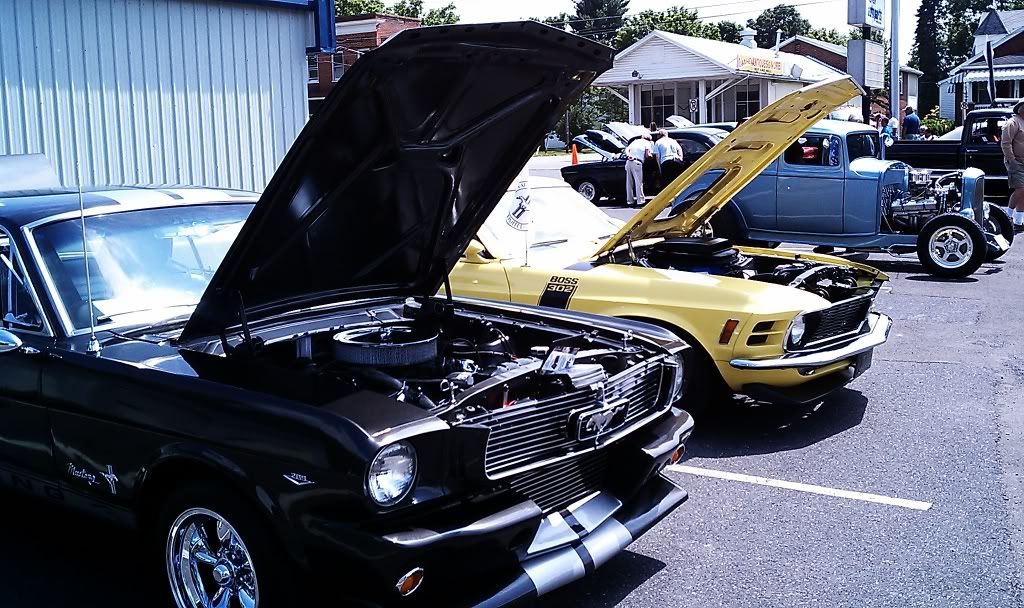 I liked this one :D

Camaro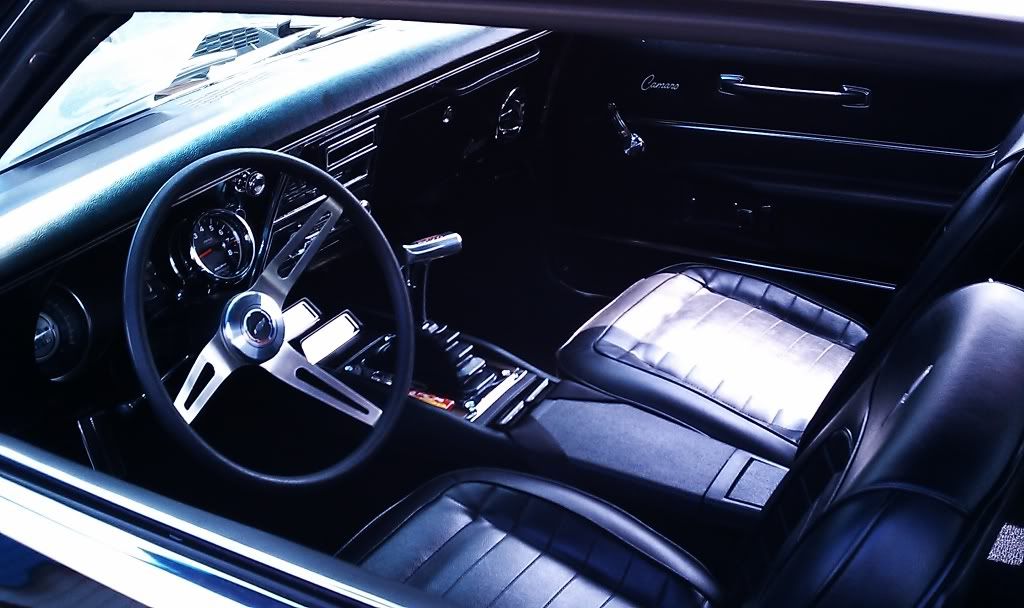 HUGE engine

Nice eyes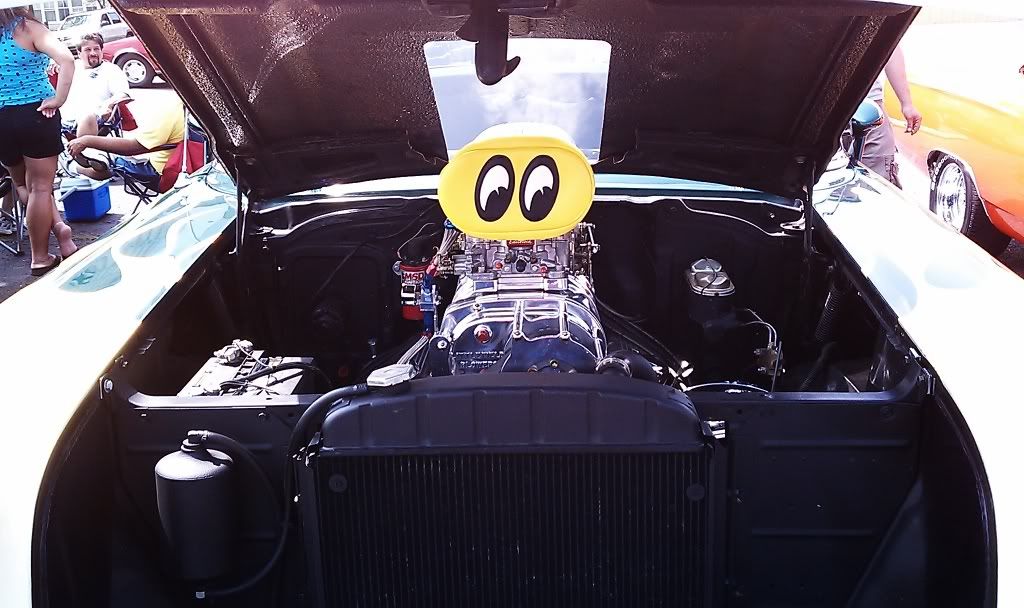 And one of my favorites

From here, I shot up 42 with a stop over at Gimmeslack's. Marion was kind enough to provide me some fresh Mint Iced Tea. WOW did that hit the spot :thumb

Then I got a text from Eric saying he was in Elkton, so I made it from Weyers Cave to Elkton in 25 minutes (no easy feat :evil :augie) But he had already left Subway...next time buddy.
On my return trip to the Burg, I spy none other than...THE NEIGHBOR!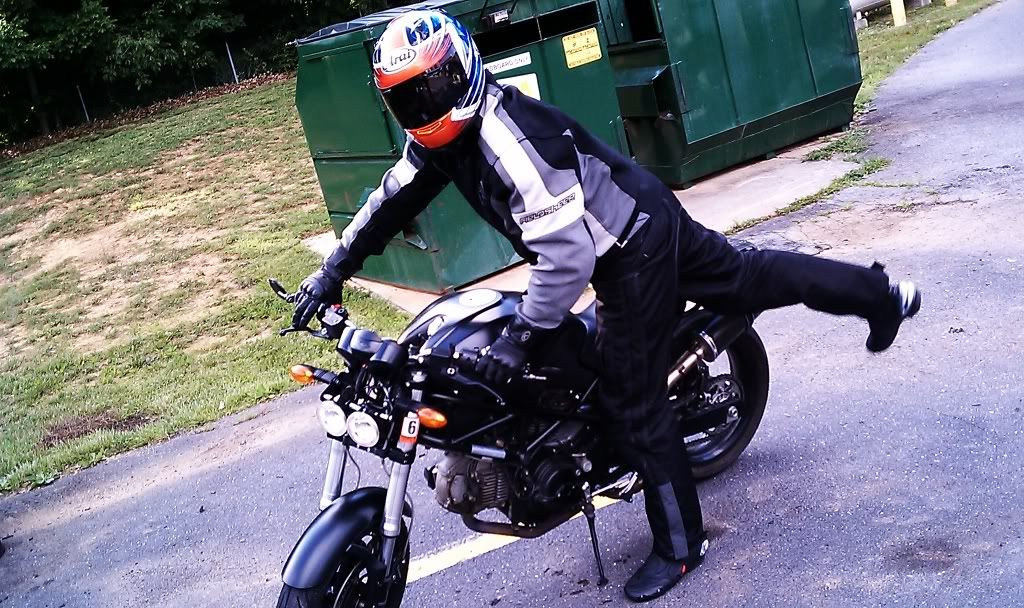 We chatted for about 5 minutes in the shade then went our separate ways. I had cleaning to do and a shower to take. Air Dry...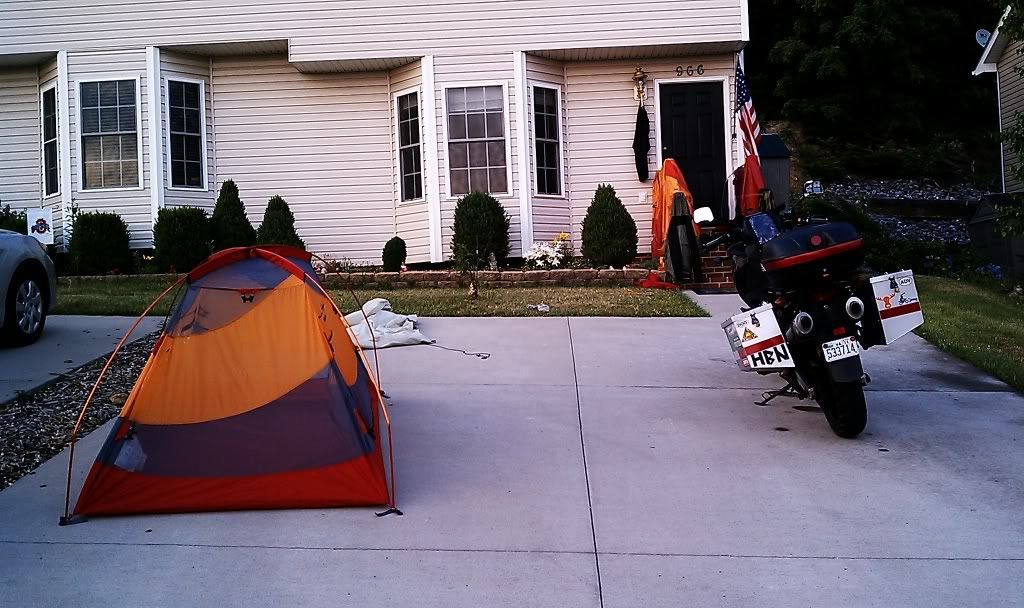 Washed the bike (as per usual after my ride) then stowed it in the storage unit.
Total mileage this weekend:

What a great ride! Looking forward to the next one...and the next one...and...
SMIB campout is coming up in two weeks so expect another nice RR from that. I may write a Honda Ruckus RR for next weekend if I don't head up to NOVA. Till next time...
HBN:shog